Thousands of people continue to face the lingering risk of environmental hazards in storm-hit state of Texas where Hurricane Harvey wrecked havoc, killing at least 60 people and costing up to $180 billion (Rs 11,542 crore).
Local authorities advised residents returning homes within the evacuation zone to drink bottled water and wear surgical masks, closed-toe shoes and gloves as a precautionary measure.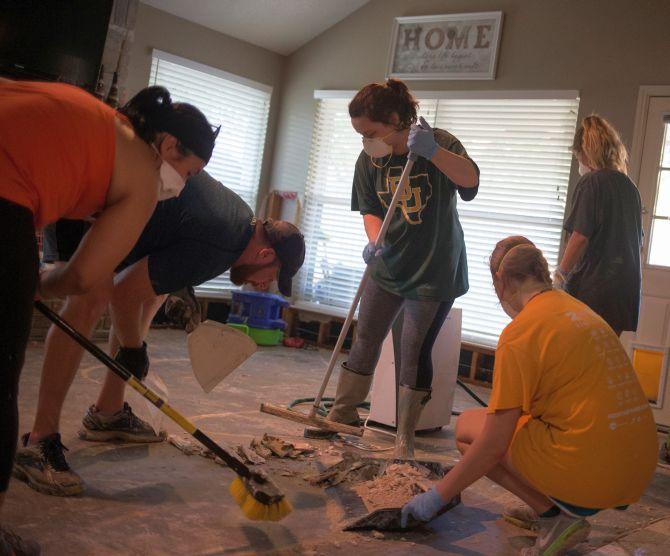 IMAGE:Samaritans help clear debris from the house of a neighbour which was left flooded from Tropical Storm Harvey in Houston. Photograph: Adrees Latif/Reuters
In a statement, the Harris County Public Health Department said the same recommendation is given to those returning to flooded homes.
The sheriff's office in Fort Bend County, located in the Houston metropolitan area, has asked residents to leave reptiles, like alligators, found on their properties alone
until the water recedes.
"We have everything from snakes to alligators to fire ants," said Lach Mullen, spokesperson for the Office of Emergency Management in Fort Bend County.
"Even though evacuation orders have been lifted, people have to be wary of new occupants in their homes. They don't want to occupy the same space as you; they will leave on their own when they can," said Mullen.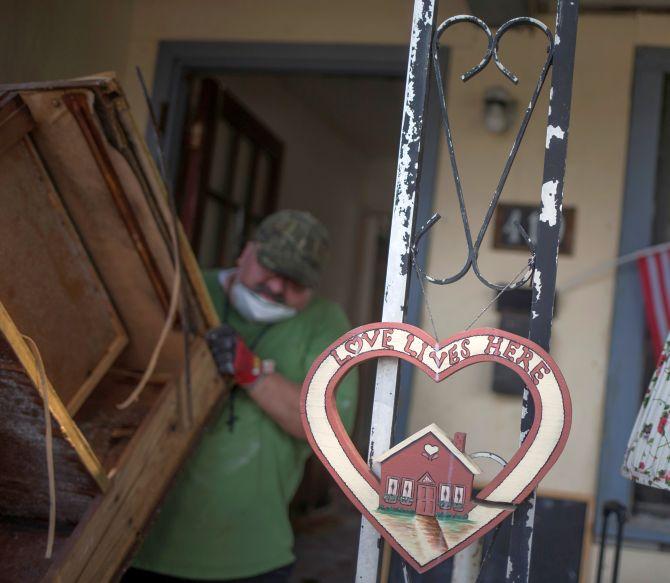 IMAGE: George Diaz disposes of furniture while salvaging through belongings from his family home in the aftermath of Tropical Storm Harvey. Photograph: Adrees Latif/Reuters
Umair Shah, Harris County public health director, is making the rounds in the flooded areas of Houston and warning residents about the risks they face while cleaning up their homes in the aftermath of Hurricane Harvey.
Kirtikumar Shah, a leading gastroenterologist in Houston said that, "One of the health hazard is people walking in the water and children trying to play in the water. They can get hurt with some sharp objects which they cannot see because these objects are submerged in the water. Another health hazard in flood water could be snakes and if the person is walking in the water you can get hurt".
"The greater danger comes when the flood water interfere with the clean water supply as it happened in Beaumont. There can be scarcity in drinking water because the supply trucks cannot reach the target area because of the floods at all, he added.
According to Nik Nikam, a leading cardiologist said, "People who are displaced can miss their medicines that can make their chronic conditions like heart disease or kidney disease worse and put them in the hospital.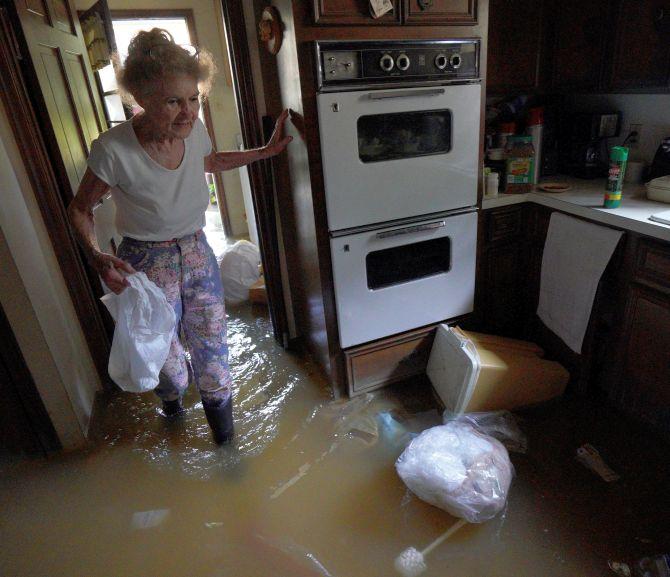 IMAGE: Nancy McBride collects items from her flooded kitchen as she returned to her home for the first time since Harvey floodwaters arrived in Houston. Photograph: Rick Wilking/Reuters
Meanwhile, officials confirmed that Harvey has killed at least 60 people, many from drowning and indirect effects of the storm.
In a conference call, an officer with the Federal Emergency Management Agency said efforts had shifted from life-saving to recovery. John Long, the Deputy Federal Coordinating Officer, said 550,000 families had registered for a FEMA assistance programme and that more than 16,000 were staying in hotels as part of a transitional shelter program.
Texas Governor Greg Abbott increased his damage estimate to between $150 billion and $180 billion.
"The quick and focused work of our federal partners in response to Hurricane Harvey has been essential to the recovery in Texas," Abbott said in a statement.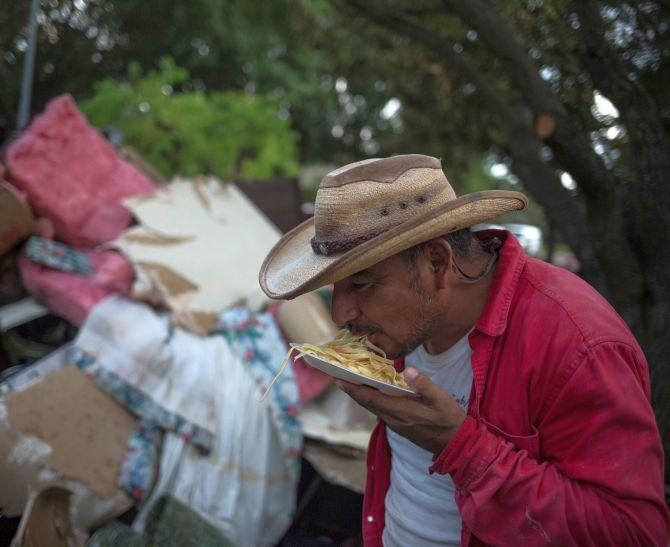 IMAGE: Ruben Morales eats dinner without using utensils after clearing furniture from the house of a neighbor left flooded by Tropical Storm Harvey. Photograph: Adrees Latif/Reuters
The Texas Department of Criminal Justice re-populated two Richmond prisons, after the facilities were evacuated last week amid flooding from the storm. About 1,400 inmates were returned to the all-male Jester 3 and Vance Units.
Three other prisons, housing some 4,500 male inmates among them, remain evacuated.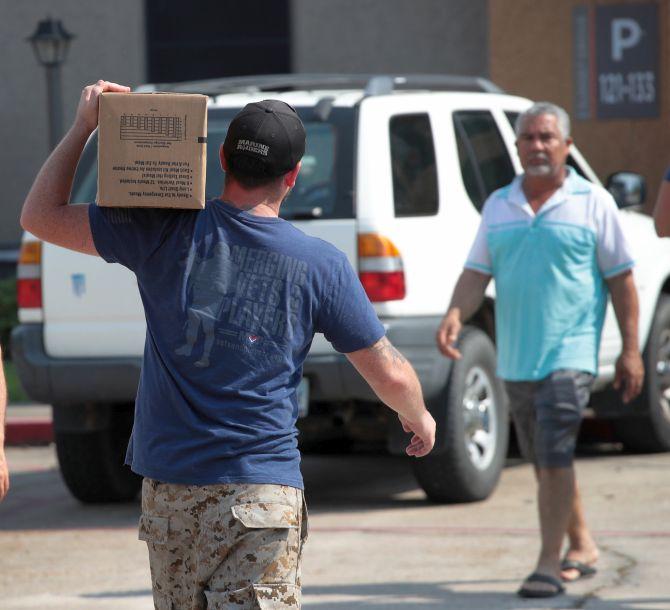 IMAGE: A volunteer with Merging Vets and Players distributes food, water and pet food to flood victims after the town was inundated when torrential rains pounded Southeast Texas following Hurricane and Tropical Storm Harvey causing widespread flooding. Photograph: Scott Olson/Getty Images
US House Majority Leader Kevin McCarthy paid a visit on Monday to Houston, where he announced the House will vote Wednesday morning on an initial relief package for Harvey victims. McCarthy, a California Republican, made the announcement at a news conference at the NRG Center, which is being used as a shelter.
"It won't be the only relief package we vote on," McCarthy said, flanked by members of the Texas congressional delegation. "What we want to do is make sure FEMA has the money going forward as the cities and the counties assess the damage.
© Copyright 2022 PTI. All rights reserved. Republication or redistribution of PTI content, including by framing or similar means, is expressly prohibited without the prior written consent.