The human toll in the floods and relentless rain across the country reached almost 200 by Thursday, even as thousands in Gujarat, Rajasthan, Assam, Odisha, West Bengal, and elsewhere were forced out of their homes into temporary shelters.
Here's a look at the watery mess the states are in.
Heavy rains have pounded the state with Swirling floodwaters washing away a part of a railway line leading to the suspension of 36 trains from the Ahmedabad division of the Western Railway.
State administration officials said 54,517 people have been shifted to safer places over the last one week due to flooding of low-lying areas.
Relief and rescue operations were intensified in the badly-affected districts of Banaskantha and Patan after a let-up in rainfall, with 15 Indian Air Force helicopters and 10 National Disaster Response Force, 11 State Disaster Response Force and six Border Security Force teams working in the region, officials said.
Army personnel have so far rescued 1,925 people, mainly in the worst-affected region of Deesa in Banaskantha district, it said.
IMAGE: A man sits on a car after his vehicle got stuck on a flooded road after heavy rains in Ahmedabad. Photograph: Amit Dave/Reuters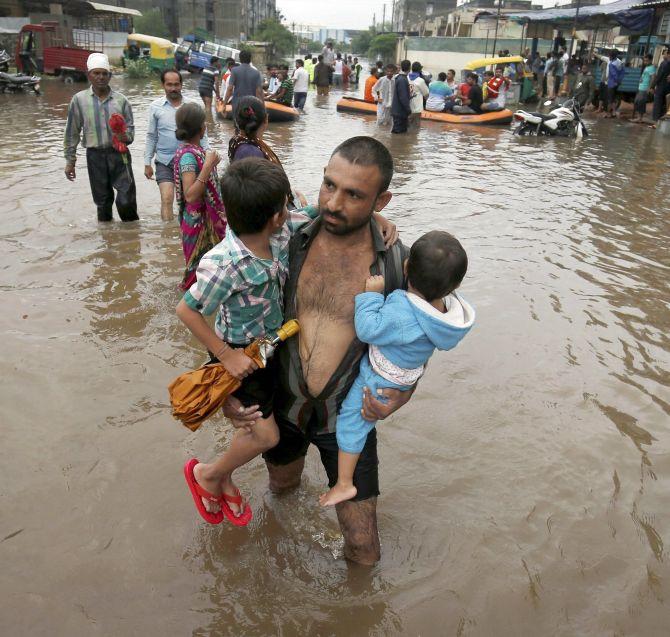 IMAGE: Rescuers carry out relief works in a flooded locality after heavy rains in Ahmedabad.
Photograph: PTI Photo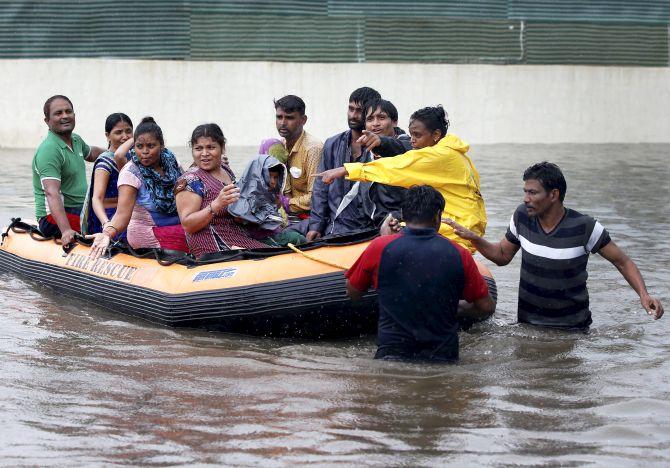 IMAGE: SDRF, NDRF and Indian Army personnel are carrying out relief work in the state after it received heavy rains. Photograph: PTI Photo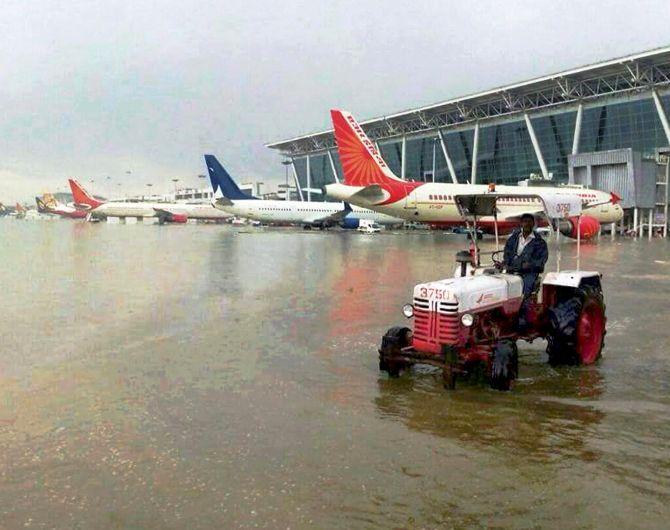 IMAGE: A tractor passes near the parked aeroplanes at the Sardar Patel International Airport after heavy monsoon rains in Ahmedabad. Photograph: PTI Photo
IMAGE: A man along with his daughter wades through a flooded road following heavy rainfall in Ahmedabad. Photograph: PTI Photo
Heavy rains have been forecast in Rajasthan, which is already reeling from floods. A total of 22 rain-related deaths, including water drowning accidents, have been reported in the state from June 1 to till date.
According to data, the average rainfall in the state this month is 308.21 mm -- over 35 per cent higher than the normal of 225.74 mm for this period.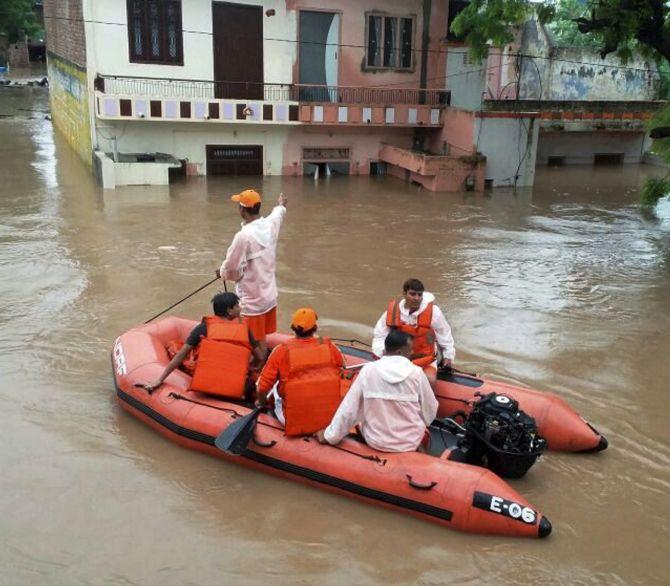 IMAGE: Rescue team at work in a flood-affected locality in Pali district of Rajasthan.
Photograph: PTI Photo
Around 77 people have died in the state of Assam owing to the heavy rains. Currently, a population of 23,118 is still affected by flood in nine districts, according to a report by the Assam State Disaster Management Authority. Some 4,716 people are housed in 19 relief camps.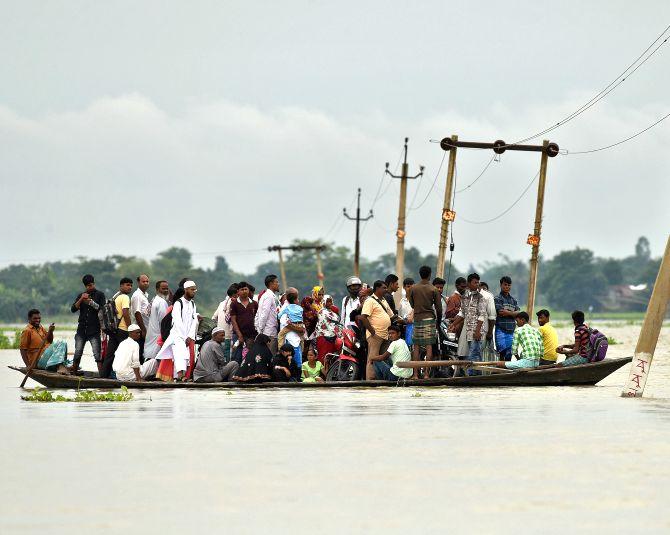 IMAGE: Villagers use a boat to cross a flooded road at Asigarh village in Morigaon district in Assam.
Photograph: Anuwar Hazarika/Reuters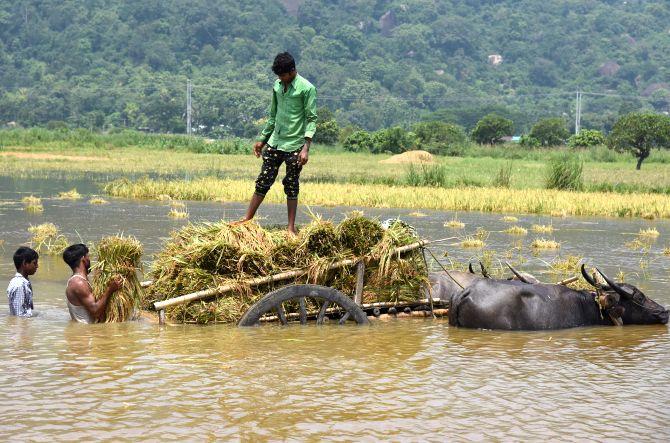 IMAGE: People load their harvested crop onto a buffalo cart in a flooded paddy field at Mayong village in Morigaon district, Assam. Photograph: Anuwar Hazarika/Reuters
At least 16 people died and 20 lakh were affected due to torrential rains in West Bengal. An official of the West Bengal Disaster Management Department said that nearly 165 villages are under water.
Chief Minister Mamata Banerjee, who took stock of the situation in Amta and Udaynaryanpur blocks of Howrah district, said the flood-like situation was because of the water released by the Damodar Valley Corporation.
IMAGE: People use a boat as they try to move to safer places along a flooded street in West Midnapore district in West Bengal. Photograph:
Rupak De Chowdhuri/Reuters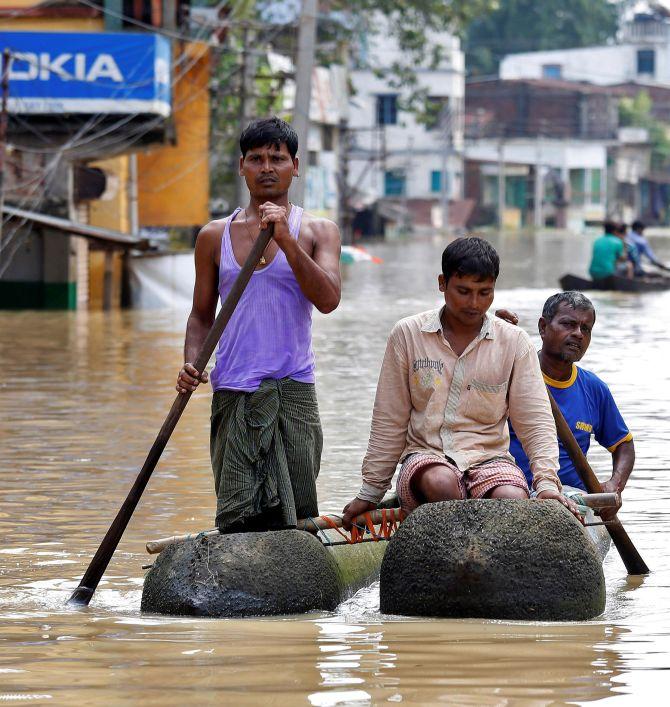 IMAGE: People paddle their boats as they try to move to safer places along a flooded street in West Midnapore district. Photograph:

Rupak De Chowdhuri/Reuters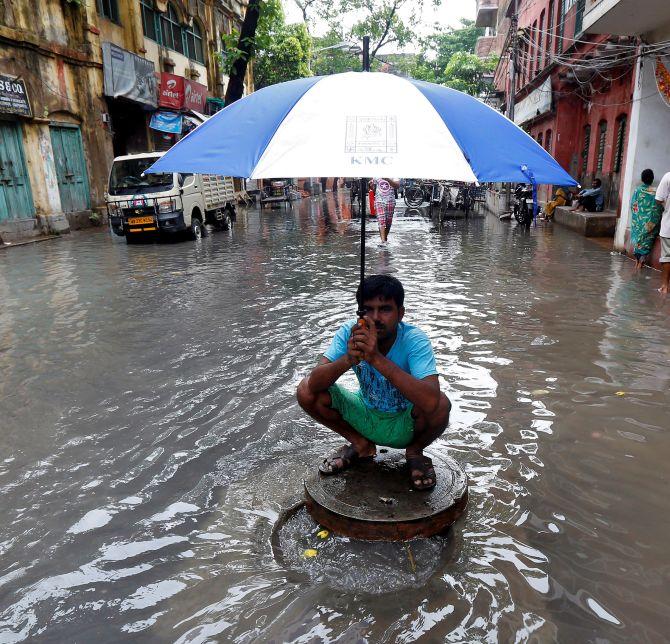 IMAGE: A municipal worker sits on the cover of a manhole after uncovering it on a flooded street after heavy rains in Kolkata. Photograph: Rupak De Chowdhuri/Reuters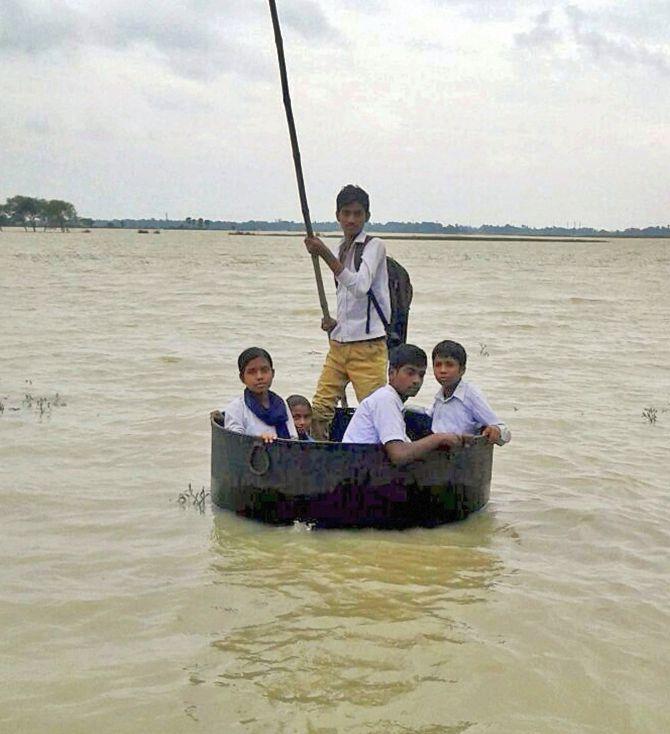 IMAGE: School children use a huge pan to commute in a flooded locality in Birbhum district.
Photograph: PTI Photo