There is complete mayhem in West Bengal, Manipur and Odisha with more than 70 dead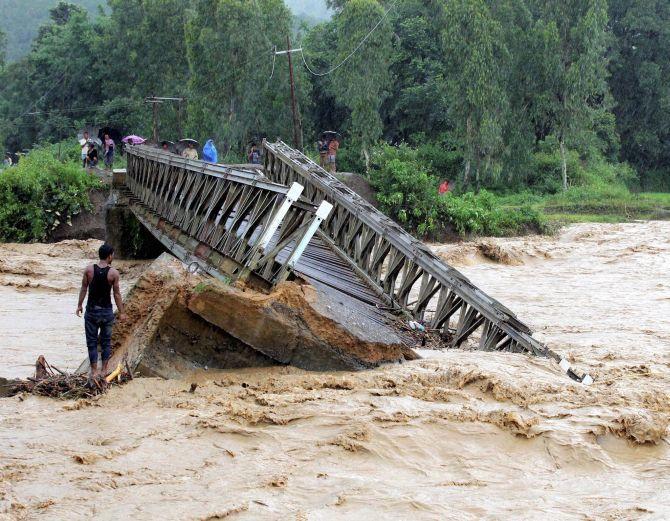 A bridge is washed away by the flood water in Thoubal district in Manipur. Photograph: PTI

Two days after Cyclone Komen made a landfall in Bangladesh, the eastern and north eastern states of India have been hit by incessant rains and floods.
The flood situation in south Bengal remained grim with death toll nearing 50 while 2.14 lakh people have taken shelter in 1,537 relief camps in the 12 districts affected by the deluge.
Weatherman has forecast more rains in the next 24 hours. With nine more deaths being reported from different districts on Sunday, the death toll from rains and floods climbed to 48, Disaster Management Department sources said.
"Altogether 1,537 relief camps have been set up to shelter over 2.14 lakh marooned people and 204 medical camps have been opened," the sources said adding that the total number of affected people was nearly 37 lakh. The sources said that 38,046 houses were damaged and 2,05,901 houses were damaged partly. Crop over an area of 4,72,645 hectares was damaged due to the floods.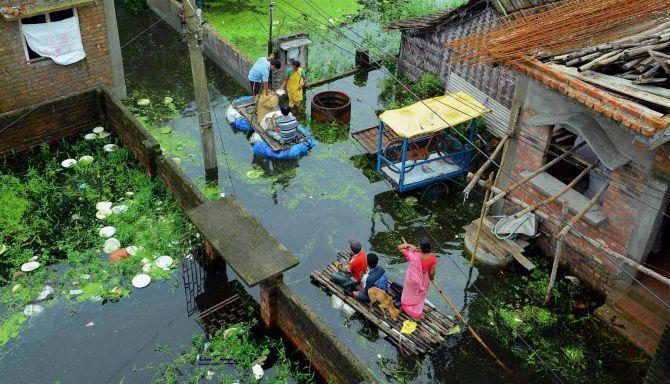 Flood affected locals carry their household belongings on makeshift rafts in Howrah district of West Bengal on Sunday. Photograph: PTI
Chief Minister Mamata Banerjee held a meeting on Sunday with senior officials at the state secretariat to review the situation. She told reporters that she had instructed the officials to monitor the situation round-the-clock and take prompt appropriate steps.
"Even though there was reduced rainfall, the situation remained unchanged in Burdwan, Hooghly, Howrah, West Midnapore and East Midnapore districts as the quantum of release of water from different barrages remained almost the same following heavy rains in upper catchment areas," state Irrigation Minister Rajib Banerjee said.
The districts of South 24-Parganas, North 24-Parganas, Nadia and Murshidabad districts were the other badly affected areas, he said.
"The situation remained unchanged in the affected districts mainly because of high tide and release of water from different barrages. However, the situation is likely to improve," Banerjee said.
Manipur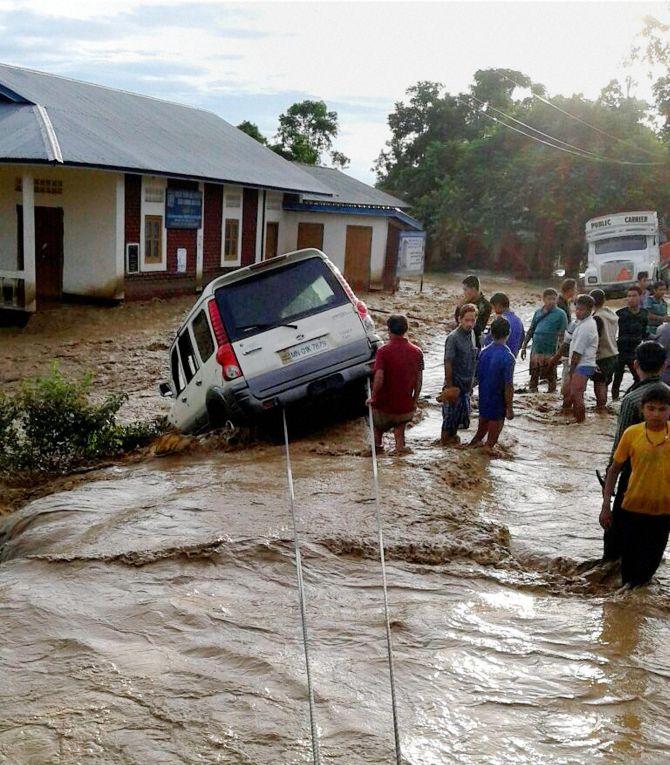 People attempt to retrieve a car stuck in flood waters following incessant rainfall in Thoubal district of Manipur on Saturday. Photograph: PTI

In Manipur, non-stop rains have wreaked complete havoc. Twenty one were killed in a landslide triggered by the downpour in Khejoy on Saturday night.
Around two villagers were swept away by another landslide in Zoumal village of Manipur, say news reports.
The National Disaster Response Force has been rushed to assist in rescue operations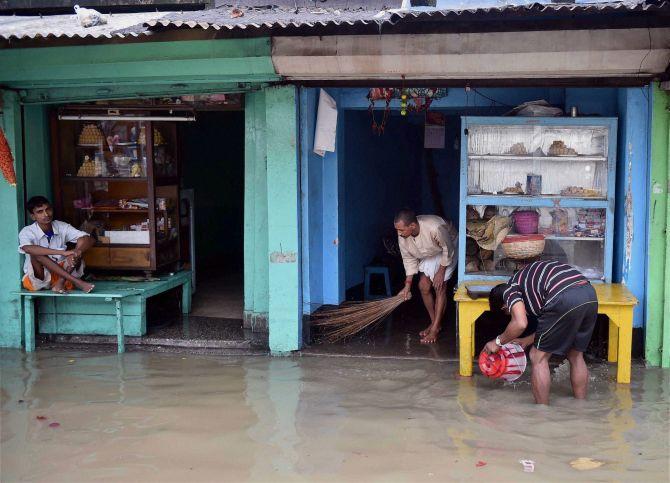 People drain floodwater from their shop after high tide on river Ganga in Kolkata on Sunday. Photograph: PTI

The teams left from Chandel district headquarters by a helicopter to oversee the rescue effort, SP N Herojit Singh said.
Two teams have already reached the Aibol Joupi helipad on way to Zoumol village. A third team, carrying food items, is poised to leave for the disaster site, the SP said

Odisha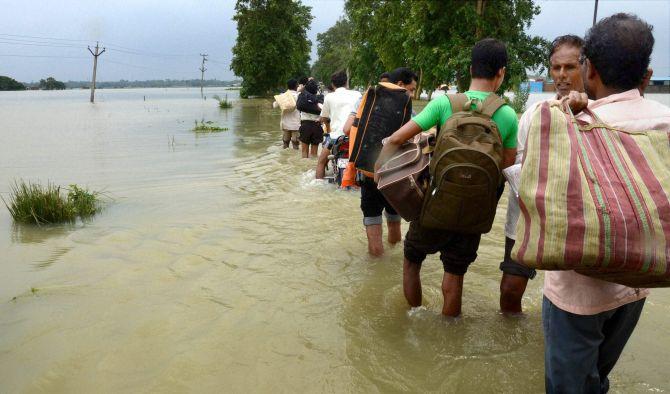 Villagers wade through the flooded Howrah- Aamta highway road at Jagatballavpur in Howrah district of West Bengal on Sunday. Photograph: PTI

More than four lakh people living in 597 villages have been affected in Odisha. Around 10 villages are out of reach.
The inflow of rain water from West Bengal, where heavy rainfall occurred under the effect of Komen, has caused marooning of some more villages in Balasore district, said special relief commissioner GVV Sarma according to The Hindustan Times.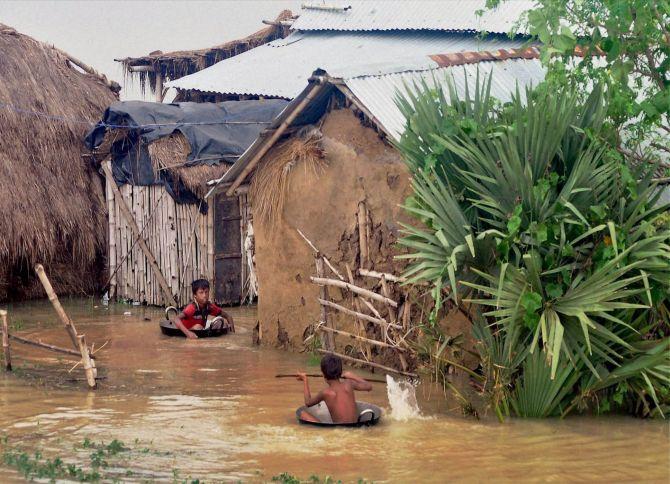 Children use big cooking pots as floats in a flooded area. Photograph: PTI
In the neighbouring nation of Myanmar, four western regions have been declared disaster zones after heavy floods, caused by monsoon rains, left at least 27 people dead, reports BBC. The death toll is expected to rise, warned the United Nation.

The UN Office for the Coordination of Humanitarian Affairs said some 156,000 people were affected by the floods.