In one of the worst tragedies to hit Kerala, at least 106 people were killed and 383 injured in a devastating fire that engulfed the 100-year-old Puttingal Devi Temple complex near Kollam during an unauthorised display of fireworks early on Sunday.
Thousands of people had gathered at the temple precincts to watch the display of fireworks which was underway since midnight when the blaze erupted around 3.30 am. The central government has ordered a probe into the tragedy.
This is yet another accident blamed on safety norms violations at places of worship in India. Here's a list of the top five major temple tragedies in the past 10 years.
IMAGE: A man weeps

as bodies of victims lie outside a morgue at the Kollam district hospital after a massive fire broke out during a fireworks display at the Puttingal temple complex. Photograph: PTI
1) Mandher Devi Temple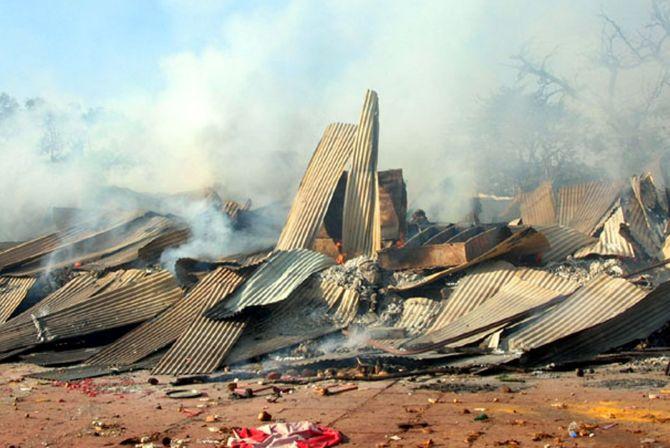 On January 26, 2005, nearly 350 devotees were killed and over 200 injured at a religious fair at MandherDeviTemple near Wai in Satara district in western Maharashtra. The stampede occurred was when some people fell down on the steps made slippery by devotees breaking coconuts.
2) Naina Devi Temple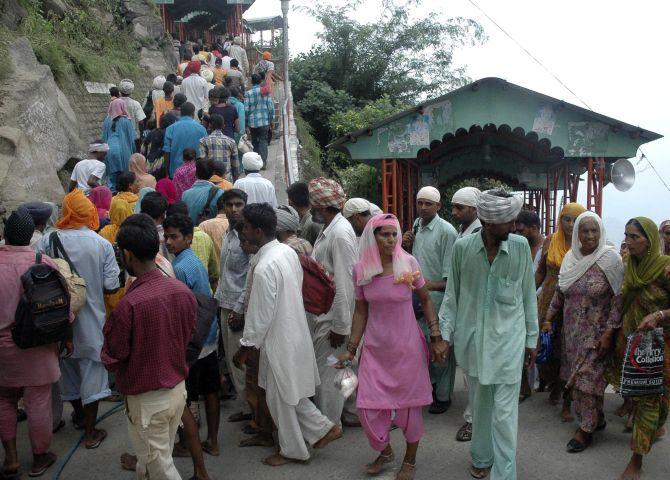 On August 3, 2008, over 150 people, mainly women and children, died at NainaDeviTemple in Himachal Pradesh in a stampede.
3) Chamunda Devi Temple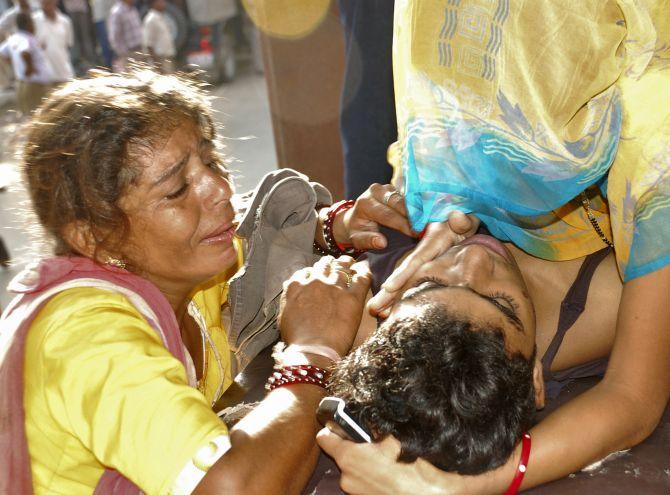 On September 30, 2008, more than 200 devotees were killed and over 60 injured in a stampede at ChamundaDeviTemple in Jodhpur, Rajasthan. The reason was mentioned for this huge unfateful incident that there was a rumour of a bomb going off. More than 10,000 people had turned up at the famous temple for a darshan of the Hindu goddess.
4) Sabarimala Temple
On January 15, 2011, 104 Lord Ayyappa devotees were killed and 50 injured, in a stampede that occurred at Uppupara. Majority of the deceased were from Tamil Nadu, Karnataka and Andhra Pradesh. The tragedy occurred when a jeep carrying pilgrims ran into a crowd and fell to the ground, killing some on the spot and causing the stampede.
5) Ratangarh Mata Temple
On October 14, 2013, 91 people were killed in a stampede at the Ratangarh Mata Temple in Datia, Madhya Pradesh. The stampede was caused by rumours that a bridge they were crossing was about to collapse.