Two persons died and seven others were injured in a stampede after a fire broke out in Murshidabad Medical College Hospital in Berhampore district of West Bengal triggering panic among patients and their relatives.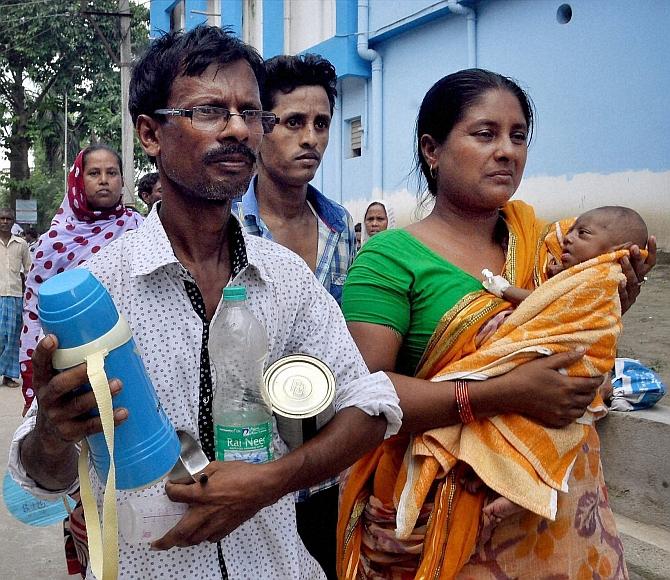 IMAGE: A new born baby is rescued at the medical college & Hospital where a major fire broke out in Berhampur in Murshidabad district of West Bengal on Saturday. Photograph: PTI Photo
"Two women -- a nursing aide and a relative of a patient died in the stampede following the incident of fire which broke out at 11.50 AM at the hospital. Seven others are injured," Director of Health Services Biswaranjan Satpathy said in Kolkata.
Giving details, he said the fire broke out in the AC machine of a vacant VIP cabin at the main medical ward of the hospital.

"Everybody tried to run to escape from the fire which resulted in a stampede in which two persons died. Patients in the adjacent wards were immediately taken out, including those from the pediatric ward and all of them were relocated to the newly-built Mother Child Hub," he said.
"There is no panic right now and the situation is under control," he said.
State Fire Minister Sovan Chatterjee said the blaze was now "well under control".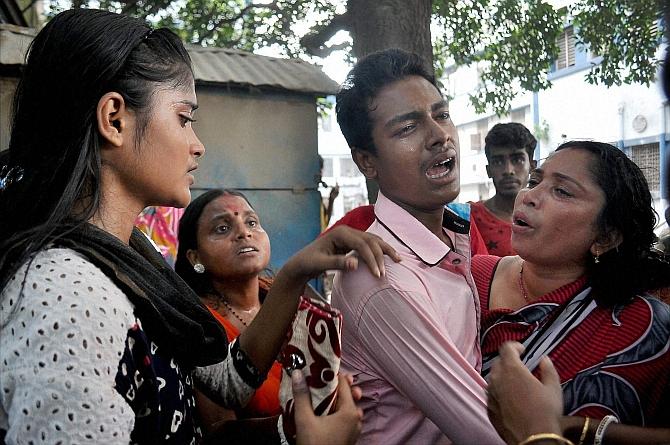 IMAGE: Relatives weep outside hospital after fire in Beherampur. Photograph: PTI Photo
The state government declared compensation of Rs 2 lakh to the next of kin of both the victims and free treatment for the seven injured. Those who received minor injuries were released immediately after preliminary treatment, Satpathy said.
Chief Minister Mamata Banerjee is monitoring the situation from Kolkata, while a four-member high power team from Kolkata led by chairman of Multi-Disciplinary Expert Group, Chandrima Bhattacharya has been asked to rush to the spot to assess the situation.
Bhattacharya, who is also managing director of West Bengal Medical Services Corporation, said that she would submit a report to the chief minister after reviewing the situation and making a detailed assessment.
A departmental inquiry has already been ordered into the incident, Satpathy said, adding the hospital's chief medical officer of health Subhasis Saha was monitoring the situation.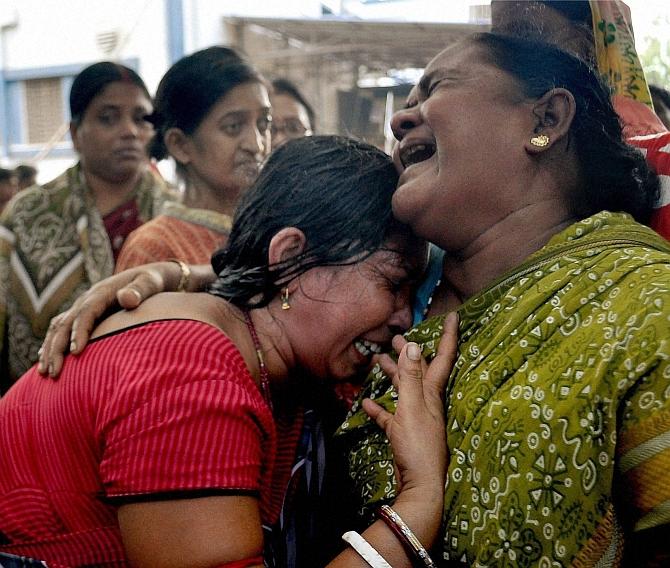 IMAGE: Women weep after fire at the medical college & Hospital in Berhampur. Photograph: PTI Photo
A special medical team from Malda has already rushed to the spot, he said.
Clearing confusion about the death of a 7-year-old girl child purportedly shown in different TV news channels, Satpathy said she had died of pneumonia a little before the blaze and her body was being taken out at the time when the fire broke out.
"Death of this child is not due to fire as is being said in some media," he asserted and said reports of injury to some children in the hospital were also not true.