A massive fire broke out at the five-day yagna organised by Telangana Chief Minister K Chandrasekhar Rao in Medak district on Sunday.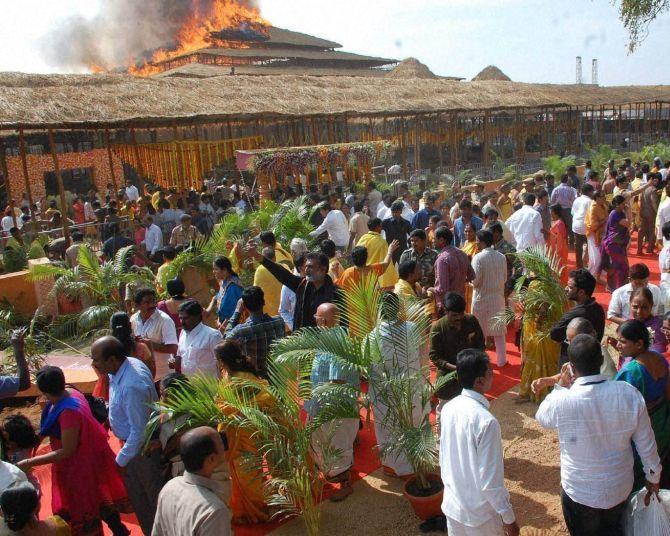 The roof of the main pandal was completely gutted owing to the fire. Photograph: PTI
Several fire fighting teams present on the spot brought the fire under control immediately but they were not swift enough to prevent the blaze from destroying the thatched roof of the main pandal completely.
Sunday was the last day of the five-day Ayutha Chandi Maha Yagam, which began on December 23, and is being held at Erravelli village in Jagdevpur mandal of Medak district.
Over 60,000 people and a large number of VVIPs, including President Pranab Mukherjee were expected to arrive at the spot.
Earlier, Andhra Pradesh Chief Minister Chandrababu Naidu was present at the Rs 7 crore yagna.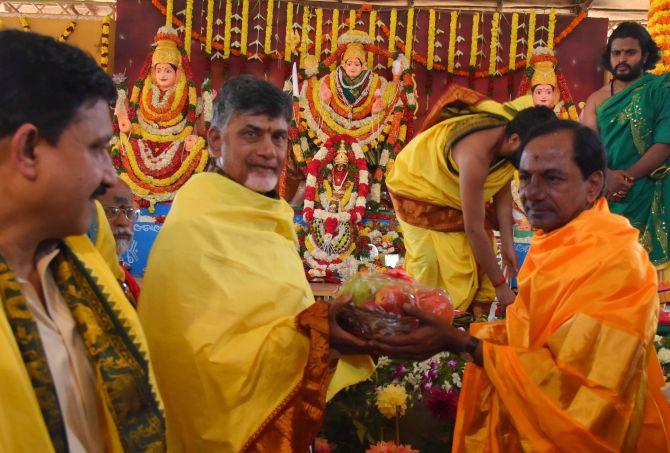 Andhra Pradesh CM Chandrababu Naidu offers prayers at KCR's yagam. Photograph: SnapsIndia
According to media reports, massive arrangements were made for the 'Yagam' in the sprawling premises at Rao's farm house at Erravelli village in Medak district.
KCR had roped in 1,100 priests from seven states to chant the mantras and perform the prayers. KCR had also constructed a mega yagashala, a structure made of bamboo and paddy straw over 40,000 square feet, with 106 yagna kundas (fire pits).
KCR has faced stiff criticism from the Opposition, accusing him of misusing government machinery and wasting public money.
Rao, however, dismissed the charge, claiming that no government money was being spent for the 'Yagam' (ritual).