Chaos prevailed at the Delhi-Uttar Pradesh border on Tuesday as thousands of protesting farmers attempted to enter the national capital, prompting the police to resort to water cannons and tear-gas shells to disperse them, evoking a sharp criticism from opposition parties.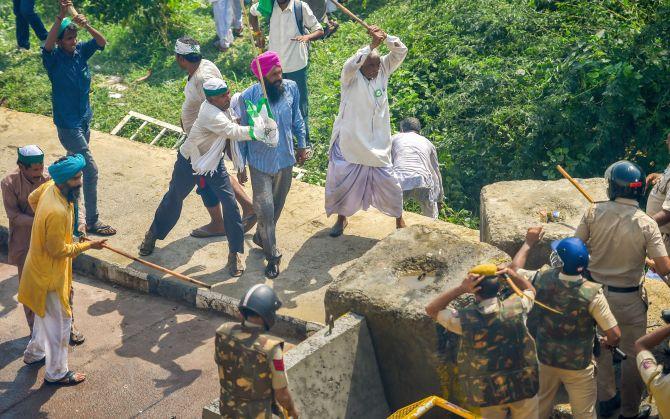 Seeking to convince the farmers to move back from their protest, the government announced that a committee of chief ministers will look into their demands, but the protesters stayed put saying they were not "satisfied" with the assurance.
Home Minister Rajnath Singh held discussions with Union Agriculture Minister Radha Mohan Singh and a few others to discuss the farmers' issue, after which Union minister of state for agriculture Rajendra Singh Shekhawat met the protesters to assure them that their demands will be looked into.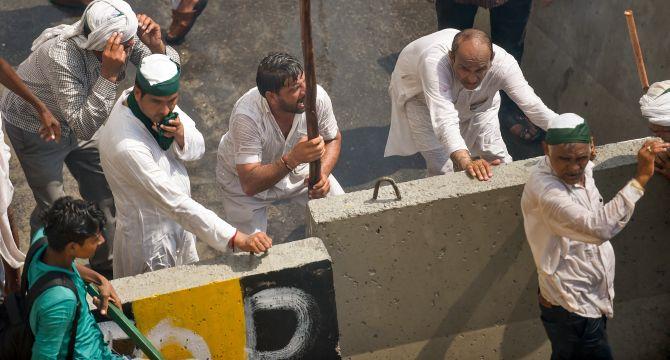 Naresh Tikait, the chief of Bharat Kisan Union, which has given the protest call, however, said the farmers are "not satisfied" with the government's assurance.
"We will discuss this and then decide on future course of action. I can't decide anything alone, our committee will take the decision," he added.
Some of the protesting farmers claimed that a few Delhi Police personnel had resorted to lathi charge against some of them. The Delhi Police, however, denied the charge.
A posse of security personnel have been deployed, including from Delhi Police and the paramilitary forces.
"Nearly 2,500 personnel from Delhi Police, besides paramilitary forces, including the Rapid Action Force, have been deployed," a senior police officer said.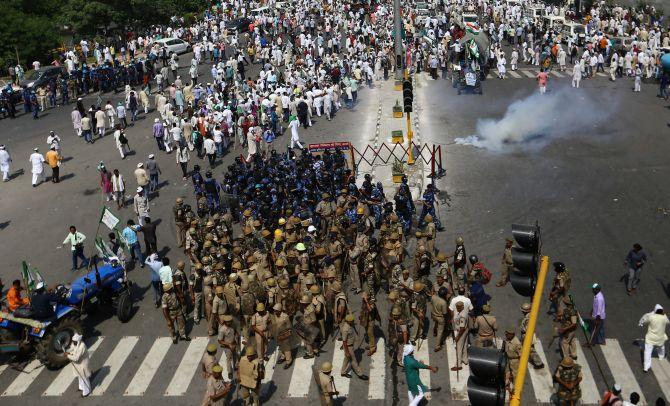 Farmers marching towards Delhi under BKU's protest call over demands ranging from farm loan waiver to cut in fuel prices, were stopped at the Delhi-Uttar Pradesh border, as they tried to run through the border, surmounting the barricades.
The farmers, riding tractors and trolleys, broke barricades of the UP Police and then started proceeding towards the barricades put up by the Delhi Police, a senior police officer earlier said.
Police had to use water cannons to disperse the protesters, who also indulged in sloganeering. Tear gas was also used to disperse the crowd.
The main demands of the farmers include implementation of the recommendations of the Swaminathan Commission report, removing ban on the usage of tractors above 10 years, clearing out pending payments of sugarcane purchase, increased price of sugar supplied and minimum support prices.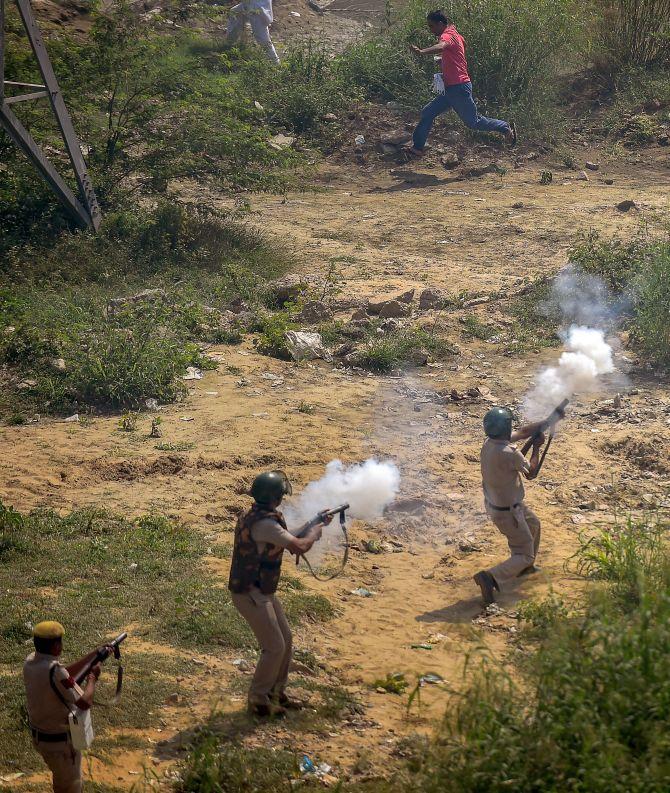 Amar Pal, 35, a farmer from Muzaffarnagar alleged that some police personnel "resorted to lathi charge" on some of the protesting farmers.
The city police had on Monday imposed prohibitory orders in east and northeast Delhi, anticipating law and order problems as thousands of BKU members are on a march from Haridwar to reach the national capital Tuesday.
In east Delhi, the prohibitory orders issued by Deputy Commissioner of Police (East) Pankaj Singh under section 144 of the Criminal Procedure Code, will be in force until October 8.
It covers Preet Vihar, Jagatpuri, Shakarpur, Madhu Vihar, Ghazipur, Mayur Vihar, Mandawli, Pandav Nagar, Kalyanpuri and New Ashok Nagar police station limits.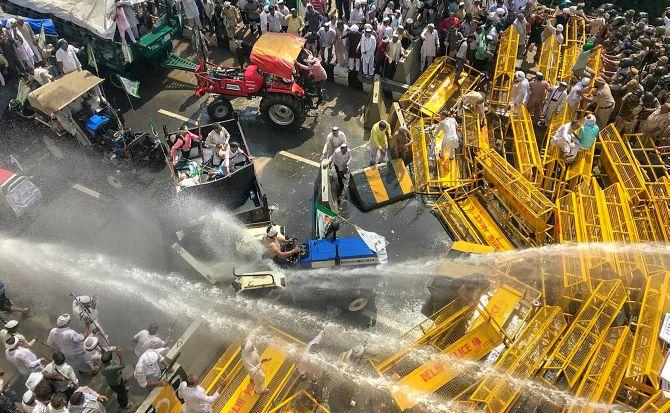 In northeast Delhi, the prohibitory orders were issued by Deputy Commissioner of Police (Northeast) Atul Kumar Thakur and will be in force till October 4.
The incident has drawn sharp reactions from Congress while the Aam Aadmi Party supremo Arvind Kejriwal batted for the farmers and questioned why they were not allowed to enter Delhi.
Congress president Rahul Gandhi in Wardha accused the Bharatiya Janata Party of "brutally beating up" farmers at the Delhi border on International Day of Non-Violence and said they cannot even air their grievances in the national capital.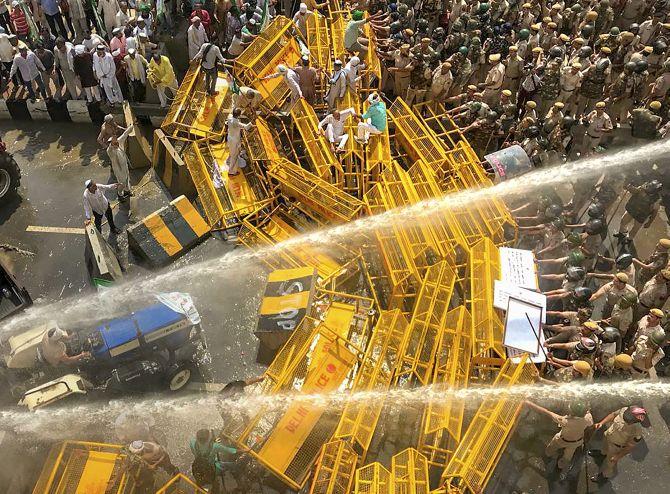 National Highways leading to the national capital were swamped with farmers who came in from places as far as Gonda, Basti and Gorakhpur in eastern Uttar Pradesh as well as the sugarcane belt of western Uttar Pradesh.
Police picketed the border with Uttar Pradesh, imposing prohibitory orders banning assembly of five or more people and holding of any public meeting, usage of any amplifier, loudspeaker, and similar instruments.
The Kisan Kranti Yatra, which began from Tikait Ghat in Haridwar on September 23, was joined by farmers from various parts of Uttar Pradesh.
"We are not seeking any alms from the government. We want our right," said Harmik Singh, a farmer who came from Meerut.
Farmers are in distress because of high electricity prices and fuel rates shooting through the roof,
"Aap ko 500 rupiya ka gas theek lagta hai? (Does LPG price of Rs 500 sound right to you," a farmer asked.
Kejriwal said preventing a protest march of farmers from entering the national capital was "wrong" and pitched for their entry into the city.
"Why are the farmers being stopped from entering Delhi? It is wrong. Delhi belongs to all. They should be given entry in Delhi. We support their demands," he told reporters on the sidelines of an event held at the Delhi assembly to mark Gandhi Jayanti.
WATCH: Kisan Kranti Padyatra turns violent
ACP among 7 cops injured during protest
Seven policemen, including an assistant commissioner of police, were injured as protesting farmers turned violent while trying to enter the city from Uttar Pradesh in defiance of prohibitory orders, Delhi Police claimed on Tuesday.
As it drew flak for what the parties termed as "brutal" action against the protesters, the police said they used only "minimum required force" to control the situation.
Police said a section of protesters, who were participating in the Bharatiya Kisan Union march, suddenly turned violent as the cops tried to persuade them not to break the barricades.
Police said they used 20 tear gas shells and water cannons to manage the crowd, adding it was "minimum required force".
As many as 3,000 police personnel were deployed to ensure that the farmers were not able to enter Delhi.
Announcements were regularly made on public address system about promulgation of prohibitory orders and requests were specifically made not to attempt entry into Delhi forcibly on tractor-trolleys since there was no permission for the same, they said.
"The protesters were also assured through their leaders that their demands are being projected at appropriate levels, and their movement will be duly facilitated in an orderly fashion without tractor- trolleys," the police said, adding it had specially deployed buses for ferrying the farmers to the city.
Talks were also going on in this regard with the leaders of various factions of the protesters, they said.
Despite requests that the protesters wait for the outcome of the talks between their leaders and the government, a section of the crowd suddenly turned violent and tried to break the barricades with tractor-trolleys and were also carrying lathis, they added.
"Tractor-trolleys were used with violent force by this aggressive section to break down three layers of strong barricading. Some protestors also resorted to stone pelting and wielded lathis causing injuries to police personnel deployed on duty," the police alleged.
"Under these circumstances, only the minimum required force was used to contain these aggressive and violent protesters.
"However, after using water cannon and tear gas shells on a limited scale, the situation was brought under control, and thereafter use of any force was discontinued forthwith, resorting again to persuasive tactics," they added.
Seven police personnel, including an assistant commissioner of police, were injured during this process. The ACP suffered a shoulder dislocation after he was roughed up by some of the protesters, the police said.
Photographs: Ravi Choudhary/PTI Photos, Reuters