Eight thousand asylum-seekers reach Germany in a single day amid deepening refugee crisis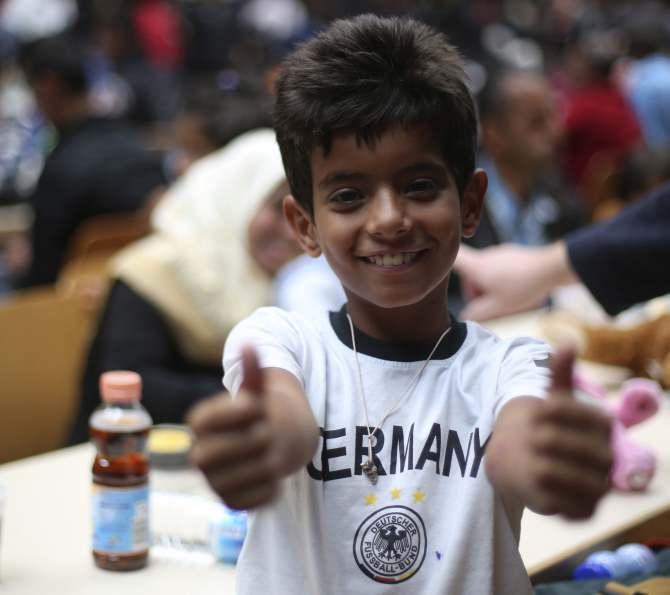 A migrant boy gives thumbs-up in a registration centre at the main railway station in Dortmund, Germany. Photograph: Ina Fassbender/Reuters

Europe's refugee crisis has taken a new dimension in Germany with the arrival of over 8,000 asylum-seekers in the southern state of Bavaria from Hungary in one single day. They are the largest group of refugees to land in this country in a single day since the current massive influx of migrants into Europe mainly from Syria, Iraq and Afghanistan that began nearly a month ago.
Their entry into Germany on Saturday was made possible by an agreement between the German and Austrian governments on Friday to let in thousands of refugees who have been stranded for several days in the Hungarian capital Budapest.
Bavarian authorities said more than 6,000 refugees travelled to Munich between 08:00 hrs and 20:00 hrs (local time) and another 2,000 people followed them late at night.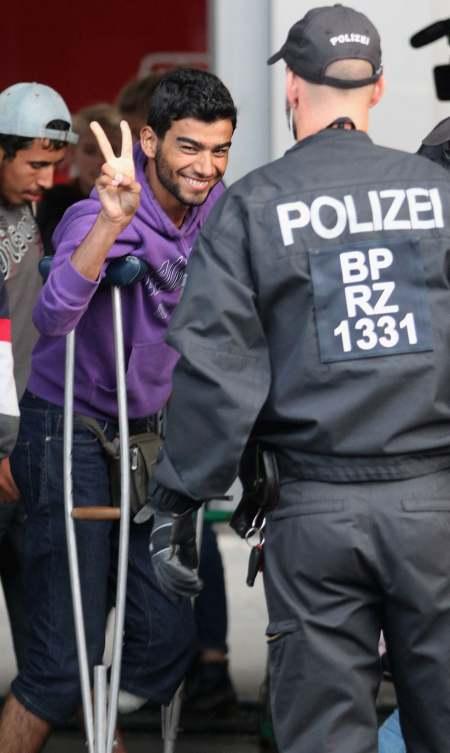 A migrant arrives from Austia at Munich Hauptbahnhof main railway station. Thousands of migrants are traveling to Germany following an arduous ordeal in Hungary. Photograph: Alexandra Beier/Getty Images
The refugees, who looked cheerful and relieved about ending their ordeal, were given a warm welcome by city authorities and the public as they arrived in Munich. Most of them were later sent by special trains to preliminary reception centres and refugee shelters in different parts of the country.
Bavarian officials said they expected the refugee influx to continue in the coming days, as several trains carrying them from Hungary are reported to be heading to the Austrian border.
Dozens of migrants unexpectedly disembarked a train that departed from Budapest's Keleti station at the railway station of the airport in Frankfurt, Germany, early morning Sunday. Photograph: Kai Pfaffenbach/Reuters
The Hungarian authorities, who have been preventing the refugees from travelling to Austria and Germany by train, unexpectedly organised special bus services from Friday night to take them from Budapest's central railway station to the Austrian border. Those buses also picked up around 1,200 refugees, who set on foot from Budapest along a 180-kilometre route to the Austrian border in protest against a decision to send them to two preliminary reception centres set up for them in the town of Bicske in the north and Roeszke in the south.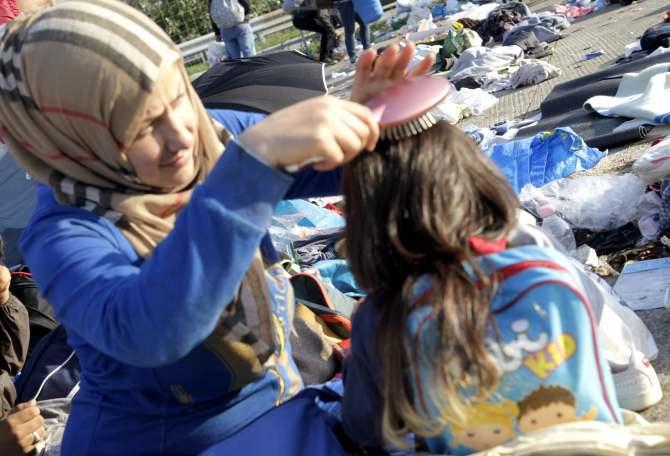 A migrant family lives in a make-shift camp at the border crossing in Nickelsdorf, Austria. Photograph: Srdjan Zivulovic/Reuters
Refugees who have been already staying in these camps also were transported to the Austrian border. Meanwhile, reports from Serbia said several thousand refugees are heading to the country in their desperate efforts to reach Hungary, the gateway to the European Union and to its Schengen passport-free travel area.
Hungarian Prime Minister Viktor Orban, during a visit to Brussels earlier this week, held Germany responsible for the crisis and claimed that "it is not a European problem, but a German problem."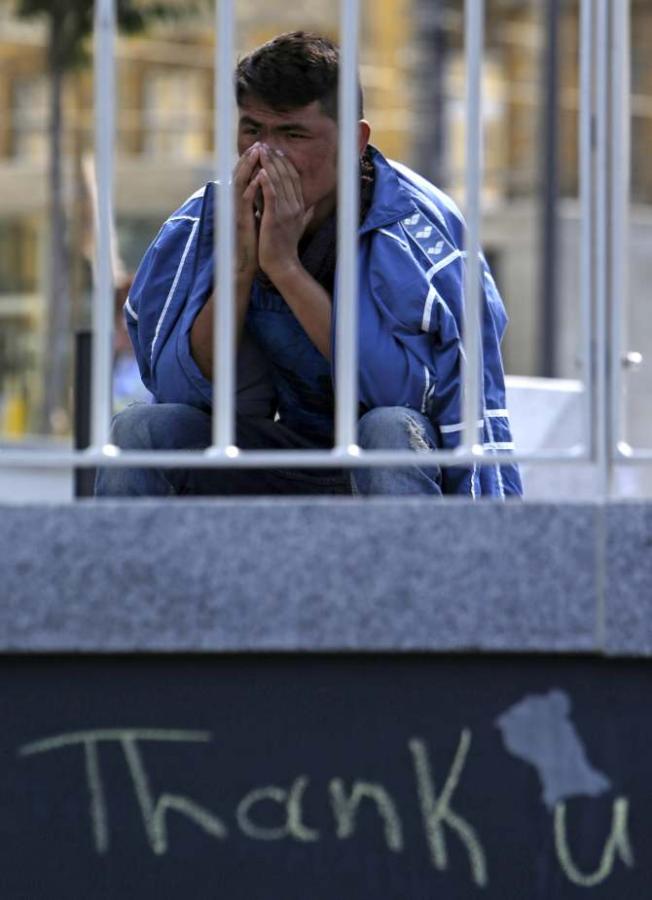 A person waits to help arriving migrants at a railway station in Vienna, Austria. Photograph: Dominic Ebenbichler/Reuters
Orban was apparently referring to a German government's decision last month to suspend for Syrian refugees European Union rules on asylum, which requires asylum-seekers to register in the first country they set foot on the European soil.
The German government on Saturday emphasised that chancellor Angela Merkel and her Austrian counterpart Werner Faymann took the decision to admit refugees from Hungary during a phone call on Friday in view of the "emergency situation" they faced in Budapest and it will be an exception. "This will not be repeated every day," Merkel's chief of staff Peter Altmaier said in a TV interview.
Austria and Germany threw open their borders to thousands of exhausted migrants on Saturday, bussed to the Hungarian border by a right-wing government that had tried to stop them but was overwhelmed by the sheer numbers reaching Europe's frontiers. Photograph: Reuters

Meanwhile, Britain may be considering taking in as many as 15,000 Syrian refugees as it draws up plans to launch air strikes within a month in the war-torn country where dreaded Islamic State militants have occupied large swathes of land.
Senior government sources told The Sunday Times that Prime Minister David Cameron has instructed his aides to draw up plans to expand the vulnerable persons relocation programme under which Britain has taken 216 Syrians from refugee camps.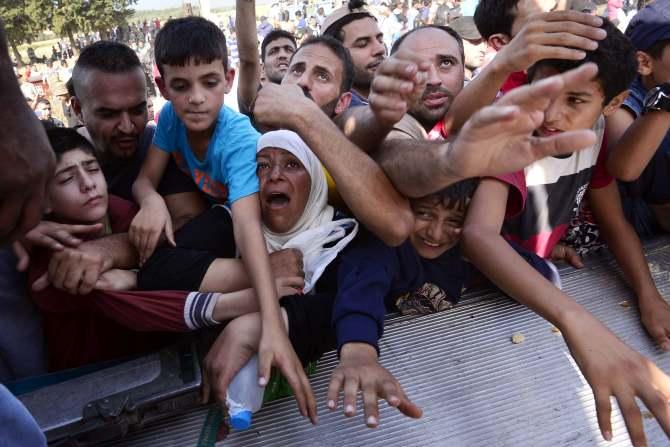 Migrants reach for food delivered by the Caritas humanitarian organisation in Idomeni, Greece. Several thousand migrants without basic living conditions are waiting in Greek border village Idomeni to cross the Greek Macedonain border to continue their journey to Serbia. Photograph: Milos Bicanski/Getty Images
As part of a wider programme, he wants to launch a military and intelligence offensive against the people traffickers, divert foreign aid to the crisis as part of the Whitehall spending review and persuade Opposition Labour MPs to back airstrikes in Syria in a House of Commons vote in early October.
With details of Britain's refugee resettlement programme being finalised, a figure as high as 20,000 has been discussed in 10 Downing Street, but Cameron's "current thinking" will see about 15,000 people in refugee camps on the Syrian border resettled in Britain, the newspaper quoted sources as saying.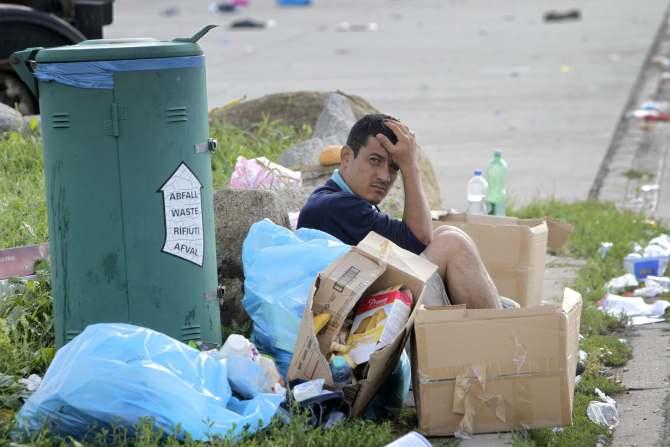 A migrant at make-shift camp at the border crossing in Nickelsdorf, Austria. Photograph: Srdjan Zivulovic/Reuters
Cameron has been under tremendous domestic and international pressure to take in more refugees fleeing from the war-ravaged Syria, after images of a three-year-old Syrian toddler Aylan Kurdi, found dead on a Turkish beach, surfaced in the news media. He has said that he was "deeply moved" by the images,and Britain will fulfil its "moral responsibilities".
Until now, it has been suggested that Britain would take between 4,000 and 10,000 refugees. But one senior official said that 10,000 was now the "minimum not the maximum".
The UK is not joining an EU quota system to be announced this week by Jean-Claude Juncker, the president of the European Commission, but a source said: "We will show that we are pulling our weight."