Doctors at North Bengal Medical College in Siliguri claim that they've been provided raincoats, sunglasses and masks made of bedsheets instead of PPEs (Personal Protective Equipments), laboratory glasses and surgical/N95 masks to look after positive cases of coronavirus.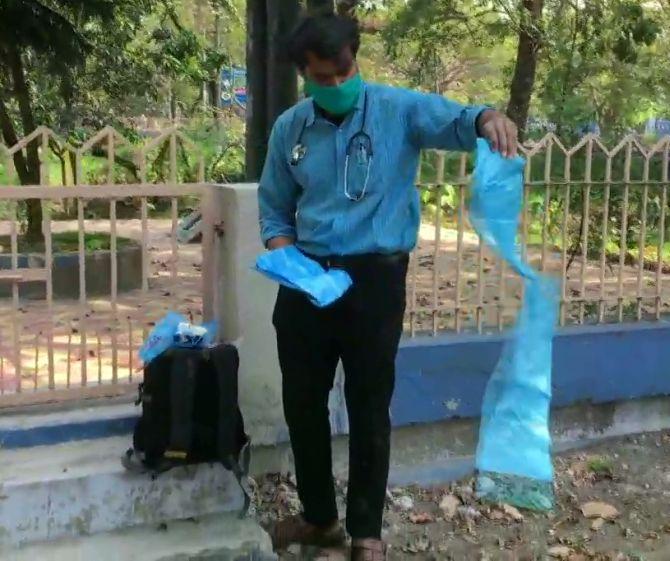 Shahriar Alam, a resident doctor, says, "We met MSVP (medical superintendent cum vice principal) who told us there's no supply of PPEs but requisition has been sent.
"We were given raincoat and sunglasses. They told us to wash raincoat and reuse," the doctor said.
Personal protective equipment, or PPE, include masks, goggles, gloves and face shields, is a mandatory requirement for all health workers screening, testing or treating people for the virus.
Both doctors and manufacturers have flagged the issue of dwindling PPE supplies.
Doctors and healthcare workers, the first line of defense to battle coronavirus are risking their lives due to a critical shortage of PPE.
WATCH: Doctors given raincoats to fight coronavirus
The procurement has been delayed in policy making and red tape raising concerns about an imminent shortage of personal protective equipment for them.
Worldwide, governments are looking to procure more PPE, and imports will be hard to pull off.
Thr World Health Organisation has so far shipped nearly half a million sets of personal protective equipment to 47 countries but supplies are rapidly running out everywhere.
Based on WHO estimates, the world needs about 89 million medical masks and 76 million examination gloves for COVID-19 response every month.