Maverick self-styled godman Gurmeet Ram Rahim Singh was on Friday convicted of rape by a court in Panchkula, triggering widespread violence and arson in Haryana where 30 people were killed and over 250 injured after which curfew was imposed and several other places.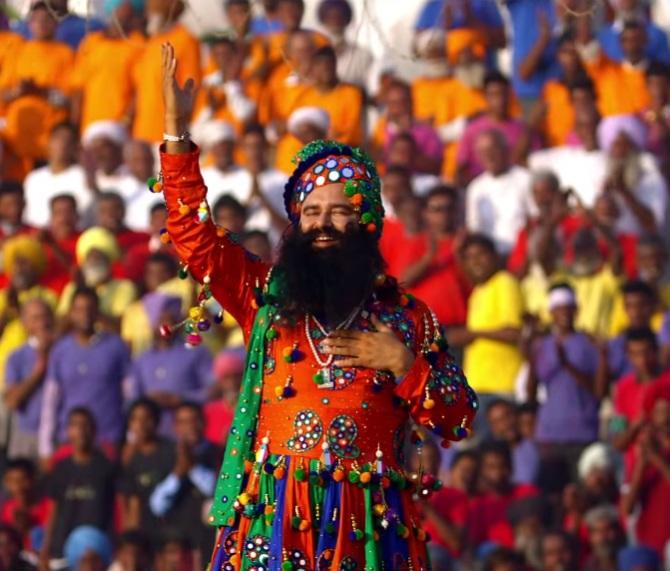 Central Bureau of Investigation judge Jagdeep Singh held Ram Rahim, the 50-year-old flamboyant chief of the Dera, guilty of rape in a case that was registered on the basis of an anonymous written complaint in 2002 that he had sexually exploited two female followers.
Soon after his conviction, Ram Rahim Singh was lodged in a make-shift jail at a police training centre in Rohtak.
"Gurmeet Ram Rahim has been put in (special jail at) PTC Sunaria," Rohtak Deputy Commissioner Atul Kumar said, adding, tight security arrangements have been made.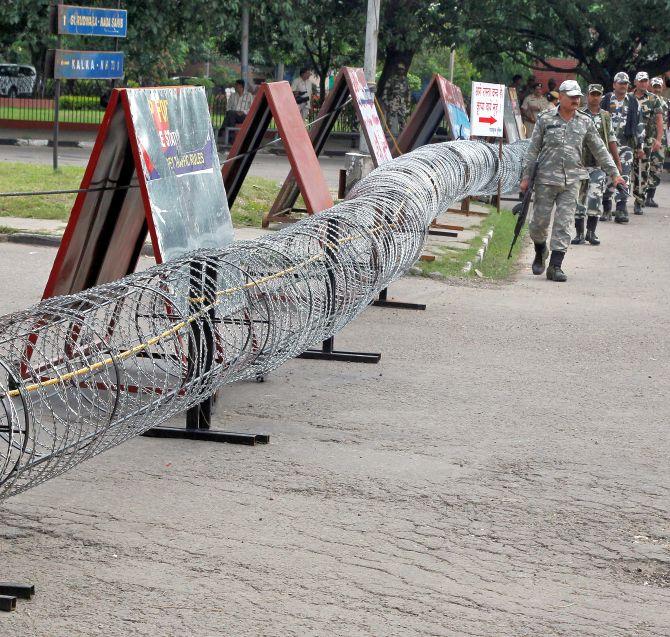 IMAGE: Police patrol outside the court in Panchkula where Gurmeet Ram Rahim was held guilty.
Photograph: Ajay Verma/Reuters
On the basis of the report, a case was registered against him in December 2002 by the CBI on the directions of the Punjab and Haryana high court.
The quantum of sentence against Ram Rahim, who enjoys 'Z' category security, will be pronounced on August 28, CBI counsel HPS Verma told reporters outside the court.
The punishment can be a jail term not less than seven years but may even extend to life imprisonment.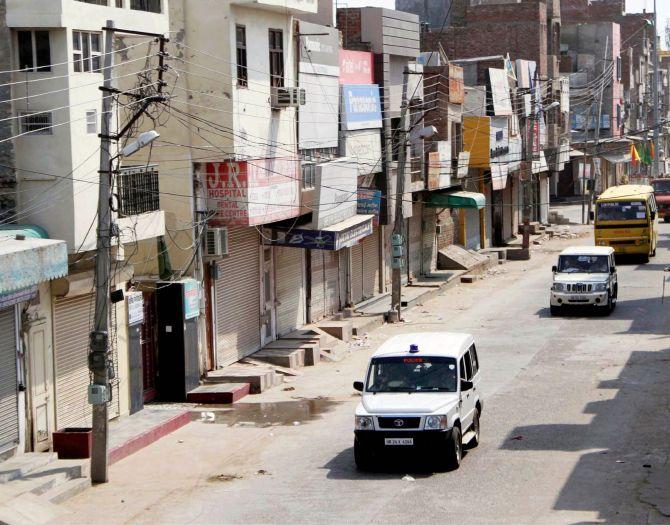 IMAGE: Vehicles of the police and paramilitary forces pass through streets of Sirsa , Haryana amidst curfew imposed. Photograph: PTI Photo
Ram Rahim travelled to the court from Sirsa, about 260 km from Chandigarh, in a huge convoy of vehicles which had his security guards and several followers.
As the news spread and his thousands of followers gathered near the Panchkula court went on the rampage, Ram Rahim was taken by a helicopter to a jail in Rohtak.
His followers, ironically called 'premis' (who believe inlove), unleashed violence and set afire a large number of vehicles, buildings and railway stations in Panchkula, otherwise a peaceful city on the outskirts of Chandigarh, as well as in Sirsa, where the dera is based, and in Punjab.
Media persons and assets were among the main targets of the mobs.
Prime Minister Narendra Modi condemned the violence, terming it as "deeply distressing" and urged everyone to maintain peace.
Modi, who reviewed the situation with National Security Adviser Ajit Doval and Home Secretary Rajiv Mehrishi, said the law and order situation is being closely monitored.
"Urged officials to work round the clock to restore normalcy and provide all possible assistance that is required," he tweeted.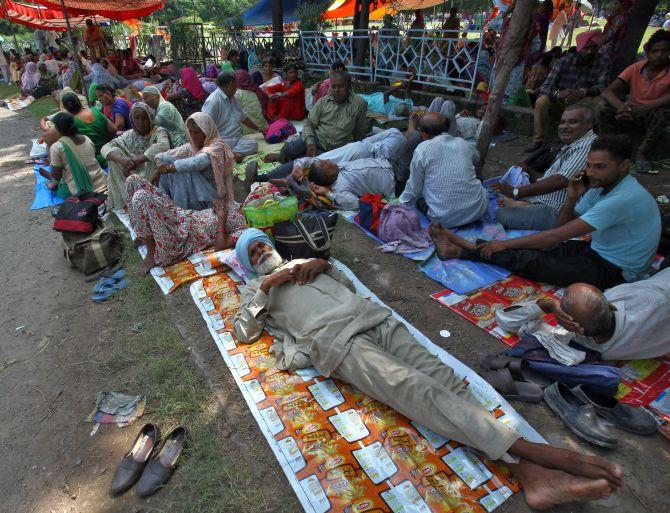 IMAGE: Supporters of Gurmeet Ram Rahim Singh rest as they gather near a stadium in Panchkula.
Photograph: Ajay Verma/Reuters
Haryana Chief Minister Manohar Lal Khattar, under attack for alleged inaction, said tonight that some perpetrators of violence, including those "who opened fire", have been identified and will be arrested.
At least 32 incidents of violence and arson were reported from Malwa region of Punjab, police said. However, no casualty was reported.
Punjab Chief Minister Amarinder Singh said curfew has been imposed in 10 districts of Malwa region as a precautionary measure and appealed to the people to maintain peace.
"The army is staging flag march in the curfew-bound areas of Punjab to restore the confidence of the people," he said.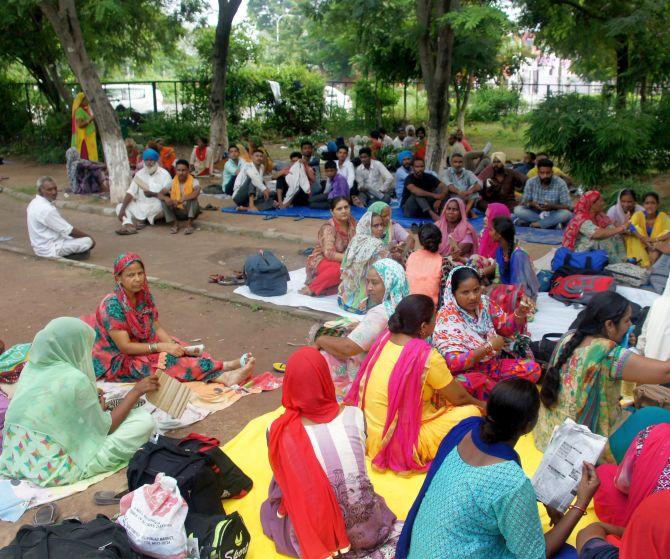 IMAGE: Followers of Dera Sacha Sauda chief Gurmeet Ram Rahim gather at a park in Panchkula ahead of the court judgment in a sexual exploitation case against him. Photograph: PTI Photo
In Punjab, Malout and Balluanna railway stations were partially torched, Northern Railway spokesperson Neeraj Sharma said.
The Northern Railway had cancelled 211 trains to and from Haryana since August 23 up to August 27. Of the total number of trains cancelled, 91 are Express trains and 120 are passenger trains.
The railways has also short terminated/short originated 24 trains.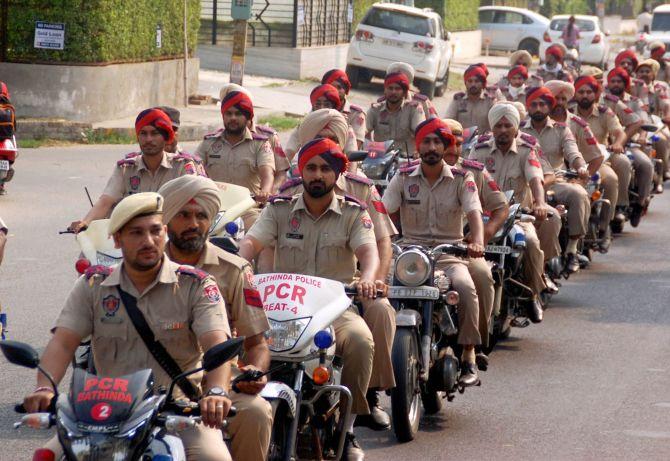 IMAGE: Police personnel march in a street in Bathinda. The securty has been beefed-up in the city in the view of the verdict in a case against Dera Sacha Sauda chief Gurmit Ram Rahim Singh. Photograph: PTI Photo
Dera to challenge verdict against Ram Rahim in higher court
The Dera Sacha Sauda described as "unjust" a special CBI court's verdict against its guru, Gurmeet Ram Rahim Singh, convicted in a 2002 rape case, and said it would appeal against it.
In a statement in Hindi, signed by spokesperson Dilawar Insaan, the Dera also appealed for peace amid widespread violence.
IMAGE: Ram Rahim's followers 'premis' gather at his ashram in Sirsa. Despite his message for calm and peace, the followers refused to move from their spot. Photograph: Vijay Verma/PTI Photo
"This is unjust. We will appeal against the judgment," the statement said.
"What has happened with us is something that has happened to gurus through history. Dera Sacha Sauda is dedicated to the betterment of humanity. We request all to maintain peace," the statement further read.
Hearing on quantum of sentence through video-conferencing
The hearing for deciding the quantum of punishment to Dera Sacha Sauda chief Gurmeet Ram Rahim Singh, convicted in a rape case by a Central Bureau of Investigation court in Panchkula on Friday, will take place through video-conferencing on August 28.
The judgment, holding Singh guilty of raping two female followers, mentions that the hearing will be held through video-conferencing, Central Bureau of Investigation
sources said.
The quantum of sentence will be pronounced on August 28, CBI counsel HPS Verma told reporters outside the court in Haryana.
The punishment can be a jail term not less than seven years but may even extend to life imprisonment.
© Copyright 2021 PTI. All rights reserved. Republication or redistribution of PTI content, including by framing or similar means, is expressly prohibited without the prior written consent.