The death toll in rain-related incidents in Tamil Nadu crossed 100 even as parts of Chennai received fresh rains on Thursday morning with the North East monsoon becoming active.
Chief Minister Jayalalithaa said in a statement that 24 more deaths have been reported in the past few days, taking the death toll in rain-related incidents like drowning and wall-collapse to 111.
The maximum number of casualties have been reported from Cuddalore with 12 deaths -- nine in drowning, two in wall collapse and one in lamp post collapse.
Kancheepuram reported six deaths due to drowning while Chennai and Vellore three and two respectively. One person was electrocuted in Kanyakumari, the statement said.
Expressing grief over the deaths, Jayalalithaa announced a relief of Rs four lakh each to the bereaved families.
Meanwhile, after a let-up of two days, Chennai witnessed rains in many parts, including suburban Tambaram and Kundrathur.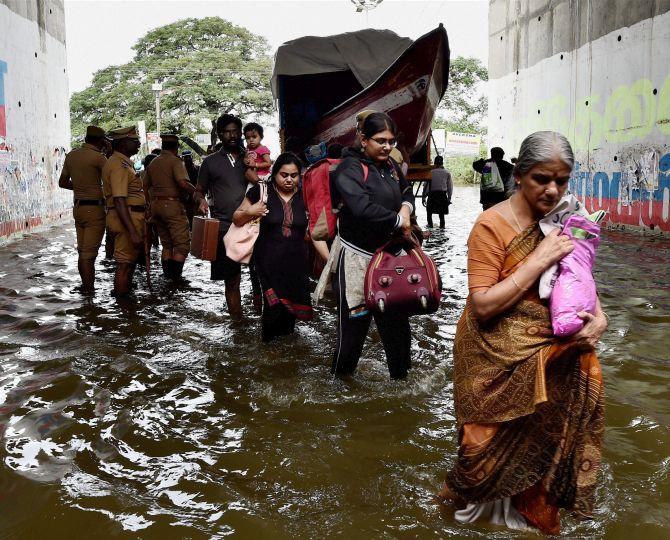 The weather office forecast more rains for the next 24 hours, especially in areas along the Western ghats.
Many parts of Tamil Nadu and Puducherry received rains, with Tirunelveli, Virudhunagar and Kanyakumari in the state receiving good spells in the last 24 hours ending 8.30 am on Thursday, the weather office said.
Sanakrankoil (Tirunelveli) received 14 cm while Rajapalayam (Virudhunagar) registered 12 cm of rain, officials said.
Many parts in both South and North Tamil Nadu received good spells of rain in the last 24 hours ending 8.30 am.
Chennai will be "generally cloudy" and few spells of rain were expected, it said.
In many places in the city, water was yet to completely recede, putting citizens to hardships.
Many people had moved to safer areas even as those who chose to stay home had to deal with small snakes and other insects swept in along with the rain water.
Jayalalithaa said since many students have lost their books and notebooks due to rain water accumulating in their homes, the government will provide a new set free of cost.
The CM had also directed officials to provide one set of school uniform to students. The government will provide a duplicate copy of ration cards to persons who have lost their original in the rains.
Photographs: PTI