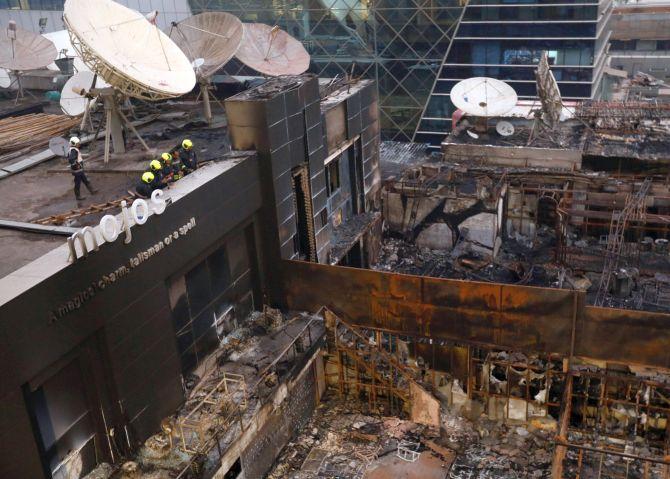 Police on Sunday arrested two persons for allegedly providing shelter to the owners of '1-Above' pub who were booked after a fire at their establishment claimed 14 lives on Friday.
Police had booked the pub owners, Hitesh Sanghvi and Jigar Sanghvi, co-owner Abhijeet Manka and others on various charges, including culpable homicide not amounting to murder.
Lookout notices were issued against the Sanghvi brothers on Saturday.
Their uncle Rakesh Sanghvi and cousin Aditya Sanghvi were arrested on Sunday, senior police inspector, Byculla, Avinash Shingthe said.
A search was on for their another relative, Mahendra Sanghvi, he said, without divulging more details.
The three relatives, all residents of the Mazgaon area in Byculla, were booked under Indian Penal Code Section 216 (harbouring an offender who has escaped from custody or whose apprehension has been ordered), another police official said.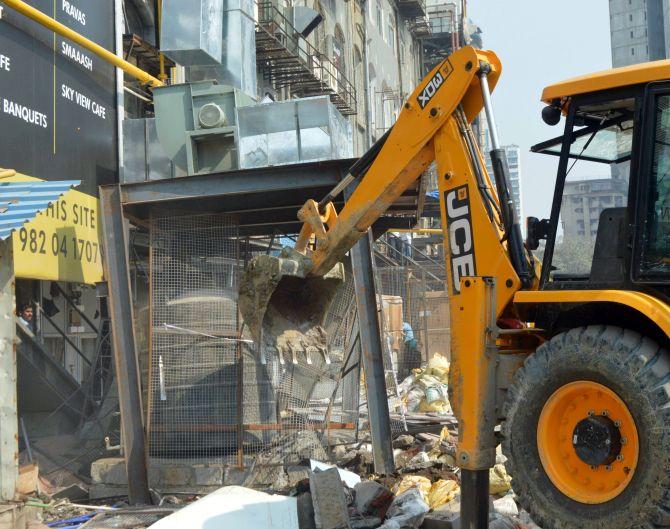 The accused pub owners were yet to be arrested, another police official said, adding that efforts were underway to trace them.
Meanwhile, the NM Joshi Marg police probing the fire incident recorded the statements of nearly 27 eye-witnesses.
"So far, we have recorded statements of about 27 eye-witnesses. We are searching for more witnesses in connection with the incident," a police official said.
On Friday, the police had booked the Sanghvi brothers, Manka and others under IPC sections 304 (culpable homicide not amounting to murder), 337 (causing hurt by act endangering life or personal safety of others) and 338 (causing grievous hurt by act endangering life or personal safety of others).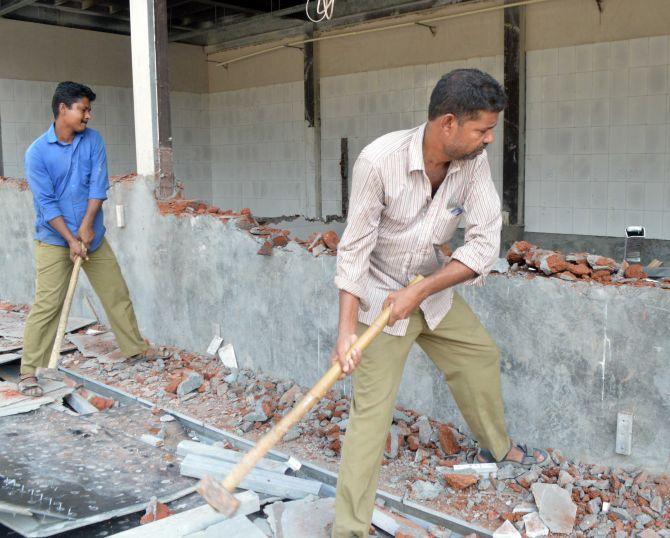 However, the pub had in a statement claimed that it had all the necessary approvals and safety norms in place. It had also blamed Mojo's Bistro on the floor below for not having an emergency exit, leading to overcrowding of the escape avenues of '1 Above'.
The massive fire that swept through the pub left 14 people dead and 21 injured. Among those killed was Khushbu Bansali, the woman who was celebrating her 29th birthday.
Two separate FIRs have been registered against the owners of Mojo's Bistro and 1 Above pubs, a senior police official had earlier said.
Since the pubs are located in the Kamala Mills compound where the alleged illegal extension was constructed, its owners have been named in the FIR, Deputy Commissioner of Police Zone 3 Virendra Mishra had said.
In the wake of the fire incident, police on Saturday registered three cases against mall and pub owners in the city on charges of illegal construction, officials said.
Meanwhile, the Mumbai civic body continued to raze unauthorised structures of restaurants, hotels and other food joints for the third day on Sunday.
The Brihanmumbai Municipal Corporation, which initiated the mega demolition drive two days ago, has decided to adopt a strict stand and not heed to requests by pubs and hotel owners to delay the action in view of New Year celebrations.
"We want to remove every unauthorised structure at restaurants, pubs, malls, food joints, other eateries and hotels. We are asking managers or owners of such properties to remove it on their own or else we will bring it down," BMC spokesperson Ram Dotonde said.
He said their teams on the field have the documents of structures which are unauthorised or illegal.
"Hardly any manager or owner is opposing our action as we have proof," Dotonde said.
He said BMC teams will continue with their work of razing illegal structures and a detailed report will be compiled by the evening.
Another BMC official said, "We are using this opportunity to remove maximum unauthorised structures. Some pub and hotel owners used to request us to delay the action, especially during New Year celebrations. But this time the BMC has decided not to listen to such requests, and take action."
Photographs: Danish Siddiqui/Reuters and Sahil Salvi