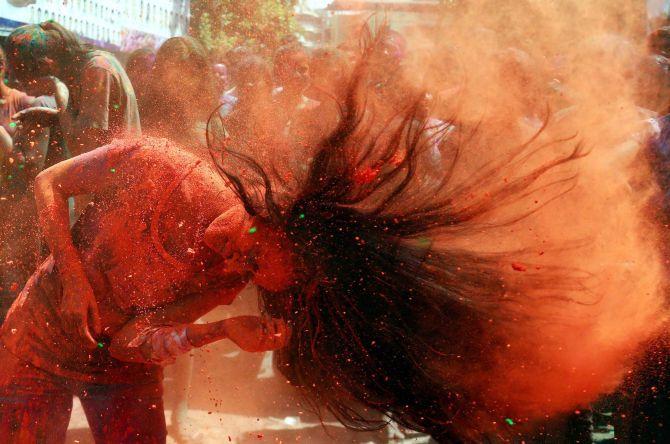 IMAGE: People celebrate Holi in Mumbai. Photograph: PTI Photo
Clothes were dyed with hues of colours and a spirit of jollity reigned supreme as the country on Monday played Holi.
Revellers thronged thoroughfares smearing faces with coloured powder and children hurled water-filled balloons from rooftops to celebrate the festival of colours which heralds the advent of spring.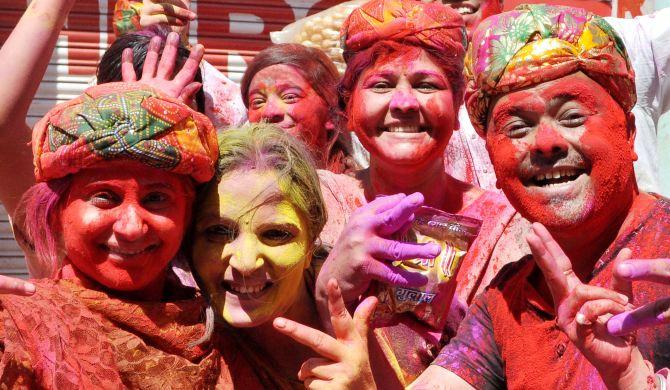 IMAGE: Holi celebration in Guwahati. Photograph: Reba Bora
People hugged each other wishing 'Happy Holi' as streets were filled with groups singing and dancing to the accompaniment of drums.
Since morning, youths and children revelled in the streets, daubing friends and family members with colours.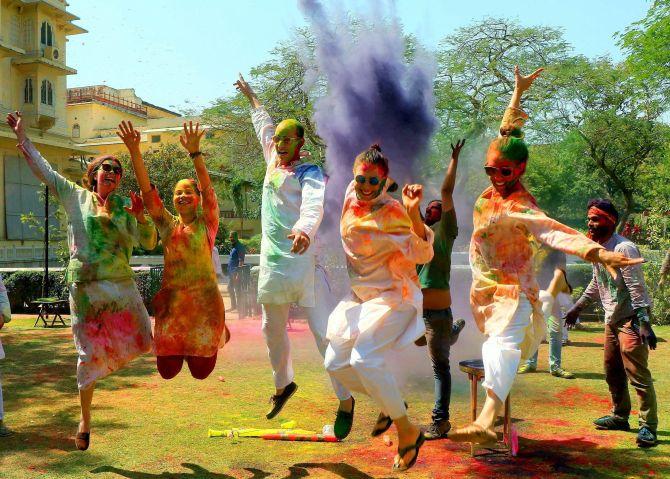 IMAGE: Locals and foreigners play Holi at

Khasa Kothi in Jaipur

. Photograph: PTI Photo
President Pranab Mukherjee, Vice President Hamid Ansari and Prime Minister Narendra Modi extended Holi greetings to the people, saying the festival symbolises the spirit of harmony and prosperity.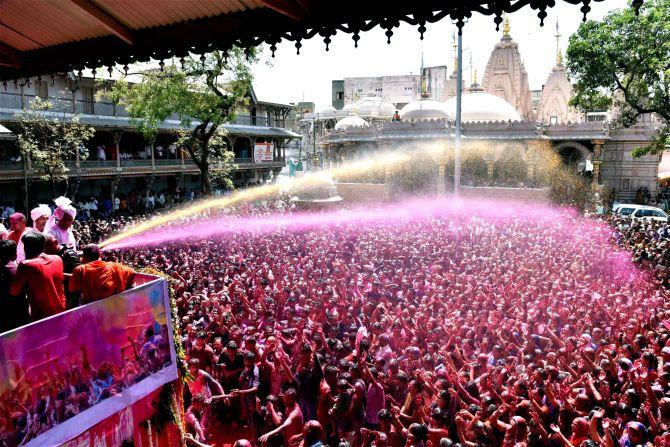 IMAGE: Celebrations at Swaminarayan Temple in Ahmedabad. Photograph: PTI Photo
"Let this year's Holi mark the beginning of a new phase of peace and prosperity in the country," Mukherjee said.
Extending his wishes, Ansari said, "May this festival bring peace, harmony, prosperity and happiness in our lives."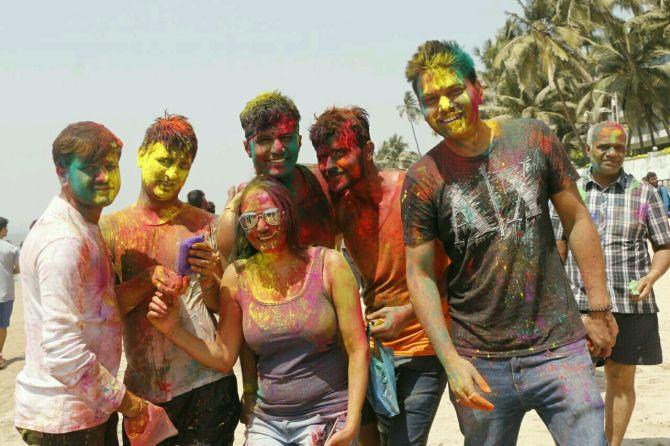 IMAGE: At Juhu Beach in Mumbai. Photograph: Sahil Salvi
Greeting the people, Modi hoped that the festival spreads joy and warmth everywhere.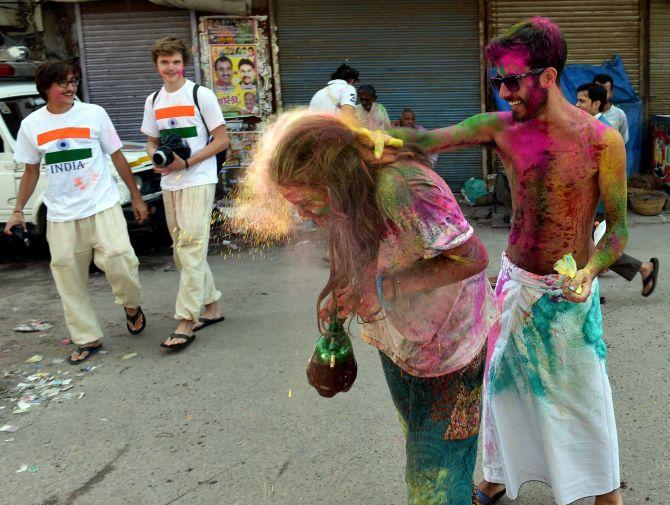 IMAGE: Foreigners play Holi in New Delhi. Photograph: Shahbaz Khan/PTI Photo

The paramilitary forces personnel did not celebrate Holi as a mark of tribute to the 12 Central Reserve Police Force personnel who were killed in a Naxal ambush in Sukma district of Chhattisgarh.
The CRPF issued orders that no 'regimental function related to Holi celebrations' will be observed at any field formation.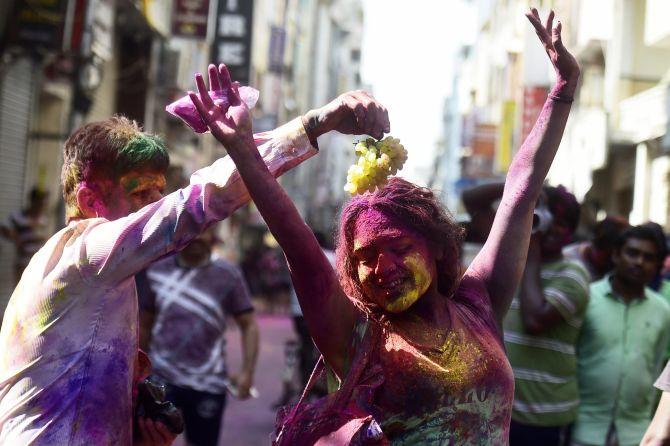 IMAGE: People play Holi at Sowcarpet area in Chennai. Photograph: R Senthil Kumar/PTI Photo

It said the gesture was to express 'solidarity' with the family members of the slain men and that the directions are to be followed by the 'entire force in letter and spirit'.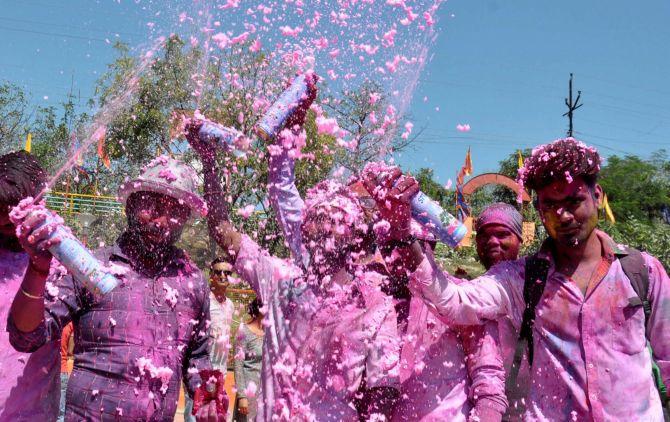 IMAGE: Holi celebrations in Lucknow. Photograph: Nand Kumar/PTI Photo
Elsewhere in the country, musical soirees were held at many places to mark the festival. Colourful Rangoli patterns were drawn at the entrance of houses as special delicacies, varying from region to region, were cooked to celebrate the occasion.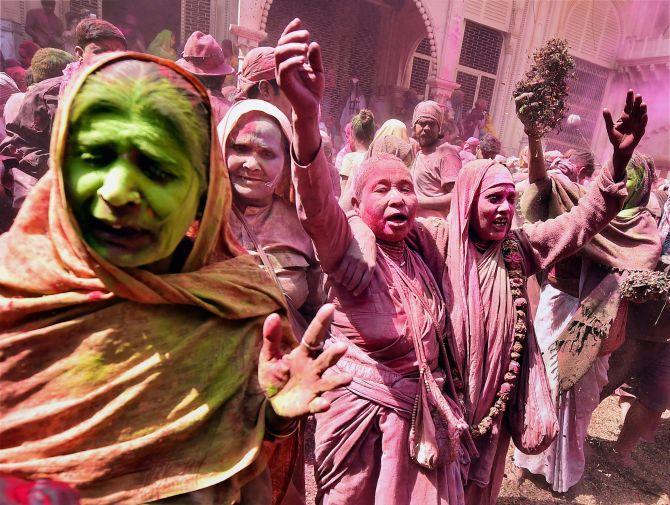 IMAGE: Widows playing Holi at ancient Gopinath Temple in Vrindavan. Photograph: Manvender Vashist/PTI Photo

In Mathura and Vrindavan, popular for their extravagant Holi celebrations extending nearly a week, people regaled with traditional practice including the 'lathmar holi' as the cities soaked in variegated hues.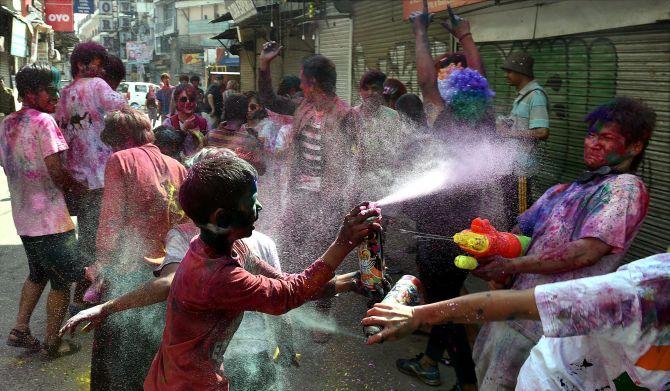 IMAGE: Children playing with colours in New Delhi. Photograph: Shahbaz Khan/PTI Photo

Hundreds of widows from Vrindavan also celebrated Holi.