Clashes on Saturday broke out between security personnel and protesters belonging to a hardline religious groups in the Pakistani capital following a government crackdown, leaving one person dead and over 150 others injured and triggering violence in other cities.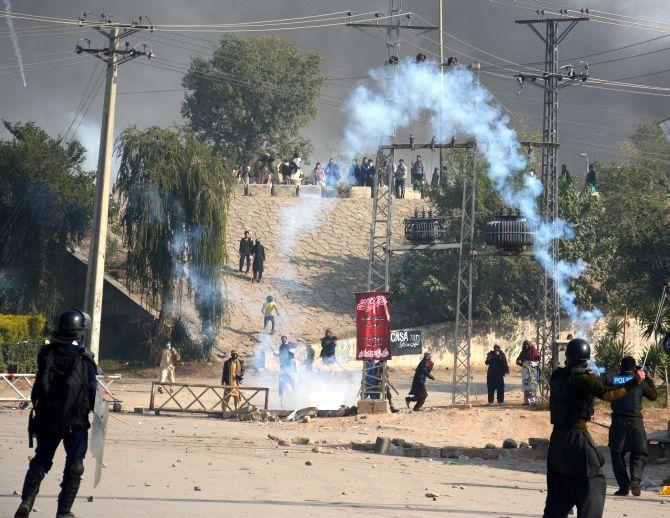 IMAGE: Police fire tear gas during clashes with protesters at Faizabad junction in Islamabad.
Photograph: Stringer/Reuters
The government blacked out all TV channels and blocked popular social media sites like Facebook, Twitter and YouTube to stem the spiralling violence.
The police and paramilitary personnel tried to disperse the protesters who have been blocking main highways leading to the capital Islamabad for more than two weeks to press for the resignation of law minister Zahid Hamid.
The protesters are objecting to changes made in the Khatm-i-Nabuwwat or finality of prophethood oath in the Elections Act 2017 passed in September, alleging the action undermined Islamic beliefs and linked it to blasphemy.
The operation was launched after the Islamabad high court on Friday issued contempt of court notice against Interior Minister Ahsan Iqbal for failing to implement orders to clear the roads.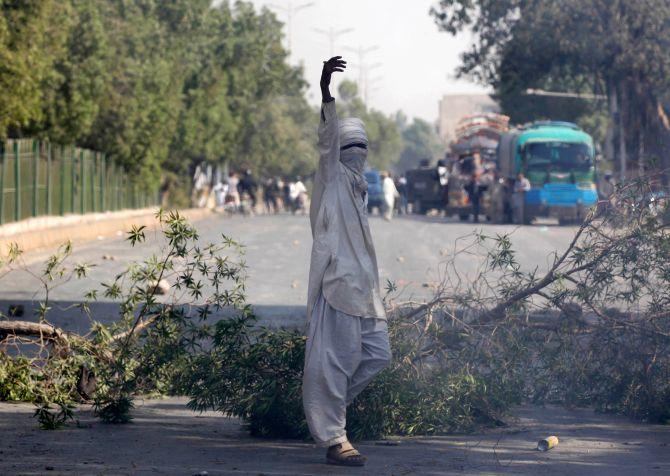 IMAGE: A supporter of the Tehreek-e-Labaik Pakistan, an Islamist political party, gestures after blocking the main road leading to the airport in Karachi. Protests have spread from Faizabad to other parts of the country. Photograph: Akhtar Soomro/Reuters
The protesters belonging to Tehreek-i-Khatm-i-Nabuwwat, Tehreek-i-Labaik Ya Rasool Allah and the Sunni Tehreek Pakistan attacked the house of former interior minister Nisar Ali Khan in Faizabad area of Rawalpindi.
They damaged the gate of his house and tried to enter the premises, but were prevented by police, official said.
Khan is a former minister and his house is located very close to Faizabad interchanged which has been occupied by the protesters for almost three weeks.
It was not known whether he was present inside the house at the time of attack.
At least one security person was killed and over 150 persons, including protesters and security personnel, were injured, police said.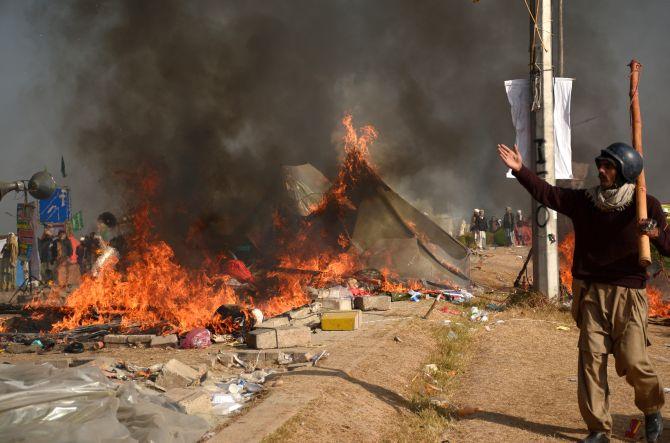 IMAGE: More than 8,000 security personnel took part in the operation against around 2,000 protesters. Photograph: Stringer/Reuters
TV footage showed police firing teargas and security personnel in riot gears charging at the protesters.
Dozens of them were arrested and shifted to various police stations.
Some of the security personnel were injured due to stone pelting by protesters.
According to a security official, more than 8,000 security personnel took part in the operation against around 2,000 protesters.
The operation was still going on and police were facing stiff resistance from the protesters, they said.
Meanwhile, violence also erupted in many parts of Karachi, Pakistan's biggest city and financial hub, where normal life was paralysed by protesters who forced shut down of markets, shops and petrol pumps. At least 15 people were injured in the violence.
Security forces fired in the air and baton-charged the protesters who came out in many areas after a crackdown was launched at the Numaish roundabout on the M A Jinnah road.
The protesters had also gathered at Al-Asif square and tried to block the roads leading to Hyderabad, traffic police officials said.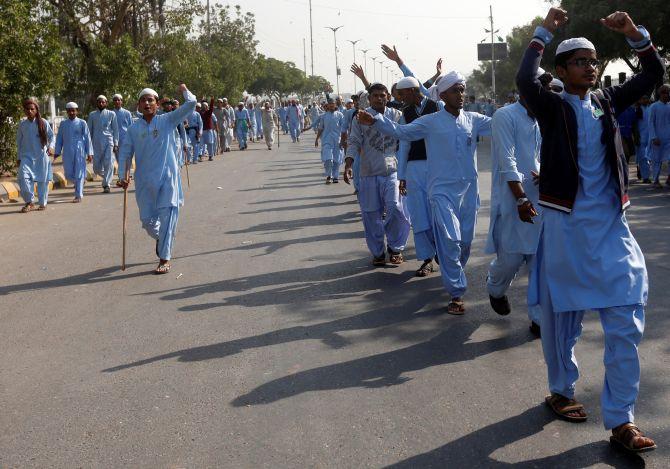 IMAGE: Supporters of the Tehreek-e-Labaik Pakistan chant slogans as they walk to join the sit-in protest in Karachi, Pakistan. Photograph: Akhtar Soomro/Reuters
A military spokesman said that army chief General Qamar Javed Bajwa talked to Prime Minister Shahid Khaqan Abbasi on telephone and urged for peaceful solution to the problem.
As authorities struggled to contain the violence, the government sources said the decision to shut down private news channels and social networking sites was taken in view of the experience of the military operation against extremists holed up in the Lal Masjid in Islamabad in 2007.
"At that time some media channels glorified suspected terrorists and vandals and there was a backlash due to this," a source said.
"In such a delicate situation there was also concerns that social networking sites would be used to spread unverified and false news/information and create panic and fear among the people," another source said.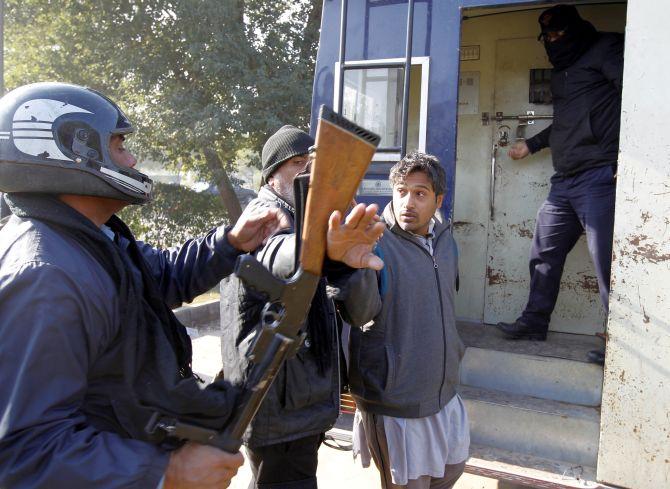 IMAGE: In addition to a blackout to all TV channels, the Pakistan government has blocked popular social media sites like Facebook, Twitter and YouTube. Photograph:

Caren Firouz/Reuters
About 2,000 activists of TLYR and ST have been blocking the Islamabad Expressway and Murree Road that connect Islamabad with its only airport and the garrison city of Rawalpindi for more than two weeks.
Islamabad city magistrate on Friday issued a warning to protesters to disperse by midnight or face the consequences.
Earlier, IHC last Friday had given a 24-hour deadline to the government to clear the roads which was later extended till Thursday.
However, the court on Friday expressed strong displeasure at the government for failing to take action against the protesters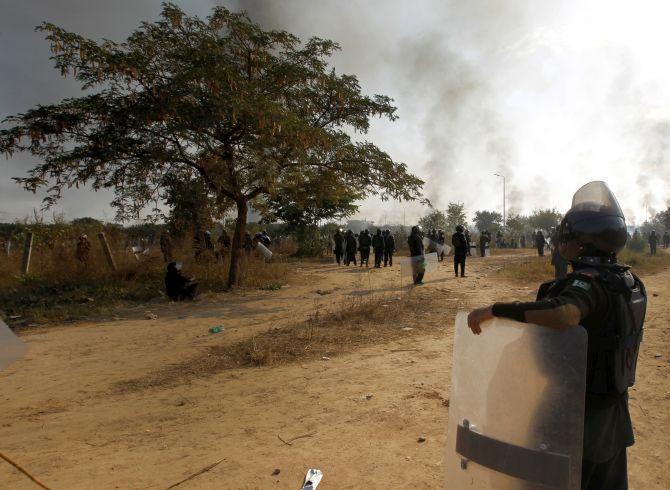 IMAGE:

The operation is still going on and police is facing stiff resistance from the protesters.

Photograph: Caren Firouz/Reuters