North and northwest India reeled under very cold conditions on Monday as a dense cover of fog lowered visibility in the region that affected traffic and led to a road accident in Uttar Pradesh's Unnao killing four people.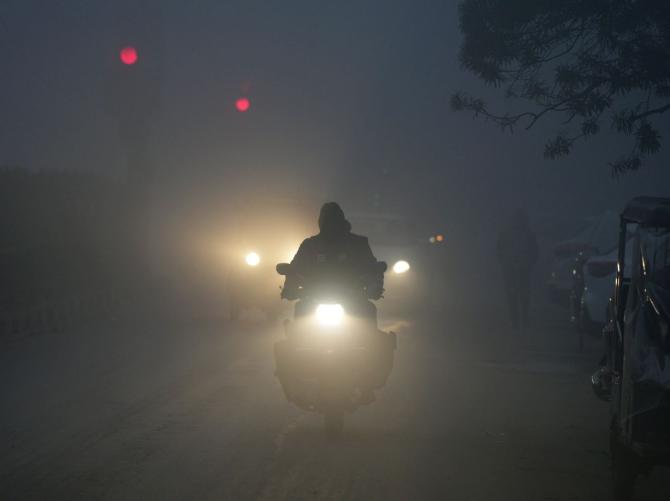 Delhi saw cold wave conditions for the fifth consecutive day and fog reduced visibility to just 25 metres.
The cold wave spell in Delhi has been so intense that the national capital has recorded a minimum temperature lower than that of most places in Himachal Pradesh and Uttarakhand for five days on the trot.
Meteorologists attribute the long spell of intense cold to a large gap between two western disturbances, which meant frosty winds from the snow-clad mountains blew in for a longer-than-usual period.
The visibility levels dropped to 50 metres at the Palam observatory, near the IGI Airport, and 25 metres at the Safdarjung observatory and the Ridge weather station, an official of the India meteorological department said.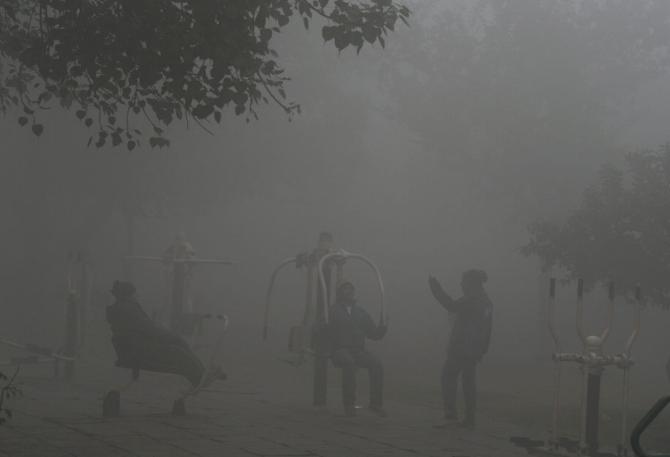 A total of 267 trains were delayed due to bad weather, a railway official said.
Five flights were diverted and 30 delayed due to the foggy conditions, officials at the Indira Gandhi International Airport said.
Cold wave conditions gripped Odisha also with the mercury dipping to as low as 3.7 degrees Celsius in Similiguda in Koraput district, the weather office said.
Fourteen weather stations in the state recorded temperatures of 10 degrees Celsius. While Sundergarh was at 4.3 degrees Celsius, Phulbani recorded 4.9 degrees Celsius and Jharsuguda recorded 7.8 degrees Celsius.
In state capital Bhubaneswar, the minimum temperature was 12.5 degrees Celsius, which was 2.7 notches below the normal.
In Jammu and kashmir, snowfall in higher reaches and light drizzle in plains extended the respite from cold wave conditions in Kashmir as minimum temperatures stayed around freezing point in most parts of the valley.
There was light to moderate snowfall in hilly areas like Gulmarg, Sonamarg-Zojila axis and Machhil in Kupwara, the officials said. They said a light drizzle took place over night in many plain areas of the valley.
Four people were killed Monday morning when their bus rammed into a truck in Unnao on the Agra-Lucknow Expressway, the police said.
Additional superintendent of police Shashi Shekhar Singh said the bus was going from Rajkot in Gujarat to Nepal.
The accident occurred in Auras area of Unnao.
Satellite images showed a fog layer extending from Punjab and adjoining northwest Rajasthan to Bihar through Haryana, Delhi and Uttar Pradesh.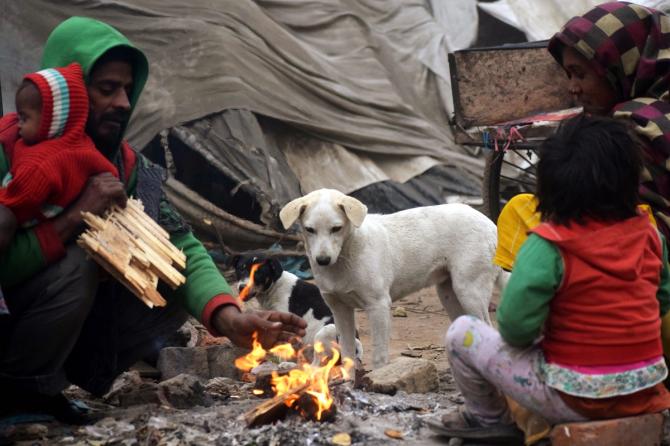 The minimum temperatures in the national capital rose marginally though. The Safdarjung observatory, Delhi's primary weather station, recorded a minimum of 3.8 degrees Celsius as against 1.9 degrees on Sunday, which is the lowest in January in two years and the second lowest in the month since 2013.
The weather stations at Lodhi Road, Ayanagar and Ridge recorded a minimum temperature of 3.6 degrees, 3.2 degrees and 3.3 degrees.
The Safdarjung observatory had logged a minimum temperature of 1.9 degrees Celsius on Sunday, 2.2 degrees Celsius on Saturday, 4 degrees Celsius on Friday, 3 degrees Celsius on Thursday and 4.4 degrees Celsius on Wednesday.
It (Monday) was the fifth consecutive day that Delhi's minimum temperature was lower than most hill stations in Himachal Pradesh and Uttarakhand, including Chamba (8.7 degrees), Dalhousie (9 degrees), Dharamshala (9.2 degrees), Shimla (10.3 degrees), Manali (6 degrees), Kangra (8.9 degrees), Dehradun (6.5 degrees), Mussoorie (11.3 degrees), Nainital (6 degrees), Mukteshwar (7.6 degrees) and Tehri (9.2 degrees), according to the IMD.
The chilly weather has prompted the Delhi government to extend winter vacation in schools till January 15.
"The long cold wave spell in Delhi can be attributed to a large gap between two western disturbances which allowed the chilly northwesterly winds from the mountains to affect the plains for a longer-than-usual period," Mahesh Palawat, vice president (meteorology and climate change), Skymet Weather, said.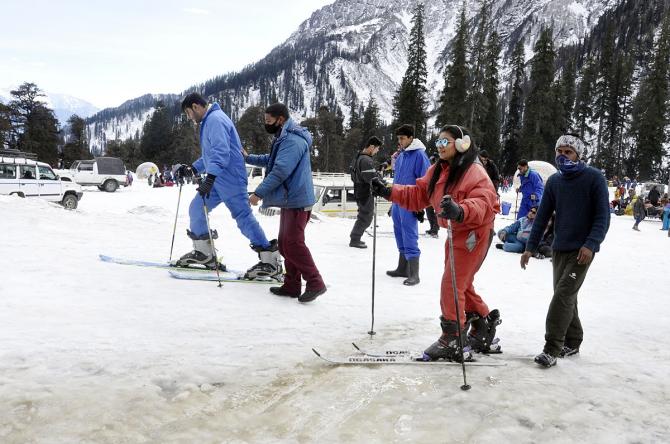 Usually, there is a gap of three to four days between two western disturbances. This time, the gap increased to seven days, Palawat said. A western disturbance retreated from the region by December 30 and the next one came on January 7.
A senior IMD meteorologist said short-term relief is likely after a couple of days under the influence of back-to-back western disturbances.
When a Western disturbance -- a weather system characterised by warm moist winds from the Middle East -- approaches a region, the wind direction changes. Hence, the chilly northwesterly winds from the mountains will stop blowing for a few days leading to an increase in temperatures, he said.
The IMD said the foggy weather may lead to road accidents and advised people to drive slowly and use fog lights.
It said there are chances of tripping of power lines in areas witnessing very dense fog.
Long exposure to dense fog may cause respiratory problems for people having asthma bronchitis and other lung-related health problems, it said.