The Republican aggressively blamed the nation's problems on Clinton yet found himself mostly on the defensive in their first debate as she accused him of racist behaviour and hiding his income.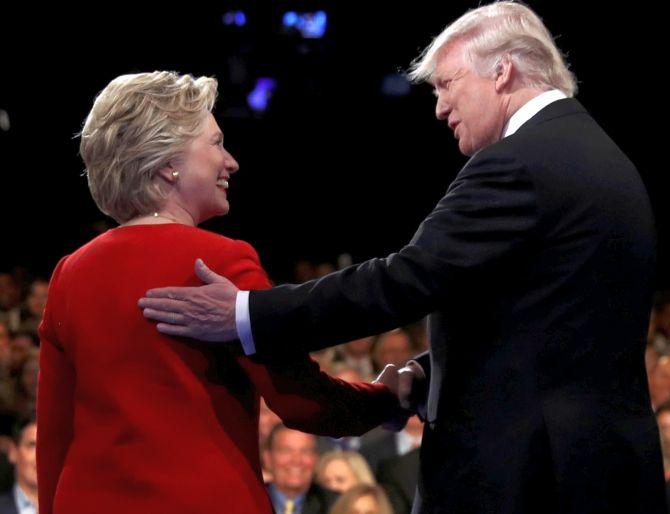 IMAGE:

Republican US presidential nominee Donald Trump shakes hands with Democratic presidential nominee Hillary Clinton at the start of their first presidential debate at HofstraUniversity in Hempstead. Photograph: Joe Raedle/Pool/Reuters
Hillary Clinton and Donald Trump on Tuesday battled out in front of tens of millions of American voters over racism, terror and temperament in their fiery first debate ahead of the epic presidential election as the Democratic nominee put her Republican rival on the defensive.
The 90-minute clash witnessed the 68-year-old former secretary of state and the 70-year-old reality TV star, who have attacked the other for months in separate campaigns, taking the stage together in Hempstead for the first time to woo a substantial chunk of voters who remain undecided voters ahead of the November 8 polls.
The CNN/ORC poll declared Clinton as the clear winner in the first of a series of three debates, with a massive 62 per cent of voters giving an edge to the Democrat over Trump, who was deemed winner by only 27 per cent.
The two candidates indulged in a series of combative, acrimonious exchanges as the battle turned personal, with the controversial real estate mogul being questioning the "stamina" of the former secretary of state after her recent bout of pneumonia.
Clinton was seen smiling through the insults and landed jabs of her own to put Trump on the defensive over his temperament, refusal to release his taxes and his past comments on race and women in the debate that set netizens talking about the showdown in huge numbers.
Trump said he will release his tax returns if Clinton releases her 33,000 emails deleted by her from the period when she was the secretary of state in the first term of the Obama administration.
"As soon as she releases them, I will release," he said when he was being grilled for not releasing his tax returns.
The two leaders clashed as they came face-to-face for the first of the three high-stake presidential debates at Hofstra University in Hempstead, about an hour's drive from New York City and projected themselves as best-prepared to lead the nation just six weeks before the election.
Clinton accused Trump of being "anti-women" and challenged his allegations that she lacked the stamina to be the commander-in-chief as the real estate mogul said "she does not have the stamina".
"She doesn't have the look. I said she doesn't have the stamina. And I don't believe she does have the stamina. To be president of this country, you need tremendous stamina," Trump said in response to a question during the first presidential debate.
Clinton hit back, saying: "Well, as soon as he travels to 112 countries and negotiates a peace deal, a ceasefire, a release of dissidents... or even spends 11 hours testifying in front of a congressional committee, he can talk to me about stamina."
She said the "racist lie" perpetuated by her rival about Barack Obama of not being a natural-born citizen "bothered and annoyed" the US President, whom she called a man of "great dignity". She slammed Trump's long record of engaging in "racist behaviour" and said "the birther lie was a very hurtful one".
Meanwhile, Trump -- who is running for the top post for the first time -- said Clinton has "got experience", but it is "bad experience" and that the country can not afford to have another four years of it.
However, the non-politician interrupted Clinton several times and appeared agitated as Clinton appeared calm and composed.
According to voters in the CNN/ORC poll, Clinton expressed her views more clearly than Trump and had a better understanding of the issues by a margin of more than 2-to-1.
Showing their political colours, Clinton was dressed in a Republican red pant suit while Trump in a Democratic blue tie.
Trump, who was seen drinking water multiple times during the debate that had Clinton making a number of thinly veiled swipes, alleged his rival has no plans to defeat the Islamic State, the biggest national security challenge to the country.
"Secretary Clinton is talking about taking out the IS. "We will take out the IS." Well, President Obama and Secretary Clinton created a vacuum the way they got out of Iraq, because they got out -- what, they shouldn't have been in, but once they got in, the way they got out was a disaster. And the IS was formed," he alleged.
Clinton disagreed, saying: "I have put forth a plan to defeat the IS. It does involve going after them online. I think we need to do much more with our tech companies to prevent the IS and their operatives from being able to use the Internet to radicalise, even direct people in our country and Europe and elsewhere."
She said Trump has flip-flopped on his policy on Iraq as he initially supported the war in Iraq, though Trump strongly denied the charge.
"I hope the fact-checkers are turning up the volume and really working hard. Donald supported the invasion of Iraq," she said as the two entered into a verbal duel.
Trump claimed that the US is being used as a "piggy bank" to rebuild China and many other countries are doing the same thing as he underlined the need to stop jobs from being "stolen" from the US.
Both elicited laughter and cheers despite pleas from the organisers for no cheering, booing or clapping. Moderator NBC Nightly News anchor Lester Holt could be seen struggling to get a word in edgeways, saying "We need to move on as Trump spoke into the microphone about the nuclear threat.
"I think my strongest asset, maybe by far is my temperament," said the real estate tycoon to laughter.
"Woah. OK," she said to more laughs.
Clinton, who acknowledged that using personal email hosted on a private server was a mistake, said Trump is not releasing his tax returns may be because of certain reasons.
"First, maybe he's not as rich as he says he is. Second, maybe he's not as charitable as he claims to be. Third, we don't know all of his business dealings, but we have been told through investigative reporting that he owes about $650 million to Wall Street and foreign banks.
"Or maybe he doesn't want the American people, all of you watching tonight, to know that he's paid nothing in federal taxes" she said.