As nominations for Rajya Sabha biennial polls closed on Tuesday, a contest is on the cards in Uttar Pradesh and Haryana even as Union Power Minister Piyush Goyal and senior Congress leader P Chidambaram are among those set to be elected to the Upper House.
Uttar Pradesh
IMAGE:

Congress leader P Chidambaram files nomination for Rajya Sabha in Mumbai. Photographs: PTI
The polls took an interesting turn in UP with Independent candidate Preeti Mahapatra, a social worker, filing her papers before the end of the deadline. With this, there are 12 candidates for 11 vacancies that will entail voting.
Several Bharatiya Janata Party MLAs, members of small parties and independents are backing Mahapatra.
Seven candidates of Samajwadi Party and two of Bahujan Samaj Party, including national general secretary Satish Chandra Mishra, senior Congress leader Kapil Sibal and BJP's Shiv Pratap Shukla are others who are in the fray.
In 403-member UP assembly ruling SP has 229 MLAs, BSP 80, BJP 41, Congress 29, besides some smaller parties and Independents. Each candidate requires 37 votes for a win.
Maharashtra
In Maharashtra, all the six candidates, including Chidambaram, who filed his papers on Tuesday, and Union Power Minister Piyush Goyal are set to be elected as there are as many vacancies from the state. The others are Praful Patel from the Nationalist Congress Party, BJP's Vinay Sahasrabuddhe and Vikas Mahatme and Shiv Sena's Sanjay Raut.
Elections for 57 seats in the Upper House from 15 states are due to be held on June 11. Scrutiny of nominations will take place on June 1 and the last date for withdrawal is June 3.
Haryana
In Haryana, media baron Subhash Chandra claimed to have garnered support from the ruling BJP and some MLAs cutting across party lines for the second seat in the state while main opposition Indian National Lok Dal backed noted lawyer R K Anand, who has also fought Lok Sabha polls in the past as the party candidate. However, Anand at present is not a member of INLD, a party leader said.
Madhya Pradesh
IMAGE:

BJP Candidates MJ Akbar and Anil Madhav Dave in the presence of the state chief minister Shivraj Singh Chouhan file their nomination papers for Rajya Sabha polls
Besides M J Akbar, senior BJP strategist Anil Madhav Dave filed his papers from Madhya Pradesh. Dave was re-nominated from the state while Akbar was a surprise choice.
Three seats are falling vacant from Madhya Pradesh and among them two are with the BJP, held by Dave and senior journalist Chandan Mitra, while the third one is with the Congress, represented by Dr Vijay Laxmi Sadho.
Andhra Pradesh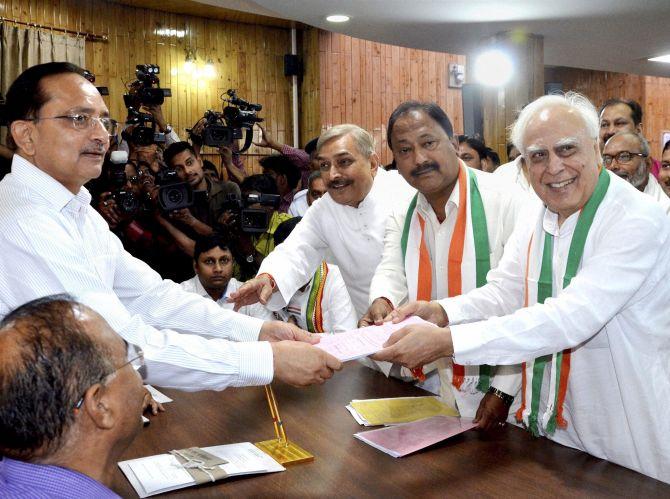 IMAGE:

Congress candidate Kapil Sibal files nomination papers for Rajya Sabha elections at Vidhan Bhawan in Lucknow. Photograph: Nand Kumar/PTI
In AP, besides Railway Minister Suresh Prabhu, Union Minister of State for Science and Technology Y S Chowdary and former state minister T G Venkatesh filed their papers as TDP nominees.
While Chowdary is seeking an election to the Upper House for a second straight term, Venkatesh is seeking his maiden entry. Both are industrialists-turned-politicians.
With its combined strength of 108 in the 176-member AP assembly, the ruling Telugu Desam Party-BJP can comfortably bag three seats.
TDP has given one seat for ally BJP, which is part of the Chandrababu Naidu government in the state.
The opposition YSR Congress has fielded its leader Vijaysai Reddy as its nominee for the sole seat it can win.
Bihar
In Bihar, former state BJP President Gopal Narayan Singh submitted his papers.
Senior leader Sharad Yadav, R C P Singh of the Janata Dal-United Ram Jethmalani and Misa Bharti of the Rashtriya Janata Dal of the state's ruling Grand Alliance are the other nominees. All are expected to win as there are five vacancies.
Telangana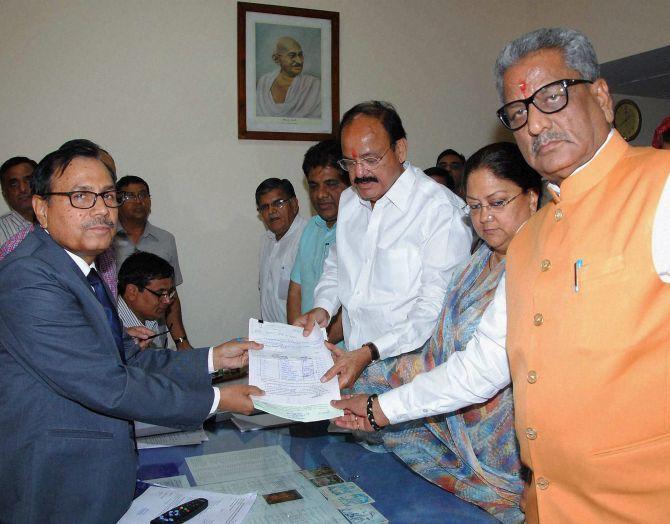 IMAGE:

Union minister Venkaiah Naidu and BJP Vice President Om Mathur filing nomination for Rajya Sabha in Jaipur on Monday. Rajasthan Chief Minister Vasundhra Raje is also seen.
Senior Telangana Rashtra Samithi leaders D Srinivas and Capt V Lakshmikanta filed their nominations from Telangana.
Both the leaders appeared set to be elected unopposed as no other candidate filed the papers to fill two vacancies.
While 14 BJP members are retiring, its increased strength in states like Maharashtra, Haryana and Jharkhand is likely to help all its 18 candidates sail through.
The elections were necessitated as 55 members from 15 states are retiring between June and August. One seat each from Rajasthan and Karnataka vacated by Anand Sharma (Congress) and Vijay Mallya (Independent) respectively will also go to polls.
Out of the total 57 seats, a majority of 14 each belong to BJP and Congress. While six members belong to BSP, five are from JD-U, three each from SP, Biju Janata Dal and All India Anna Dravida Munnetra Kazhagam.
Two members each belong to Dravida Munnetra Kazhagam, NCP and Telugu Desam Party, while one member belongs to Shiv Sena. Mallya was an Independent member nwho resigned on May 5.
While a maximum of 11 members are retiring from Uttar Pradesh, six seats each will go to polls from Tamil Nadu and Maharashtra.
From Bihar, five seats will go to polls, four each from Andhra Pradesh, Karnataka and Rajasthan, three each from Madhya Pradesh and Odisha, two each are from Haryana, Jharkhand, Punjab, Chhattisgarh and Telangana. One seat from Uttarakhand will also go to polls.
© Copyright 2021 PTI. All rights reserved. Republication or redistribution of PTI content, including by framing or similar means, is expressly prohibited without the prior written consent.