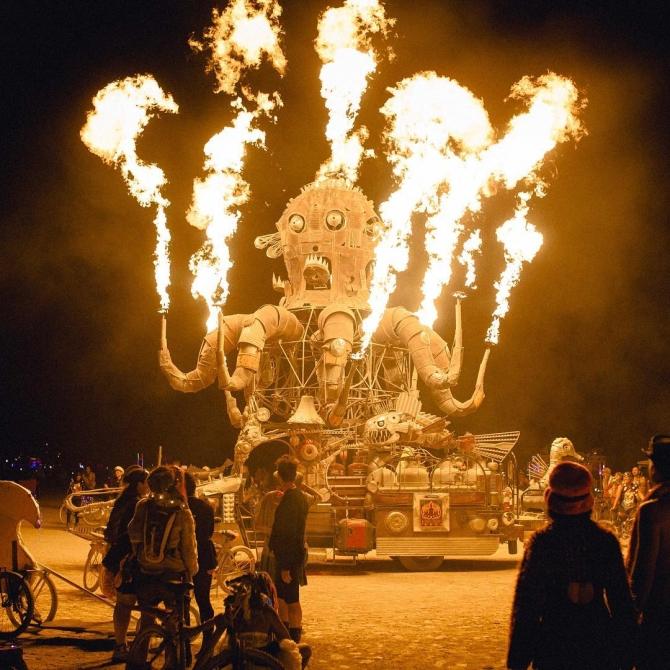 The Burning Man isn't your usual festival; it's a bustling makeshift metropolis dedicated to art and community wherein almost everything that happens is created entirely by its citizens, who are active participants in the experience.
Some call it a social experiment, some see it as an interactive arts festival and some see it as a damn good rave party.
The annual spectacle, organised in the Black Rock Desert of Nevada, has over the years grown from a small group of people gathering spontaneously to a community of over thousands of people. Approximately 70,000 people attended the event this year.
Burning Man's 2016 art theme -- Da Vinci's Workshop -- is inspired by the Italian Renaissance of the middle 15th and early 16th centuries, when an historic convergence of inspired artistry, technical innovation and enlightened patronage launched Europe out of medievalism and into modernity.
First held in 1986 on Baker Beach in San Francisco as a small function organised by Larry Harvey and a group of friends, it has since been held annually, spanning from the last Monday in August to the first Monday in September (Labor Day).
Burning Man plays host to various forms of artistic expression created for the event by its attendees and others, including experimental and interactive pieces, performance, and art cars among other mediums, often adhering to a yearly theme -- this year it was Carnival of Mirrors.
The event takes its name from its culmination, the ritual burning of a large wooden effigy ("the Man") that traditionally occurs on the Saturday evening of the event.
Let's take a look at some glimpses: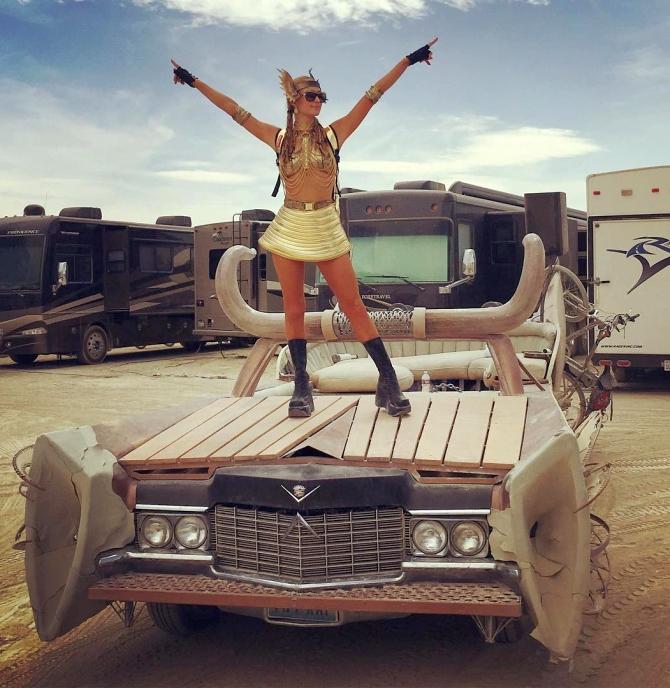 Mad Max style: Celebrities like Paris Hilton (above), Katy Perry, Karlie Kloss and Scott Eastwood all got down and dirty in the dust alongside major DJs like Diplo and Skrillex. Photograph Courtesy: parishilton/Instagram
---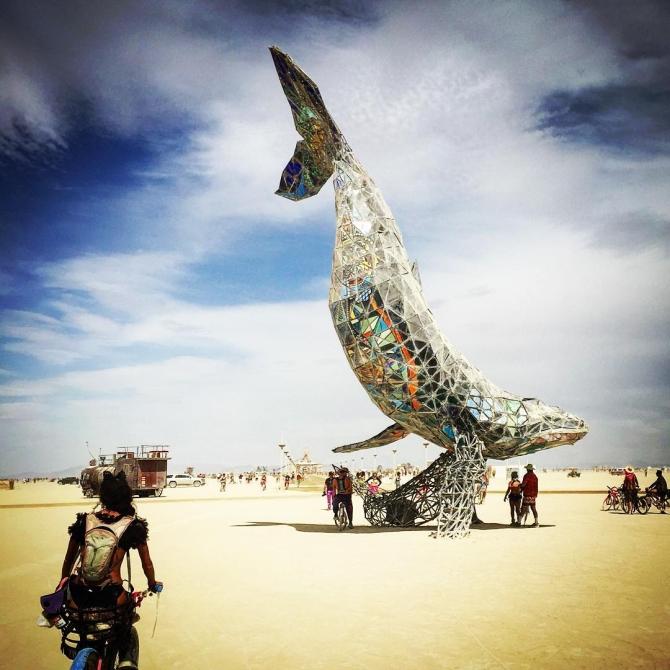 Having a whale of a time. Photograph Courtesy: mowynneing/Instagram
---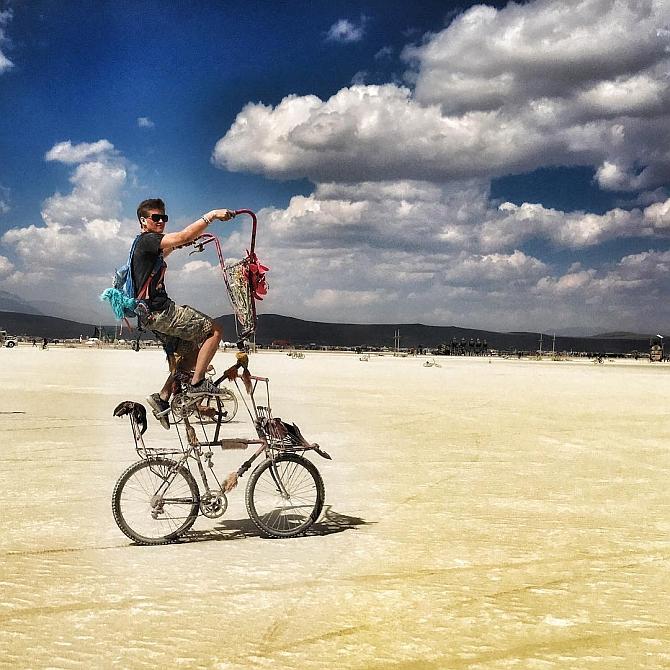 He took the bike experience to the next level....literally! Photograph Courtesy: 4ever.wanderlust/Instagram
---
Sailing the desert sands. Photograph Courtesy: thelifeofdeco/Instagram
---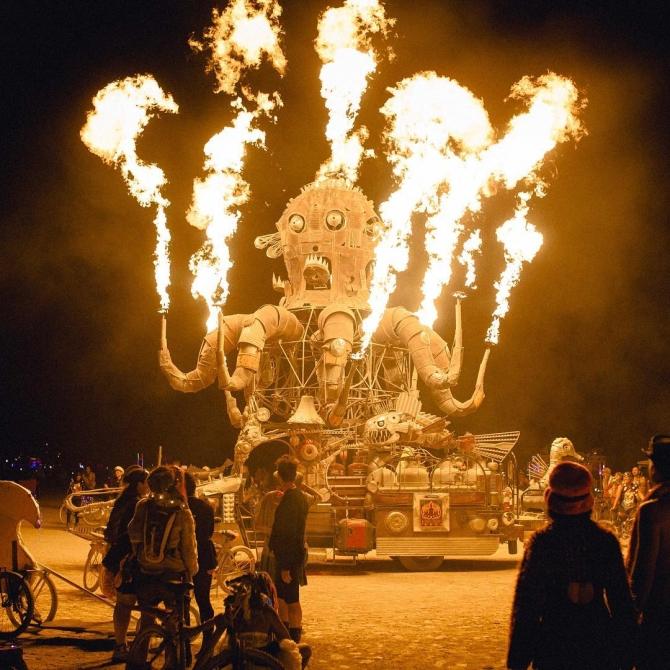 The El Pulpo Mecanico in full fury. It's a 25-ft mechanical octopus that shoots 30-foot gouts of flame from its tentacles. The sculpture uses 200 gallons of propane per night. Photograph Courtesy: thelifeofdeco/Instagram
---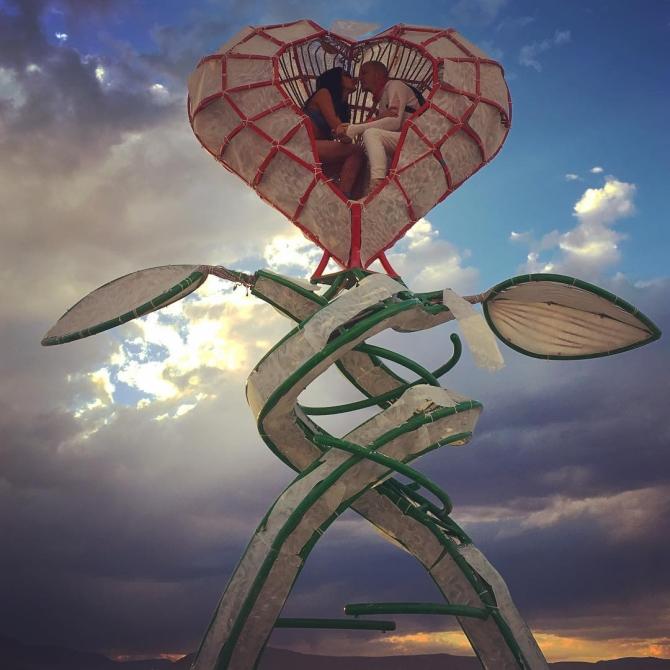 Sitting in a heart sculpture in the middle of Black Rock City. Photograph Courtesy: parisrouz/Instagram
---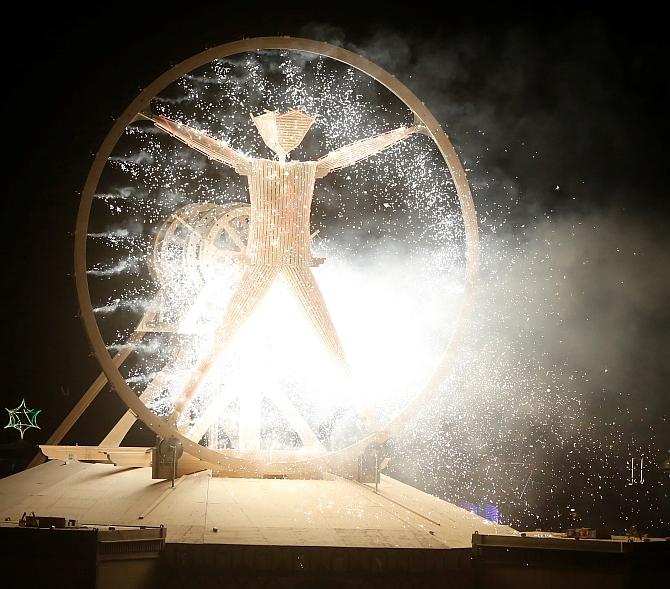 The Man burns. The Burning Man encourages an individual to discover, exercise and rely on his or her inner resources. Photograph: Jim Urquhart/Reuters
---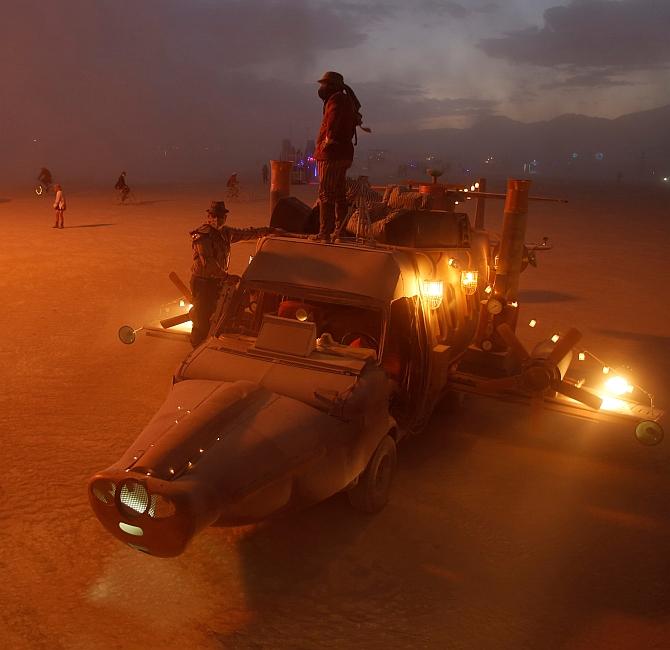 A mutant vehicle on the Playa. Photograph: Jim Urquhart/Reuters
---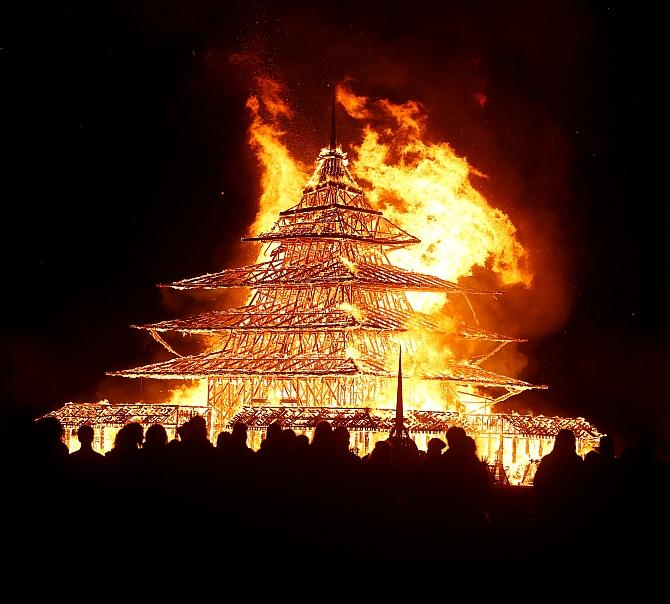 Participants watch the Temple Project burn. Photograph: Jim Urquhart/Reuters
---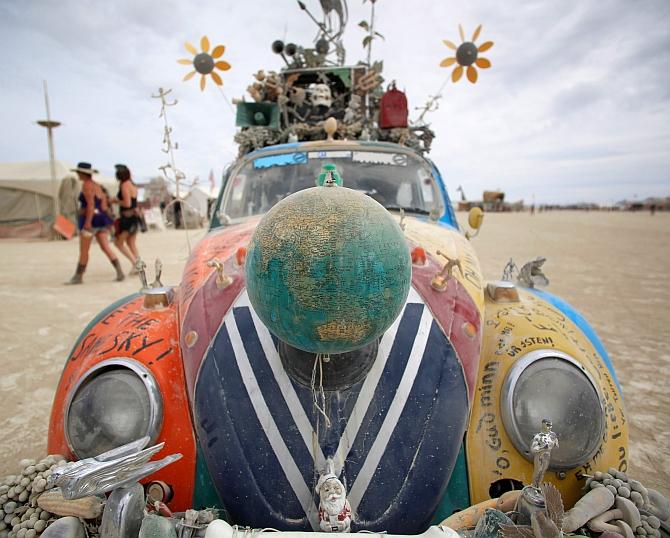 Harrod Blank's art car. Blank is an American documentary filmmaker and art car artist living in Berkeley, California. Photograph: Jim Urquhart/Reuters
---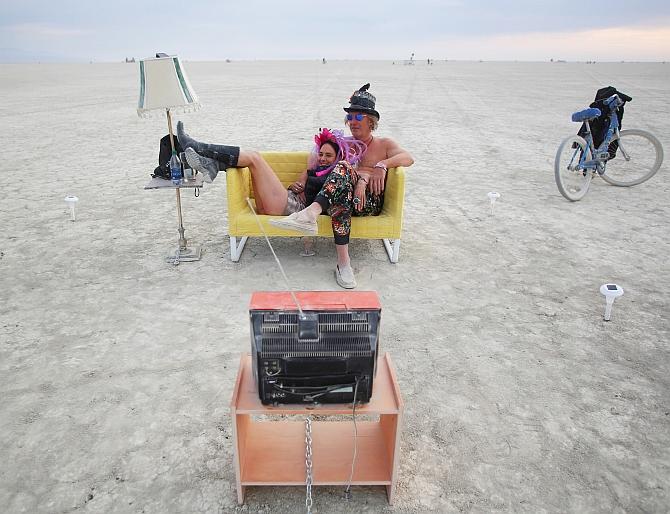 Jody Friedman and Jeff Montgomery infront of the Playa TV. Photograph: Jim Urquhart/Reuters
---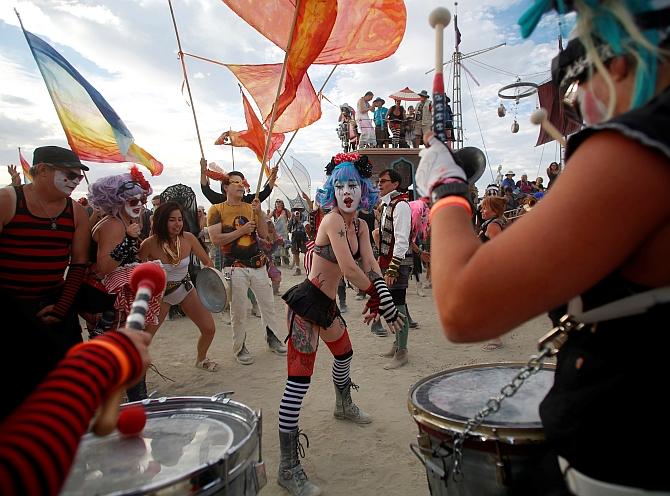 Members of the Trash Kan Marchink Band perform at the Black Rock desert. Photograph: Jim Urquhart/Reuters
---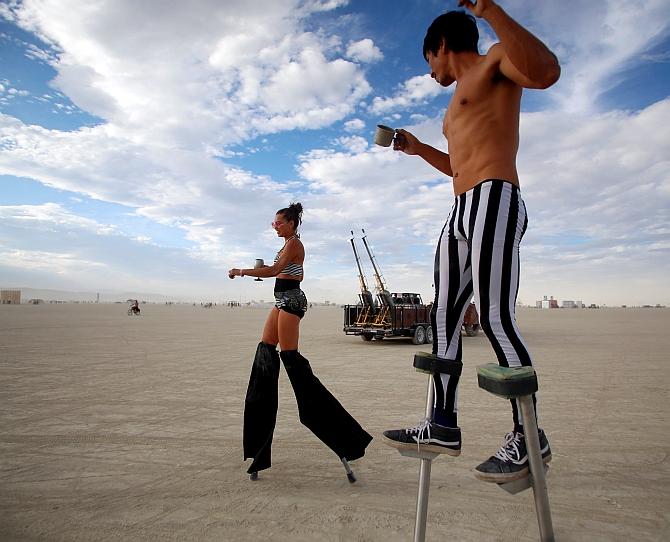 Katapult Sandra (left) and Divine Mustache, their Playa names, dance on stilts. Photograph: Jim Urquhart/Reuters
---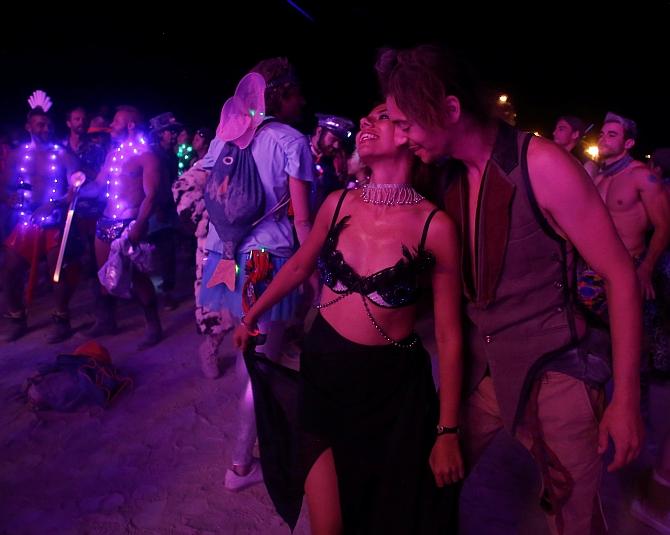 Setting the desert on fire. Photograph: Jim Urquhart/Reuters
---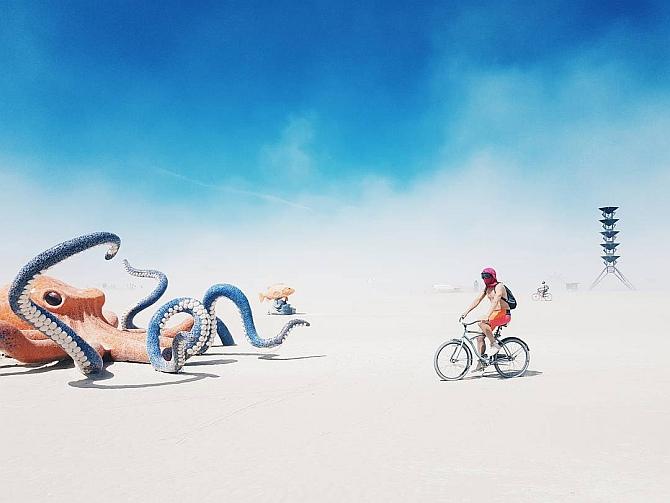 Man biking by an art installation in Black Rock Desert, Nevada. Photograph Courtesy: lensculture/Instagram
---
An aerial view of the campsite of the 30th annual Burning Man arts and music festival in the Black Rock Desert of Nevada, US. Photograph: Jim Urquhart/Reuters