In an unusual protest, hundreds of dogs and their owners marched through central London in a mass "Wooferendum March" to call for a second vote on Brexit, amid fears that leaving the European Union will harm the United Kingdom's estimated 54 million pets.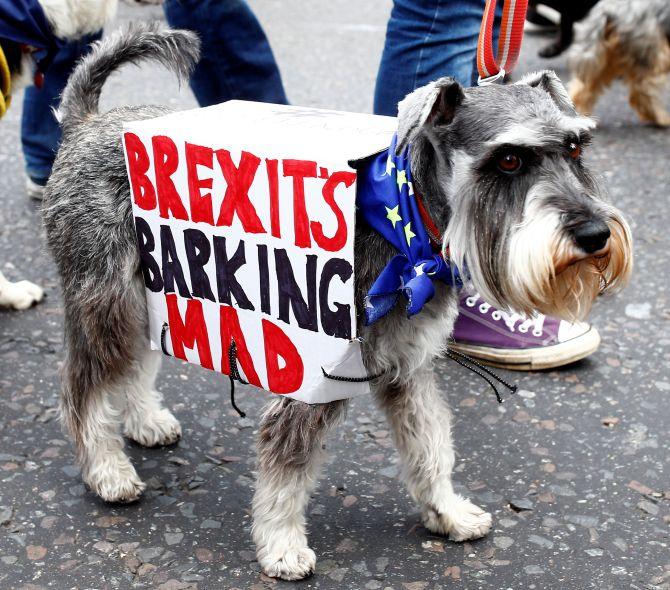 All photographs: Henry Nicholls/Reuters
The organisers of the so-called 'Wooferendum March', which culminated in a rally in Parliament Square on Sunday, said they were "howling on behalf of the millions of people in the UK who believe Brexit is a huge mistake".
Labour MP Stella Creasy and actor Peter Egan were among the speakers at the protest, which was organised in response to fears that leaving the EU will harm the UK's estimated 54 million pets.
Political writer Alastair Campbell was among the crowd with his five-month-old Cavalier King Charles Spaniel puppy Skye, who was attending her first ever rally, Evening Standard reported.
"It's a very British sort of thing -- people love their animals and there are serious animal welfare concerns with Brexit, but the reason I wanted to come is that I do think the people's vote has got to happen," Campbell said.
"They know the will of the people is changing, if Theresa May can't even unite her party around this vision of Brexit, how is she going to unite the country?" he said.
The organisers say leaving the EU is likely to result in a suspension of the EU Pet Passport scheme -- a programme that allows more than 250,000 animals to travel overseas with their owners.
There are also fears that Brexit will see a shortage of skilled vets and vet nurses from the EU as well as rising costs for animal health and pet food products.
Many of the signs on show used canine-themed puns, including "Brexit's barking mad" and "paws Brexit paw-ever".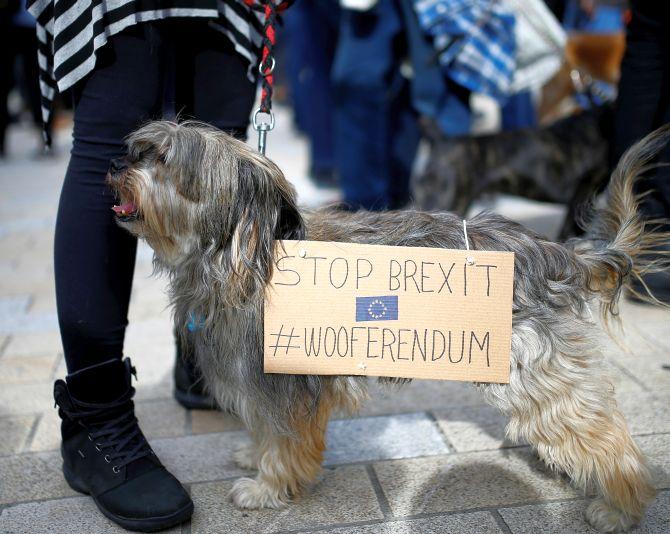 Several dogs were caught in the act of urinating on photographs of ex-UK Independence Party leader Nigel Farage, key face in the 2016 Brexit referendum campaign.
"I think this is a nice idea for a protest, it's a clever way of doing it because dogs make light of politics and bring people together. People can relate to each other more with their dogs," said Tiffany Haynes who attended with her Welsh Collie Megan.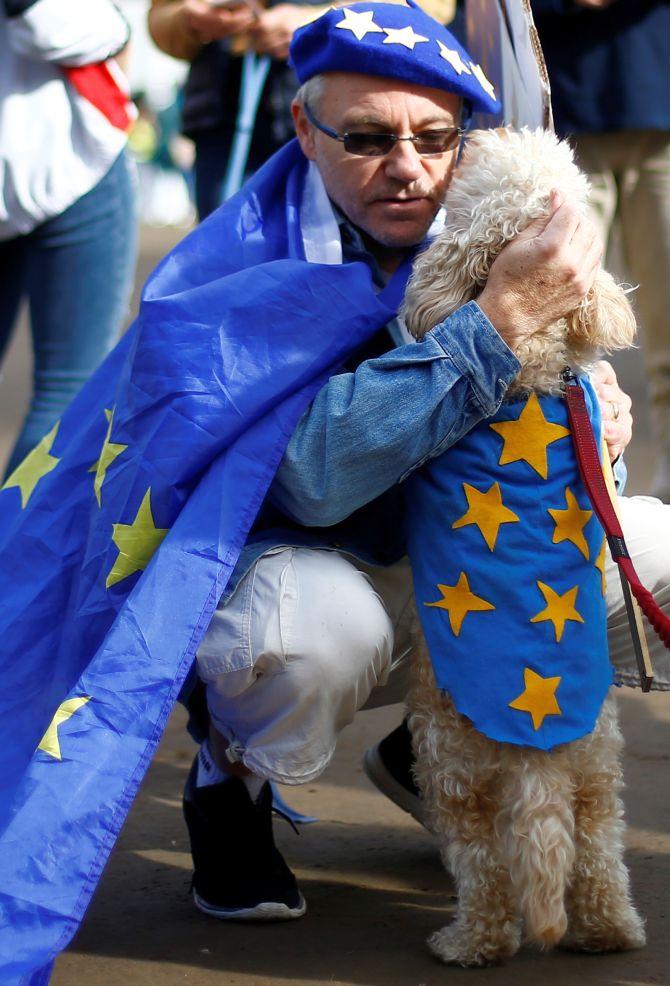 David Elkan, the founder of Wooferendum, started the campaign a year ago as a "secret protest" by taking photographs of dogs with campaign signs and putting them up in public places.
"So many people don't speak out when it's a tough, dry topic, but if people don't [speak out] politicians don't hear it," he said.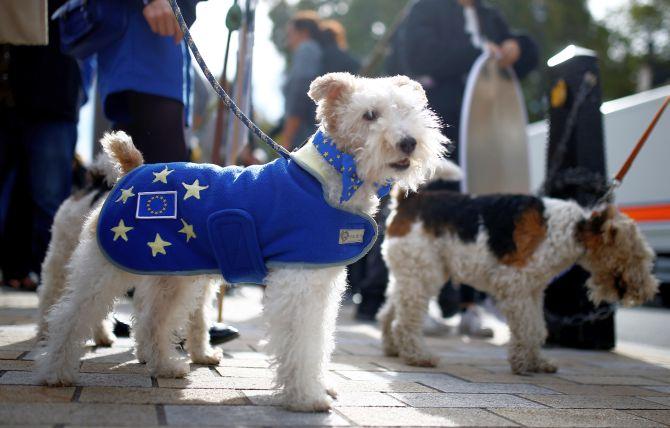 Britain voted by a margin of 52 to 48 per cent to leave the EU on June 23, 2016.