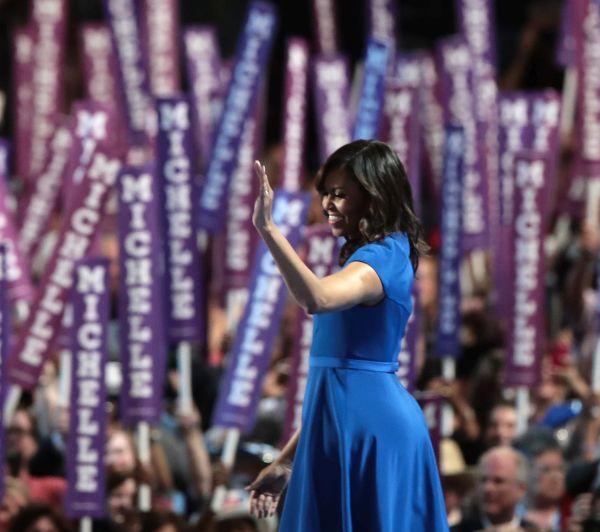 The United States Democratic Party's deep divisions were on full display on a raucous first day of its convention on Monday, with Bernie Sanders portraying Hillary Clinton as a fellow soldier in his fight for economic equality while his supporters booed the mere mention of her name.
On a dramatic first night of the Democratic convention, Michelle Obama brought the house down with an emphatic endorsement of Hillary Clinton. The first lady said she was the person most qualified to be president, and "I'm with her."
Other Democratic headliners, including Senators Cory Booker and Elizabeth Warren, sought to make the case to Sanders supporters that a Donald Trump presidency would be so dire that they must vote for Clinton.
The most important political moment of the night came when Sanders delivered the full-throated endorsement that the Clinton campaign had longed for.
Here are the highlights from Day 1 of the convention.
BERNIE SANDERS
IMAGE: Former Democratic US presidential candidate Senator Bernie Sanders thrusts his fist in the air as he arrives to speak during the first session at the Democratic National Convention in Philadelphia. Photograph: Mike Segar/Reuters
Vermont Senator Bernie Sanders lost the presidential race well over a month ago, but on Monday, he ended months of animosity when he 'proudly' endorsed Hillary Clinton, saying she must become the next US president as the choice between her and Republican presidential nominee Donald Trump is not "close."
"Based on her ideas and her leadership -- Hillary Clinton must become the next president of the United States. The choice is not even close," 71-year-old Sanders said in his address to the Democratic National Convention in Philadelphia.
"In these stressful times for our country, this election must be about bringing our people together, not dividing us up. While Donald Trump is busy insulting one group after another, Hillary Clinton understands that our diversity is one of our greatest strengths," he told his cheering supporters.
"Yes. We become stronger when black and white, Latino, Asian-American, Native American -- all of us -- stand together. Yes. We become stronger when men and women, young and old, gay and straight, native-born and immigrant fight to create the kind of country we all know we can become," he said.
"Hillary Clinton will make an outstanding president and I am proud to stand with her here tonight," said the senator from Vermont who during the primary election season gave some sleepless nights to the former Secretary of State by winning as many as 23 primaries.
MICHELLE OBAMA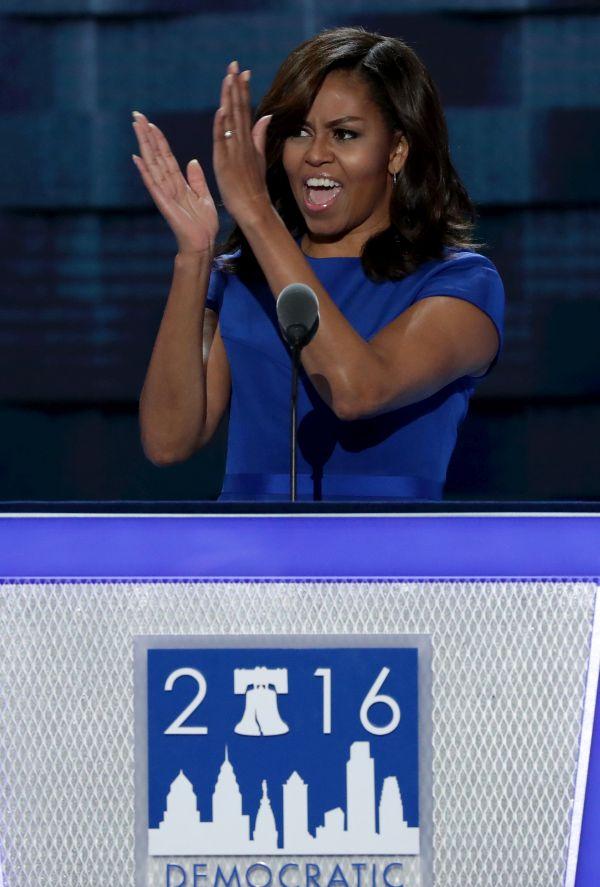 IMAGE: US First Lady Michelle Obama acknowledges the crowd after delivering a powerful and noteworthy speech. Photograph: Drew Angerer/Getty Images
US First Lady Michelle Obama's convention speech Monday night began as a pleasant story about her teenage daughters who arrived at the White House as children.
The niceties soon turned into a political attack on the Republican nominee, Donald Trump, who Obama did not name as she directed her ire at him.
"This country is great," Obama said at one point, while firmly stating, "I'm with her," to back Democrat Hillary Clinton.
"I am here tonight because in this election, there is only one person who I trust with [the responsibility of the presidency,]" she said. "Only one person who I believe is truly qualified to be president of the United States. And that is our friend, Hillary Clinton."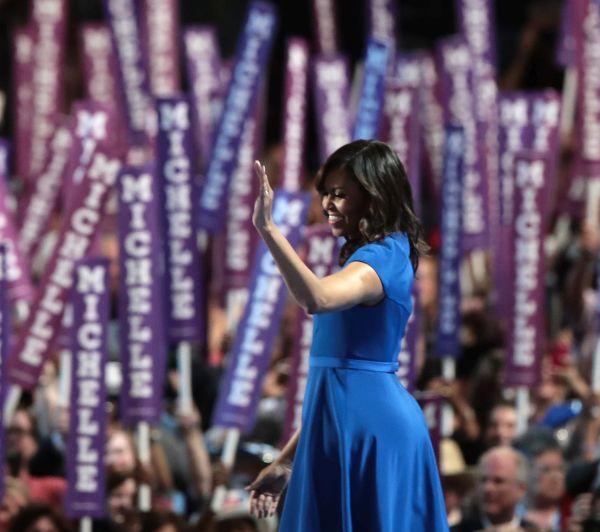 IMAGE: After initially being booed for her support for Clinton, she won the crowd over with many even suggesting on social media that 'FLOTUS could be POTUS'. Photograph: Alex Wong/Getty Images
Obama was not immune from boos. Sanders supporters booed and began chanting "Bernie! Bernie!" as Obama endorsed Clinton.
Obama seemed to acknowledge them, saying that when Hillary Clinton lost against her husband in 2008, she didn't get "angry or disillusioned."
"Hillary did not pack up and go home, because as a true public servant, Hillary knows this is so much bigger than her own desires and disappointments."
But Obama managed to unify the arena by taking on big themes, by portraying the United States as a country that strives to better itself, as country still on the ascent.
"That is the story of this country. The story that has brought me to this stage tonight," Obama said. "The story of generations of people who felt the lash of bondage, the shame of servitude, the sting of segregation but who kept on striving and hoping and doing what needed to be done, so that today I wake up every morning in a house that was built by slaves -- and I watch my daughters -- two beautiful, intelligent, black young women -- playing with their dogs on the White House lawn. And because of Hillary Clinton, my daughters -- and all of our sons and daughters -- can take for granted that a woman can be president of the United States."
SARAH SILVERMAN
IMAGE: Senator Al Franken and comedienne Sarah Silverman. Photograph:

Mike Segar/Reuters
Amid speeches made by politicians, several celebrities also turned up on the first night of the convention. Amongst them was actress Sarah Silverman. A proud Sanders supporter, she praised Clinton and said, "I will proudly vote for her."
She said she would continue to be inspired by Sanders and his movement.
Silverman's remarks were followed by chants of "Bernie, Bernie."
She told the "Bernie or bust people" they were being "ridiculous."
EVA LONGORIA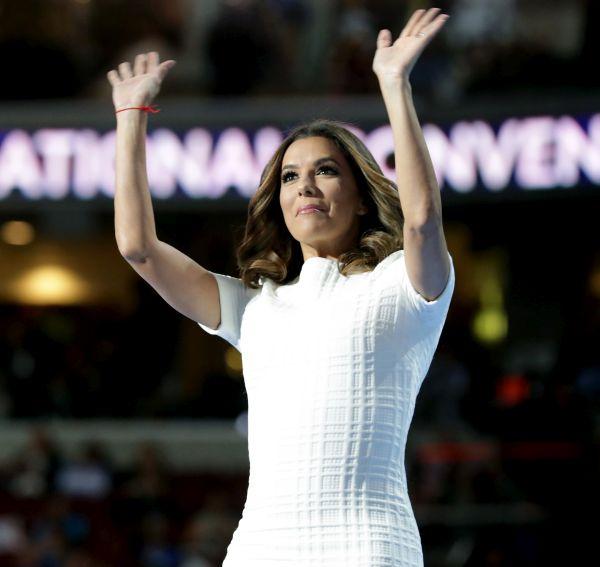 IMAGE: Actress Eva Longoria waves to the crowd after delivering remarks in which she slammed Donald Trump. Photograph: Chip Somodevilla/Getty Images
Actress Eva Longoria took the stage at the Democratic National Convention in Philadelphia Monday night to speak out against Republican nominee Donald Trump.
The Desperate Housewives star threw her support behind presumed Democratic nominee Hillary Clinton before talking about her family's background.
"I'm from a small town in South Texas, and if you know your history, Texas used to be part of Mexico," the star said. "I'm ninth generation American. My family never crossed a border; the border crossed us."
Longoria made a clear reference to Trump's June 2015 statement that Mexican immigrants are "bringing drugs. They're bringing crime. They're rapists." She said, "When Donald Trump calls us criminals and rapists, he's insulting American families. My father is not a criminal or a rapist, in fact, he's a United States veteran."
THE PROTESTS
IMAGE: Two supporters of Senator Bernie Sanders hug at the end of Sanders' speech during the first session at the Democratic National Convention. Photograph: Jim Young/Reuters
"Never Hillary" and "RIP, DNC" and "Bernie or Bust" read the placards as thousands of protesters gathered to express dismay with their party, their presumed presidential nominee and a political system they consider corrupt.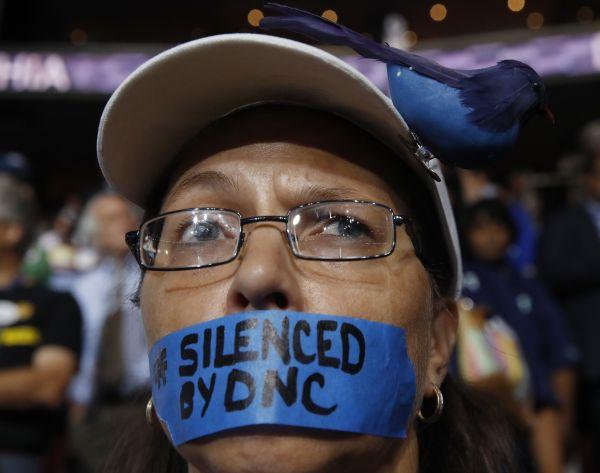 IMAGE: A Bernie supporter wears tape across her mouth in protest on the floor of the convention. Photograph: Jim Young/Reuters
Protests continued even inside with many of them shouting down speakers over their support for Clinton.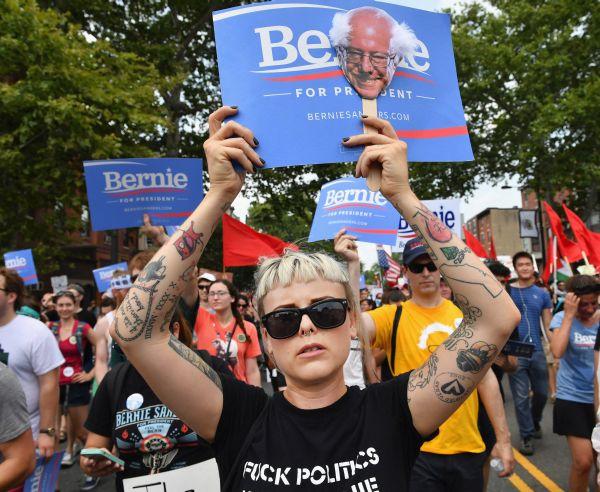 IMAGE: Bernie Sanders supporters march through downtown on the first day of the Democratic National Convention. Photograph:
Jeff J Mitchell/Getty Images