Prime Minister Narendra Modi on Saturday attended the pre-wedding ceremony of Samajwadi Party supremo Mulayam Singh Yadav's grandnephew with Rashtriya Janata Dal chief Lalu Yadav's daughter, an event which saw the most powerful political families of Uttar Pradesh and Bihar coming together.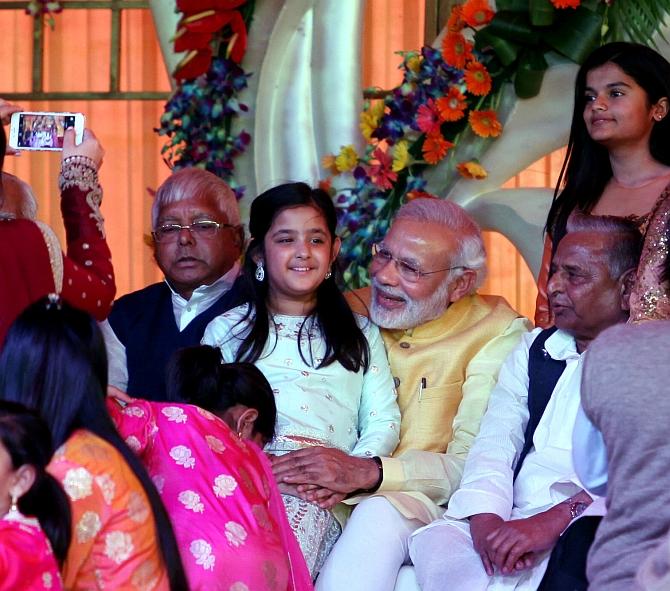 Modi, who reached the venue at 10.45 am along with Uttar Pradesh Governor Ram Naik, was received by Lalu and Mulayam at the 'Tilak ceremony' of Mainpuri MP Tej Pratap Yadav alias Teju with Lalu's youngest daughter Raj Laxmi.

Tej Pratap said no politics should be seen in the prime minister's visit.

"There is no politics in his visit. He was extended an invitation. We are grateful to him for visiting us and give his blessings. The opposition to him is issue based and not personal," he said.

Mulayam and Lalu have criticised Modi many times in the past but all was forgotten together with the three leaders happily posing for pictures and shaking hands.

The prime minister, who was seated between Lalu and Mulayam posed with family members including children of UP Chief Minister Akhilesh Yadav and showered flower petals on the bridegroom.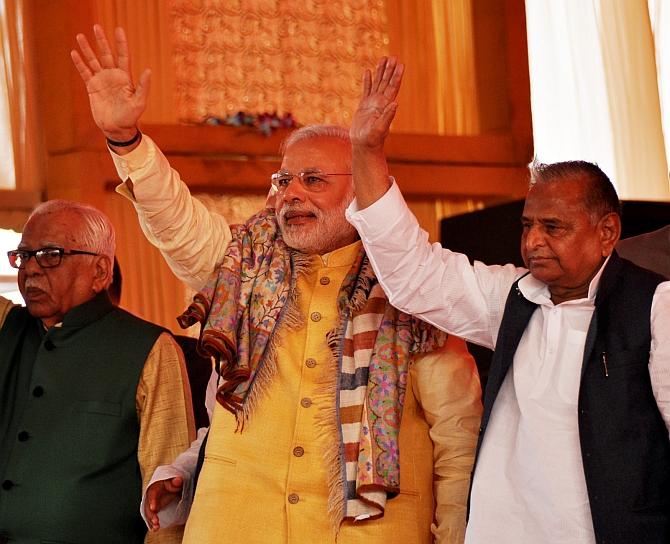 Modi left the venue after spending 45 minutes at the ceremony.

A beaming Lalu said, "I am happy that my daughter's marriage is a much talked about affair in the entire country. Mulayam Singh has not demanded single paisa (dowry) for the marriage as our hearts have met."

Several prominent leaders including JD-U president Sharad Yadav, former Madhya Pradesh Chief Minister Babulal Gaur, former union minister Raghuvansh Prasad were among those who reached Saifai to attend the function.

Former UP and Uttrakahand CM, Narain Dutt Tiwari, former SP leader Amar Singh, BJP MP Sakshi Maharaj and JD-U President Sharad Yadav were also present.

Over 1.25 lakh people have been invited for the pre-wedding ceremony in the native village of Mulayam.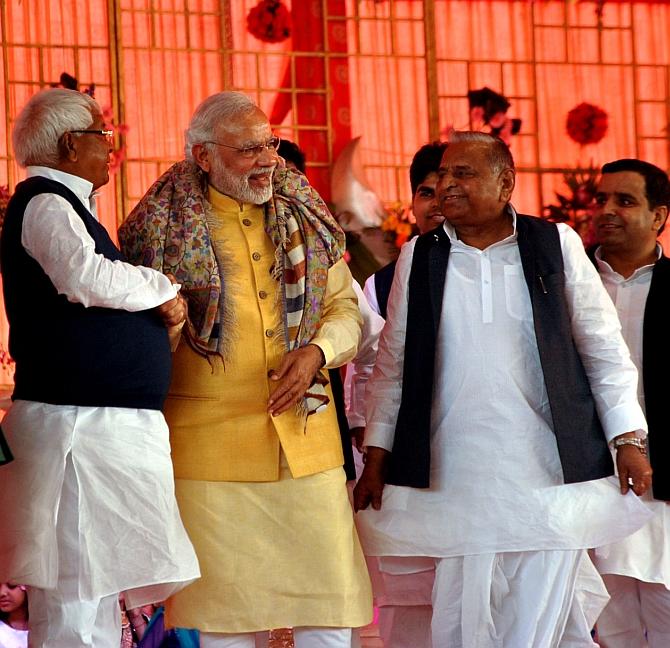 Family sources said over 1,00,000 cards have been sent out to relatives, politicians, journalists, judges and celebrities from different fields.

Union ministers, chief ministers, bureaucrats and a string of Bollywood stars and singers, are in the village for the ceremony.

Special chefs are camping in Saifai to offer mouth watering dishes which includes Gujarati food, traditional UP and Bihari delicacies and also special cuisine for the Bollywood stars.

Special on the menu are 'dahi-ke-aloo', 'baati-chokha', 'ulda puri' and 'paneer filled chola-bhature'.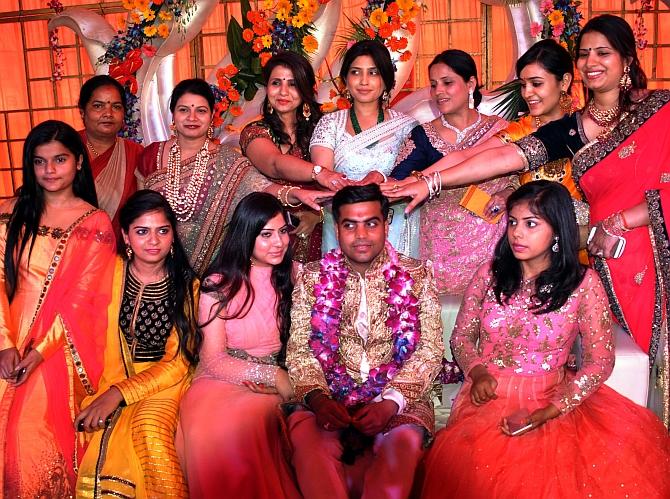 Among the sweet delicacies on the menu are 'imarti', 'jalebi' served with chilled 'rabri', 'sohan halwa', 'kulfi' and 'moong ki daal ka halwa' soaked in pure desi ghee.
Arrangements have been made for over 3000 VIPs including SP ministers and MLAs and multiple giant kitchens have been set up to cook food for them. For convenience of those attending the ceremony, 500 luxurious Swiss cottages have been erected.

At the main venue, 10 giant LED screens have been put up for live coverage of the 'tilak'.

A special band from Varanasi, which performed earlier at Chief Minister Akhilesh Yadav and MP Dharmendra Yadav's wedding was an attraction of the ceremony. The band prepared a special tune for the ceremony.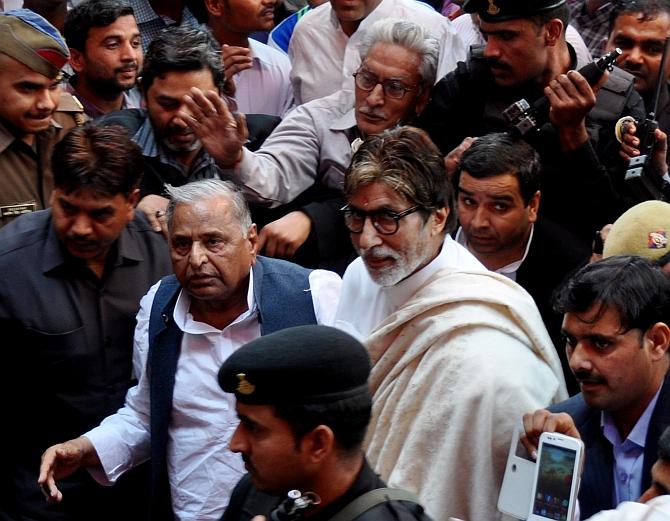 A grand pandal bearing a festive look with a decked up stage was set up where Lalu performed the tilak.

Mulayam, his brother and state minister Shivpal Singh Yadav and nephew Dharmendra Yadav personally oversaw the preparations for the ceremony.

Officials, both administrative and police, including those from Kanpur Zone under which Etawah falls, have been zipping up and down the roads leading to the venue to ensure there are no glitches.

A massive deployment of security personnel including 8 SPs, 15 ASPs, 35 DySPs, 61 policemen in-charge of police stations, 11 companies of PAC and 2 RAF, 300 sub-inspectors, 1,400 constables among others have been assigned the task of security, smooth traffic movement and parking of vehicles among others.

Photographs: Sandeep Pal
© Copyright 2021 PTI. All rights reserved. Republication or redistribution of PTI content, including by framing or similar means, is expressly prohibited without the prior written consent.