The last auspicious day of the ongoing Kumbh Mela was full of action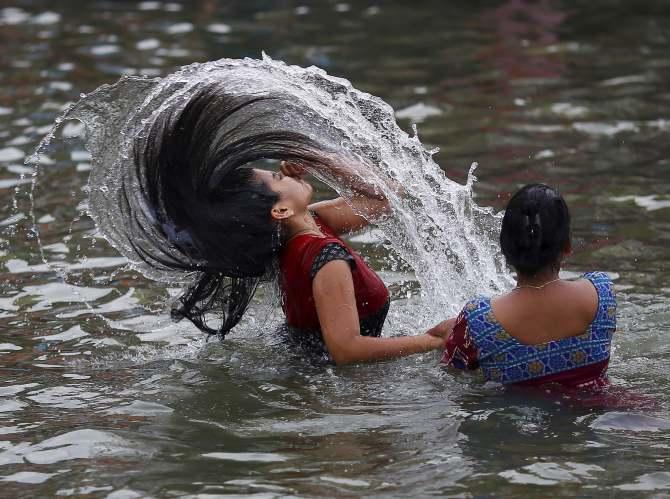 Hundreds of thousands of Hindus took part in the religious gathering at the banks of the Godavari river in Nashik, Maharashtra. Photograph: Adnan Abidi/Reuters

Amid heavy downpour, thousands of saints and devotees took shahi snan (royal bath) in the Ramkund in Nashik on the last auspicious day of the ongoing Kumbh Mela.
A procession arrives on the last day of the mela. Photograph: Saisuresh Sivaswamy

Saints belonging to the three akhadas -- Nirmohi, Nirwani and Digambar -- arrived in a grand procession from Laxminarayan Temple in the Tapovan area to the Ramkund pond on banks of river Godavari.

They were seated in colourfully decorated vehicles and were sporting marigold garlands.


Holy smoke! A Naga Sadhu relaxes inside his tent in Trimbakeshwar, Nashik. Photograph: Danish Siddiqui/Reuters

Smeared with vermilion and chandan, they embarked for the royal bath amid heavy rains since the wee hours.
Maharashtra Water Resource Minister Girish Mahajan, Mayor Ashok Murtadak and other senior officials of the civic body and administration were present at the site of royal bath.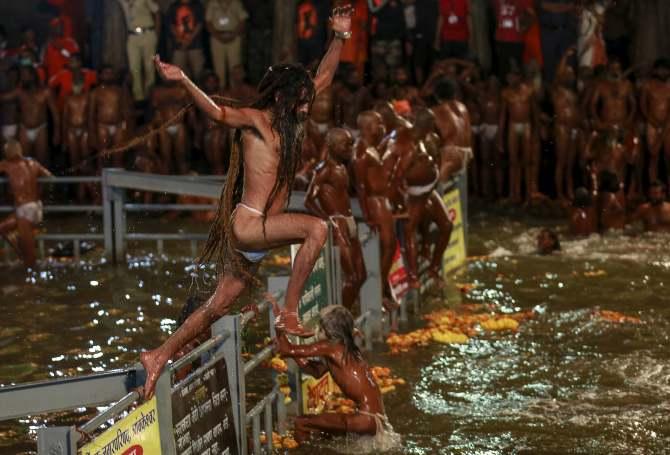 A sadhu dives to take a holy dip. Photograph: Danish Siddiqui/Reuters

After completion of the shahi snan of mahants, thousands of devotees who have come to take holy dip on the last parvani which marks 'Rishi panchami', took bath at various ghats including, Kapila, Gauri Patangan, Yashwantrao Maharaj, Talkeshwar, and Laxminarayan.
Friday was the last 'shahi snan' in Nashik.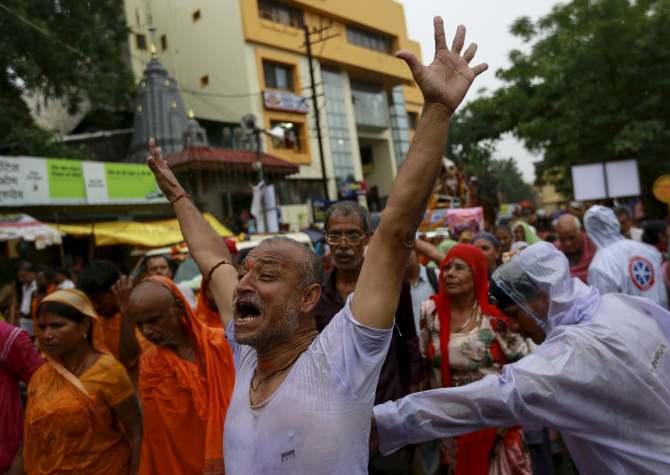 Rains did not dampen the spirit of devotees. Photograph: Danish Siddiqui/Reuters

Elaborate security arrangements were put in place with additional forces deployed at various ghats. Commissioner of Police S Jagannathan and other senior officers monitored the situation.
Nashik division of State Road Transport Corporation ran 3,000 fleet of buses from city's outer area where parking arrangement has been made for pilgrims to ferry them near the bathing sites. City municipal corporation teams, fire brigade, social outfits, life guards, were deployed to assist the police to prevent any untoward incidents during the shahi snan.
© Copyright 2022 PTI. All rights reserved. Republication or redistribution of PTI content, including by framing or similar means, is expressly prohibited without the prior written consent.