India Gate on Saturday saw outpouring of grief and outrage over the abduction and killing of 22-year-old Kashmiri army officer Umar Fayaz by terrorists.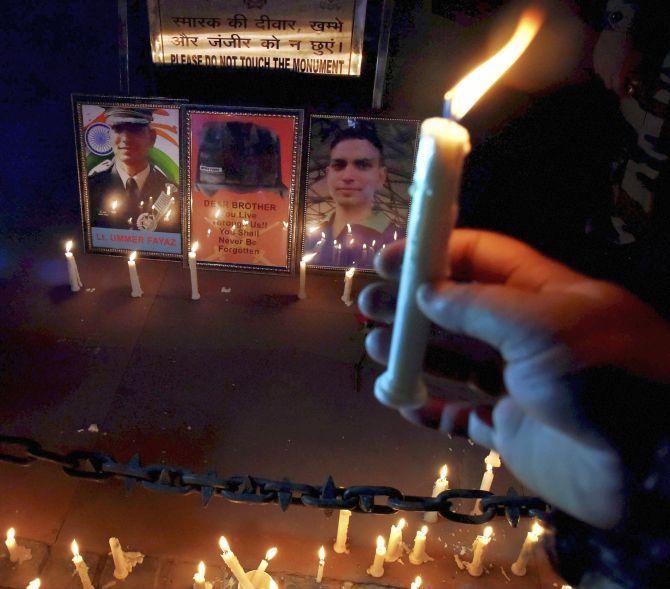 IMAGE: People light candles to pay tribute to late army officer Lt Umar Fayaz at India Gate. Photograph: Atul Yadav/PTI Photo
Hundreds of army veterans, students and tourists took out a candle light march in his memory, with many voicing their demand for the death of the young lieutenant to be "avenged".
"His killing is condemnable. Each and every part of the society should condemn the incident and it should not be accepted at any cost. Stability should return to the valley. The path Fayaz chose should inspire the people," former Indian Army Chief General Deepak Kapoor said.
The march, that went around the India Gate circle, saw people raising slogans hailing his "sacrifice". 'Bharat Mata ki Jai' rented the air along with cries condemning Pakistan and terrorist groups in the valley.
Many tourists who flocked the area also spontaneously joined the march in the evening.
The alumni association of Jawahar Navodaya Vidyalaya, where Fayaz studied before joining the Pune-based National Defence Academy, were among the marchers, along with members of the 124 infantry battalion of the Territorial Army.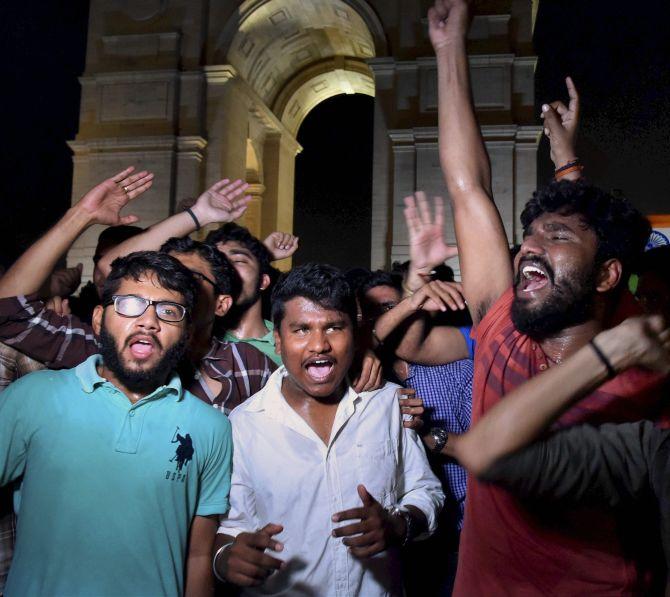 IMAGE: People shout in a rally to pay tribute to the slain army official. Photograph: Atul Yadav/PTI Photo
"If Kashmiris want to go with Pakistan, let them go. I am sure Kashmir will be left with nothing within a few months. And if Pakistan does not abide by the ruling of the International Court of Justice on the Kulbhushan Jadhav case then the Indian Army should be given a chance to retaliate," Captain Ravi Verma (retired) said.
He was referring to the Hague-based ICJ staying the execution of the 46-year-old Indian, who has been sentenced to death by a Pakistani military court on charges of "spying".
Lieutenant Fayaz, from the troubled region of Kulgam district, was posted with 2 Rajputana Rifles and had applied for leave to attend a cousin's wedding.
He was on leave when he was picked up from his house at Harmein in Kulgam, 60 kilometres from Srinagar, on Tuesday. The body of the young officer was later found three kilometres from his house.
Fayaz, who studied at Navodaya Vidyalaya, a branch of government schools for gifted students, at Ashmuquam in south Kashmir, joined the army after being commissioned in December last year. He belonged to the 129th batch of cadets from the prestigious Pune-based National Defence Academy.
This was for the first time that he had taken leave after joining the army, a senior official said. He was supposed to have returned to his unit in the Akhnoor area of Jammu on May 25.