A brutal cold wave swept Delhi on Thursday with the minimum temperature dropping to three degrees Celsius -- the lowest in January in two years -- making it colder than several hill stations.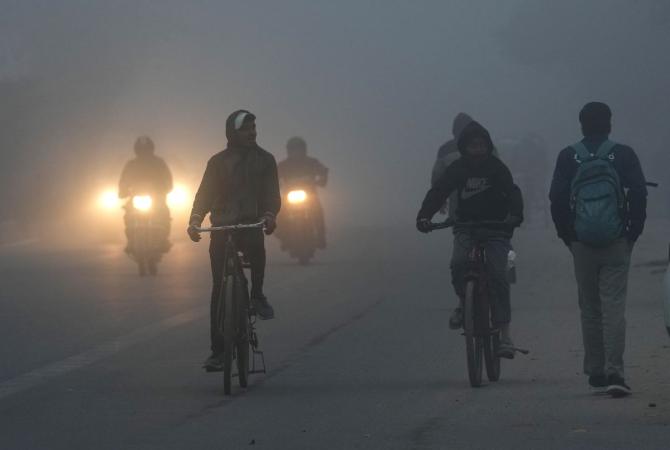 Most people kept indoors and turned to space heaters and cups of hot tea to keep themselves warm as frosty winds from the snow-clad Himalayas barrelled through the plains, including the national capital.
A blinding layer of dense fog over north India, including Delhi, caused major inconvenience to commuters. The visibility levels were 50 metres around 5:30 am.
According to the weather office, 'very dense' fog is when visibility is between 0 and 50 metres, 51 and 200 metres is 'dense', 201 and 500 metres 'moderate', and 501 and 1,000 metres 'shallow'.
At least 12 trains were delayed by one-and-a-half to six hours and two rescheduled due to the foggy weather, a Railways spokesperson said.
The Safdarjung observatory, Delhi's primary weather station, logged a minimum temperature of three degrees Celsius as against 4.4 degrees Celsius on Wednesday and 8.5 degrees Celsius on Tuesday.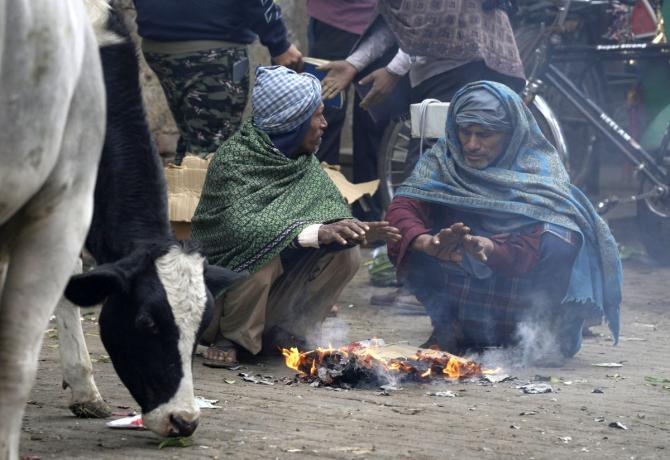 Delhi's minimum temperature was lower than Dalhousie (4.9 degrees Celsius), Dharamshala (5.2 degrees Celsius), Kangra (3.2 degrees Celsius), Shimla (3.7 degrees Celsius), Dehradun (4.6 degrees Celsius), Mussoorie (4.4 degrees Celsius) and Nainital (6.2 degrees Celsius).
The weather stations at Lodhi Road, Ayanagar and Ridge in Delhi recorded minimum temperatures of 2.8 degrees Celsius, 2.2 degrees Celsius and 2.8 degrees Celsius, respectively.
The cold snap is expected to strain power grids and pose challenges to the homeless.
As people gathered around bonfires across the city, the Delhi Pollution Control Committee on Wednesday had advised resident welfare associations, institutions and other establishments to provide electric heaters, blankets and warm clothes to security guards to prevent open burning of biomass which leads to pollution.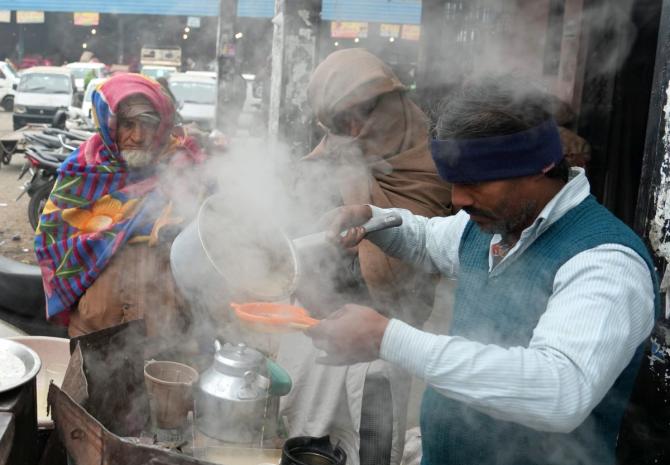 The meteorological office had on Wednesday issued an orange alert for Delhi-NCR for Thursday and Friday.
The India Meteorological Department (IMD) uses four colour codes for weather warnings -- green (no action needed), yellow (watch and stay updated), orange (be prepared) and red (take action).
Cold wave and cold day conditions are predicted to continue for the next 24 hours though there will be some improvement under the influence of a fresh Western Disturbance, which is likely to affect northwest India starting January 7, a senior IMD official said.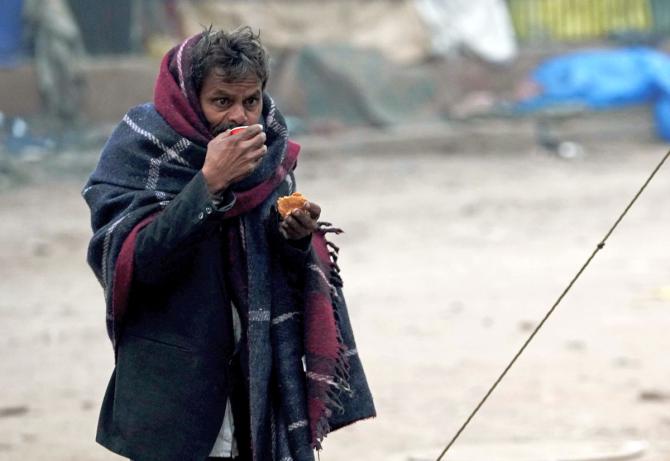 In the plains, the meteorological office declares a cold wave if the minimum temperature dips to four degrees Celsius or when the minimum temperature is 10 degrees Celsius or below and is 4.5 notches below the normal.
A severe cold wave is when the minimum temperature dips to two degrees Celsius or the departure from the normal is more than 6.4 degrees Celsius.
A cold day is when the minimum temperature is less than or equal to 10 degrees Celsius below the normal and the maximum temperature is at least 4.5 degrees Celsius below the normal. A severe cold day is when the maximum is 6.5 degrees Celsius or more below the normal.
© Copyright 2023 PTI. All rights reserved. Republication or redistribution of PTI content, including by framing or similar means, is expressly prohibited without the prior written consent.