With rains ebbing away, Kerala got some respite today but faced the gigantic task of rehabilitating those rendered homeless and preventing outbreak of water-borne diseases, even as the death toll mounted to 216, officials said.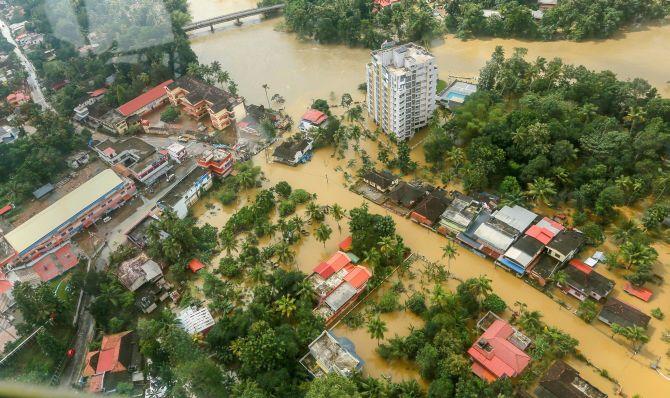 Over 7.24 lakh displaced people have been sheltered in 5,645 relief camps dotting the state, they said.
Lieutenant General D R Soni, the chief of the Army's Southern Command, told a press conference in Thiruvananthapuram that rescue operations are still continuing and drones are being used to assist in reaching people trapped in areas not easily accessible.
"The focus is on complete rehabilitation," he said, adding 1,500 army personnel were engaged in rescue operations.
He said people stranded on rooftops and inaccessible areas were being winched with the help of defence helicopters.
Army personnel carrying satellite phones have fanned out to difficult to negotiate areas in search of stranded people, he said.
Meanwhile, six more bodies were recovered late on Sunday night a Paroor in Ernakulam district, local MLA V D Satheeshan said, taking the death toll in the current spell of floods since August 8 to 216.
Satheesan said almost all those stranded in Paroor and nearby areas have been rescued and moved to safety.
Efforts were now under way to clear the houses of the debris to make them habitable.
Kerala Water Authority and Kerala State Electricity Board were trying to restore water and power supply in vast areas that are without power and tap water for the last several days.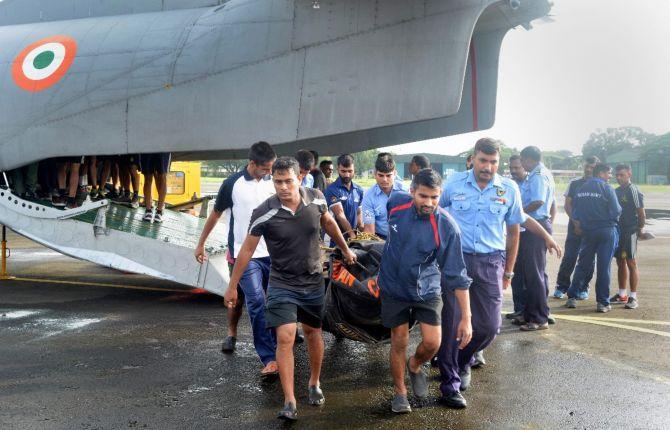 Commercial flight operations from the naval airport at Kochi commenced on Monday with the first Air India flight from Bengaluru arriving in the morning.
Small aircraft are being operated from the naval airport as the Kochi International Airport has shut operations till August 26 following flooding of the runways.
Relief material from different parts of the country has started arriving at the port, officials said.
A Cochin Port Trust official said Naval Ship INS Deepak, carrying relief material from Mumbai, arrived with about 800 tonnes of fresh water and nearly 18 tonnes of provisions.
Fresh water is being ferried on two barges to the affected areas. Trucks carrying provisions are being rushed for distribution, he said.
The official said another consignment of relief material sent by the shipping fraternity under an initiative of the Ministry of Shipping arrived at Vallarpadam.
A vessel with 50,000 MT of crude from Mumbai has been diverted by BPCL to the Cochin port to meet the fuel demand of Kerala.
Incessant rains over the last few days have blurred the distinction between Kerala's backwaters and roads with sheets of water covering the landscape, but the state is facing shortage of potable water. Several fuel stations in the state are also reported to have run dry.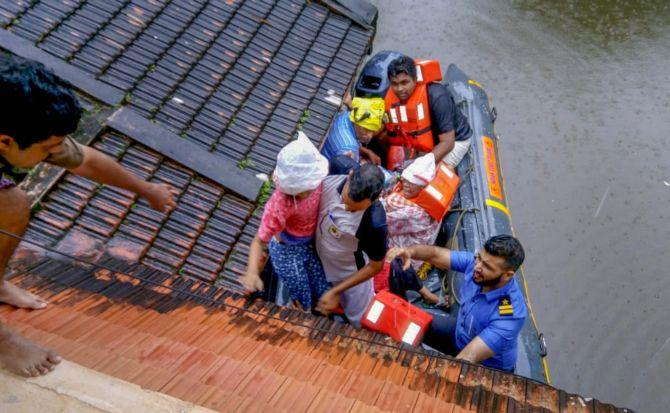 Train services between Thiruvananthapuram and Ernakulam have resumed and railways is also planning to conduct a trial run from Shornur to Ernakulam.
Train services from Thiruvananthapuram to Chennai, Mumbai, Bengaluru and Delhi have been partially restored.
In the worst affected Chengannur in Alappuzha district, efforts are on to rescue some of those stranded in certain pockets, including Pandanad.
Lt Gen Soni underlined the mammoth logistical problem the force was facing while trying to rescue people and reach them relief.
"In the Southern Command, we are working on a relief plan. 27 boats were brought from Jodhpur, 15 from Bhopal. Teams have come from Bengaluru, communication and life jackets from Pune," he said referring to the logistical nightmare in tackling the situation.
He said the Army wanted to ensure that before the next monsoon all such requirements were 'centrally located' in the region to ensure everything was in place at the time of a calamity.