After the rescue of more than 350 Indians from Aden, another batch of over 300 will be evacuated from Al Hudaydah on Thursday night through sea route even as government was making all efforts to get clearance for air sorties to bring back its nationals from Sanaa.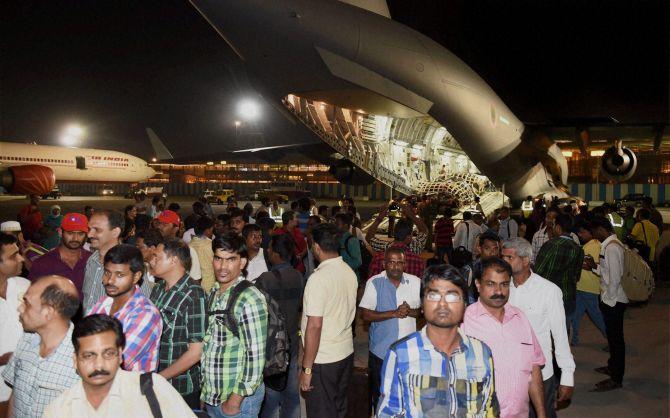 190 among the 349 Indian nationals who were stranded in Yemen alight from the Indian Air Force C 17 (Globemaster) aircraft after being evacuated from Djibouti, at the International Airport in Mumbai on Thursday morning. Photograph: Mitesh Bhuvad/ PTI
The evacuees, which included nurses and workers, among others, reached home in a special flight, thus bringing an end to their about a week-long ordeal.
INS Sumitra, which had evacuated 350 Indians from Aden on Tuesday night, was dispatched to Al Hudaydah on Wednesday to pull out over 300 Indians.
According to officials, while sea route has been working out fine for the evacuation operation 'Raahat', government was making efforts to have air route open to rescue its nationals from Sanaa, which was far from any port in Yemen. There are over 2,000 Indians in Sanaa.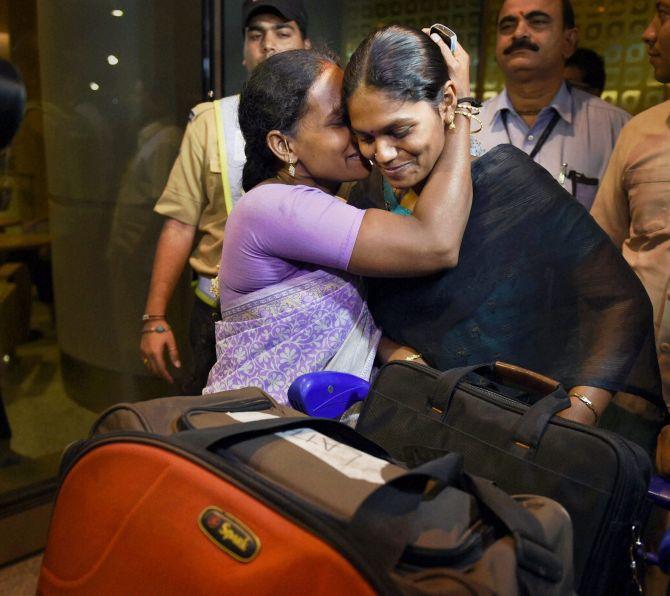 A relative hugs a woman who made her way home on Thursday morning after being trapped in wr-torn Yemen. Photograph: PTI
"Another 300 plus on the cards. Evacuation of 300 plus Indian nationals from Al Hudaydah, Yemen by INS Sumitra being planned for today," the Spokesperson in the External Affairs Ministry said.
"Diplomatic options being pursued to ensure safe return of all Indians from Yemen," he further tweeted.
MoS V K Singh greets a child before he departs from Djibouti. Photograph: MEAIndia/Twitter
Minister of State in External Affairs V K Singh, who is in Djibouti to oversee evacuation operation, met Foreign Minister Mohamoud Ali Youssouf of Djibouti and thanked him for the help extended to India in the evacuation of its nationals.
Meanwhile, 358 evacuees, who were rescued from Aden by INS Sumitra and were taken to Djibouti, returned by two Indian Air Force C-17 Globemasters. While one flight carrying 190 nationals landed in Mumbai, another one with 168 Indians landed in Kochi in early hours on Thursday.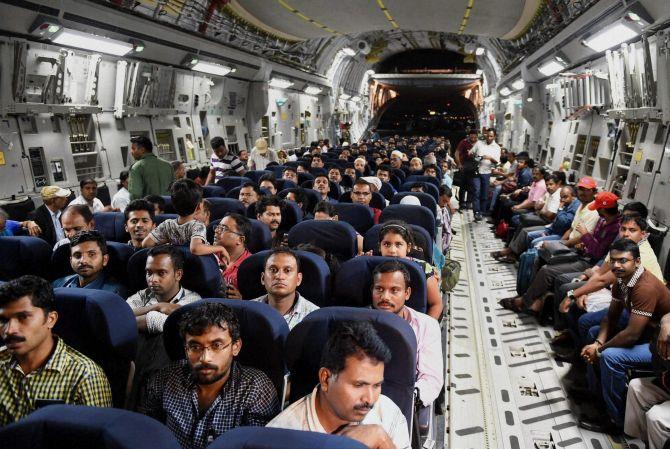 People aboard the Indian Air Force jet that was sent to Djibouti to bring back the trapped Indians. Photograph: PTI
This is the fourth major evacuation which the Indian government has undertaken. The first three were in Ukraine, Iraq and Libya.
Yemen has been witnessing fierce battle between Saudi-led coalition and Shiite rebels, who have battled their way into the heart of Yemen's main southern city Aden where fighting raged in the former stronghold of President Abedrabbo Mansour Hadi, who has fled overseas.