Capacity constraints at Kathmandu's single-runway airport, fuel shortages, quake damage to roads and the mountainous terrain has made relief efforts to the interior parts of the country difficult.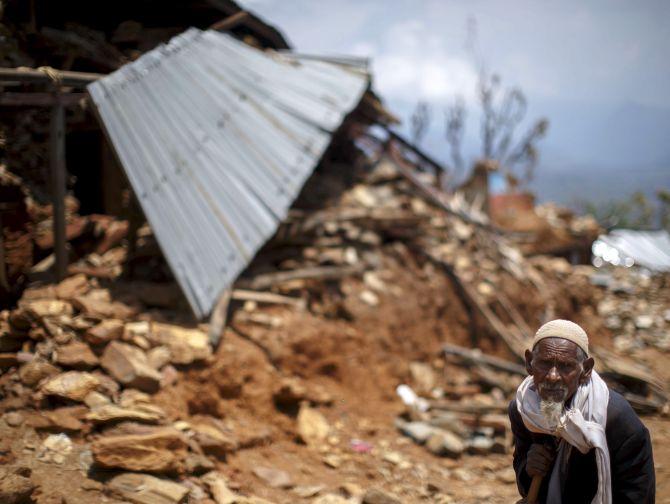 A local villager walks past debris at a devastated area following Saturday's earthquake, at Asslang village, in Gorkha. Photograph: Athit Perawongmetha/Reuters
Frustration mounted among people in quake-hit Nepal over the slow pace of relief efforts as international aid struggled to find its way to the needy in remote areas on Thursday due to bad weather and lack of coordination.
Nearly five days after the quake shook the Himalayan nation, international aid workers are still stuck in Kathmandu, even as urgent help is required in remote villages yet to be reached.
Saturday's quake killed more nearly 6,000 people, and injured at least 11,000. The United Nations says more than eight million people have been affected by the quake.
As the rescue and relief operations have become centered in KathmanduValley, other affected districts remain in dire need of trained manpower to undertake search activities.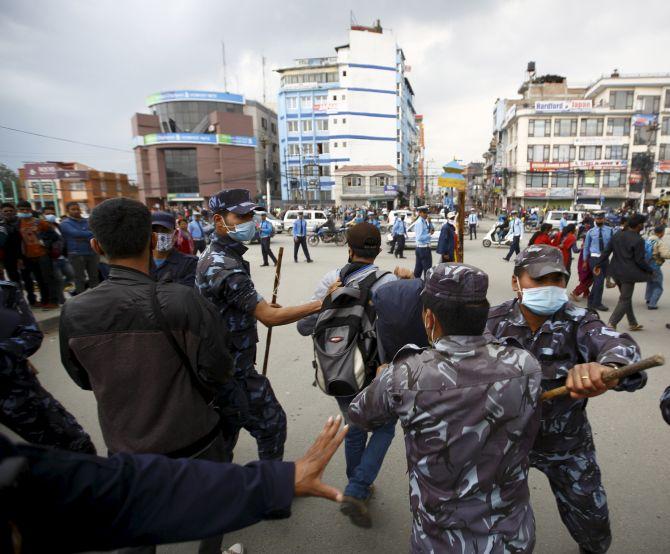 Nepalese police personnel try to stop earthquake victims from blocking traffic along a road as they protest against the government's lack of aid provided to the victims. Photograph: Navesh Chitrakar/Reuters
All foreign rescue teams, except a team from Britain, are deployed in Kathmandu Valley, media reported.
A local public health worker said the government's delay in providing direction and information is impeding urgent relief efforts in remote districts.
Minendra Rijal, Nepal's minister of information and communications, said relief operations were underway but that much more needs to be done.
"Life is returning to normal, but it will be some time to be completely normal," he said, adding, "We have still not been able to properly manage to provide relief," he said.
Foreign assistance has poured in, but aid organisations said capacity constraints at the capital's single-runway airport, fuel shortages, quake damage to roads and the mountainous country's difficult terrain were all impeding efforts to help quake victims.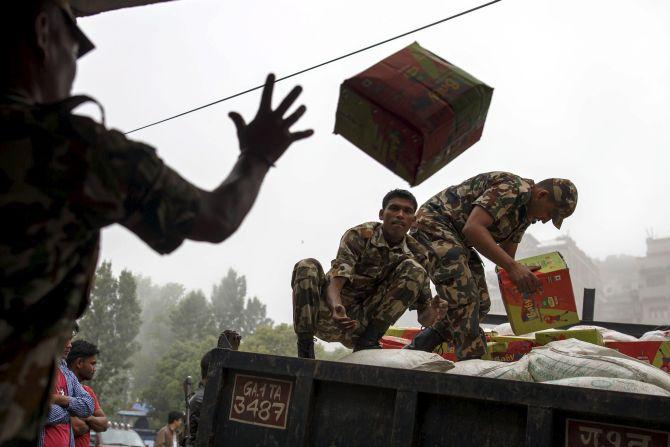 Nepal military personnel throw a box of relief supplies onto a truck at the Gorkha district office following Saturday's earthquake. Photograph: Athit Perawongmetha/Reuters
Hospitals in the capital were overflowing with patients, and doctors said they needed medicines and surgical equipment. And large numbers of people, afraid to go back into quake-damaged buildings, were living outdoors.
"We are living in hell," said a Nepalese man, who expressed anger at how his government has responded to areas devastated by the earthquake.
"We will die if there is no help from the government or other organisations," another man said.
The villagers reportedly blocked a convoy of army trucks loaded with relief supplies, leading to a tense standoff with armed soldiers.
On Wednesday, people vented their anger when the Prime Minister Sushil Koirala visited their camps to assess relief work and complained that they were not getting any aid.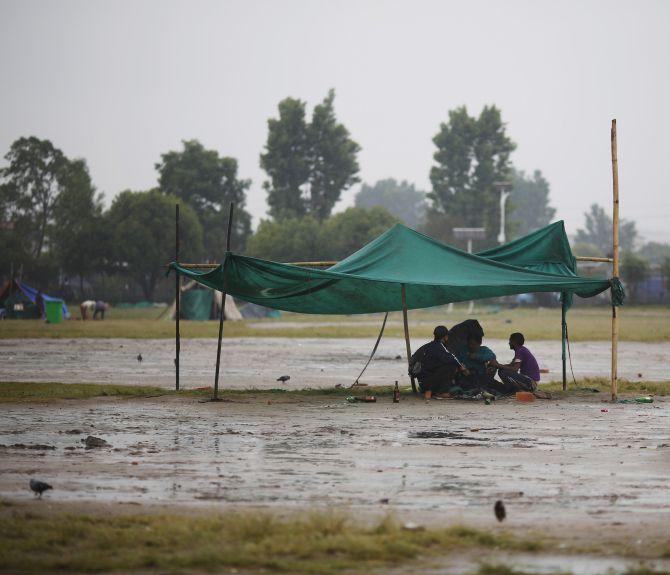 Earthquake victims sit under a makeshift shelter as it rains in Kathmandu. Photograph: Adnan Abidi/Reuters
Several people left Kathmandu Valley as the fear of more tremors and epidemic diseases increased significantly.
According to Metropolitan Traffic Police Division, 338,932 people have left the valley so far.
Meanwhile, three mild tremors were felt on Thursday morning. The tremors occurred between 6:00 am to 9:00 am.
US President Barack Obama called Prime Minister Koirala on Wednesday night to convey his deep condolences for the victims of the devastating quake and extended his full support for the rescue and relief mission.
The UN has appealed for $415 million to help provide emergency relief over the next three months.