Readers share their memories of India's 'Missile Man', the likes of whom the world will never see again.
Rediff.com asked readers to share their memories of Dr A P J Abdul Kalam, India's most popular president, who passed into the ages on Monday at a hospital in Shillong after collapsing at the IIM-Shillong, while delivering a lecture.
Readers wrote emotionally about the passing of this great soul while others sent in pictures of chance meetings with this humble physicist who was always available with an easy smile and some gentle words.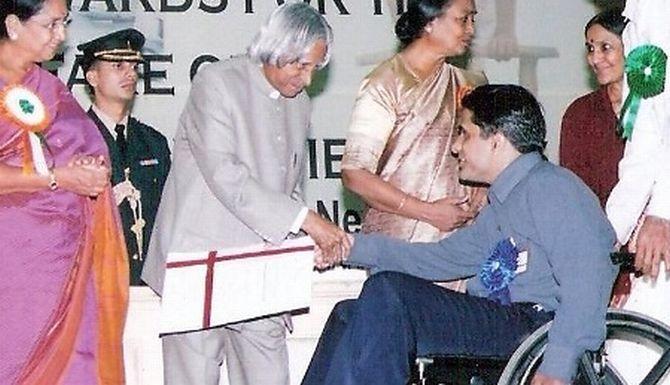 Navin Gulia, an ex-Indian Army officer, receiving the National Role Model award from former president Kalam, a person who was 'The' National Role Model.
Pradeep Sandimani sent a picture from one of Kalam's lectures in Tata Institute of Fundamental Research. Pradeep mentions that he had the good fortune of meeting Kalam twice.

Gita Ramani sent a picture of Kalam circa 2002 in Anna University where he was President-elect. Ramani's son Harikrishnan had won an international competition conducted by NASA. She mentions how Kalam had a child like personality and took interest in her son's programs and future whilst advising him to balance equally between academics and research activities in physics.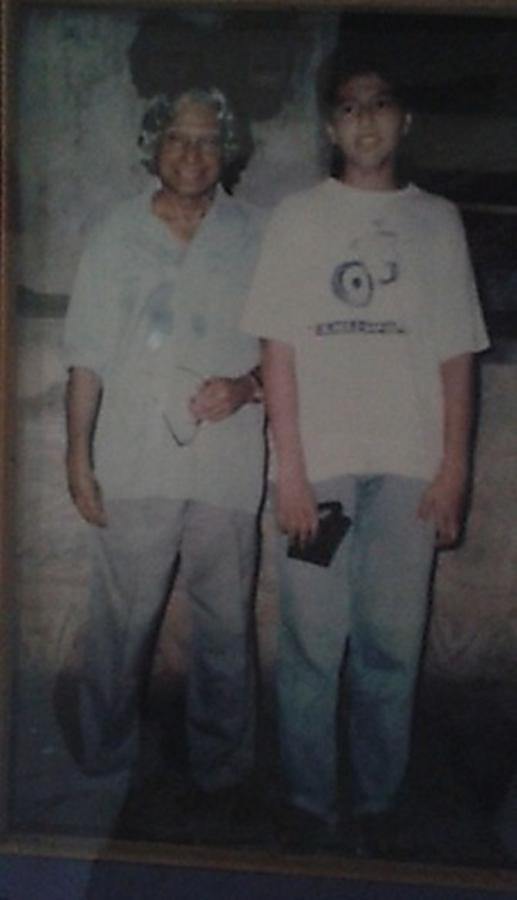 Devendra Kumar sent a picture of his erstwhile neighbour Dr A P J Abdul Kalam. The picture dated 1998 at Khelgaon, New Delhi where the former President used to stay in a guest house. Devendra adds that India's 'missile man' would encourage his son who wanted to become particle physicist.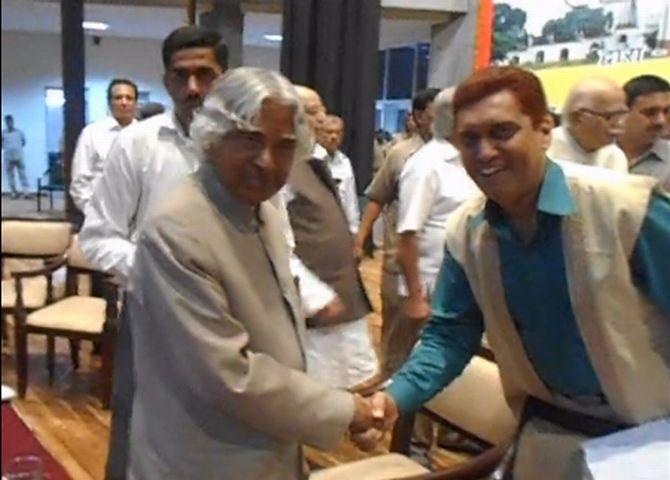 Khalil Khan sent a picture of himself shaking hands with Kalam during the opening ceremony of the Scientific Convention Centre at Lucknow.

The People's President died as he lived, interacting with the Indian people, especially the millions of young people, whom he inspired to make something of their lives.
Are you one of those fortunate to have interacted with Dr Kalam? Please share your Photographs/memories of India's 'missile man'.