A 67.84 per cent voter turnout was recorded in the second phase of Lok Sabha polls on Thursday in 95 seats spread in 11 states and a Union Territory, the Election Commission said.
Barring sporadic incidents of violence, the polling went off peacefully, Senior Deputy Election Commissioner Umesh Sinha said.
Polling was held for 95 Lok Sabha seats in 11 states, with Tamil Nadu voting in 38 of its 39 constituencies, and the union territory of Puducherry.
While elections were cancelled in Tamil Nadu's Vellore constituency over fear of abuse of money power, poll was postponed to April 23 in Tripura (East) seat as there were apprehensions that law and order could be disturbed by miscreants.
Two violence-related deaths were reported in the past 24 hours, including that of a woman polling personnel who was killed by suspected Maoists on
Wednesday in Odisha. Another death was reported Thursday. Two other people, including a voter and a polling officer, died of apparent heart attack.
There was reports of the electronic voting machines being damaged in Manipur and Uttar Dinajpur in West Bengal.
The interim voter turnout stood at 43.4 per cent in Jammu and Kashmir, the lowest, and 78 per cent, the highest, in Puducherry.
Udhampur and Srinagar in Jammu and Kashmir went for polls in this phase.
West Bengal, Assam, Manipur, Chhattisgarh, Puducherry and Tamil Nadu reported a turnout above 70 per cent.
Referring to the issue of 'glitches in EVMs', deputy election commissioner Sudip Jain said, a total of 1,000 ballot units, 769 control units 2,766 paper trail machines were replaced.
One control unit and at least one ballot unit make up for an EVM..
Maharashtra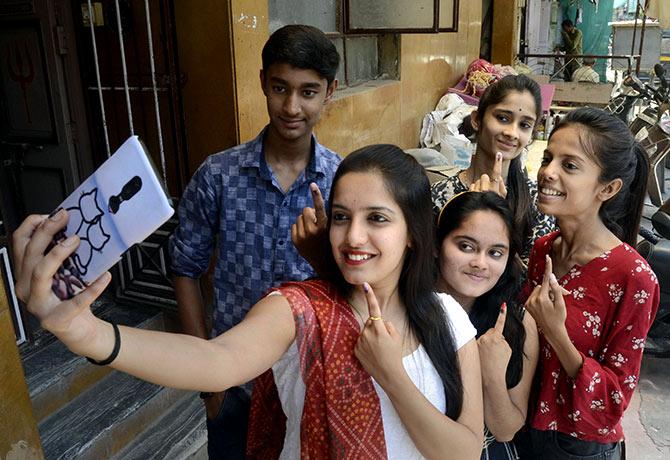 An average 61.22 per cent voter turnout was recorded across 10 constituencies in Maharashtra which went to the polls in the second phase of Lok Sabha elections Thursday, an official said.
The final turnout of Thursday's polling in the state will be known later and could be higher, the official said.
In 2014, the average voting in these seats was 62.39 per cent.
Nanded Lok Sabha seat recorded 60.88 per cent voting, the highest in the second phase, followed by Hingoli at 60.69 per cent.
Parbhani recorded 58.50 per cent voting, Beed 58.44 per cent, Latur (SC) 57.94 per cent, Buldhana 57.09 per cent Osmanabad 57.04 per cent, Amravati (SC) 55.43 per cent, Akola 54.45 per cent and Solapur (SC) 51.98 per cent, he said.
In Nanded, there were complaints that as many as 78 electronic voting machines (EVMs) malfunctioned.
A total of 179 candidates were in the fray in these constituencies.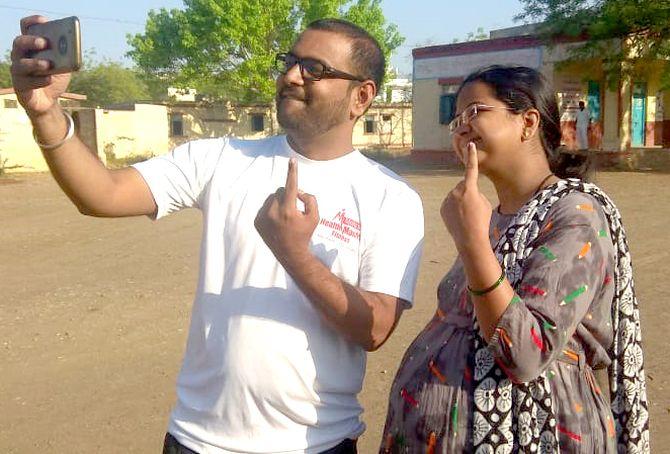 Beed had the maximum number of contestants -- 36 -- while 10 candidates contested from Latur.
Prominent figures in the fray were state Congress chief Ashok Chavan who is seeking another term from his home turf Nanded, and former Union home minister and Congress veteran Sushilkumar Shinde who is contesting his 'last election' from Solapur.
In Beed, the hometurf of late Bharatiya Janata Party stalwart Gopinath Munde, his daughter Pritam Munde is seeking another term.
She faced Bajrang Sonawane of the Nationalist Congress Party.
In the 2014 elections, the National Democratic Alliance had won eight out of these ten seats, whereas the Congress had won two -- Nanded and Hingoli.
A total of 62,700 EVMs and around 27,000 VVPAT (Voter Verifiable Paper Audit Trail) machines were used in Thursday's polling, the official said.
Karnataka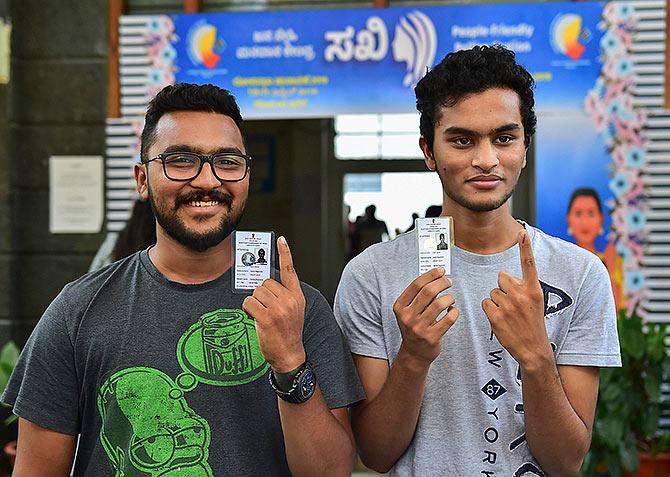 An estimated 61.84 per cent turnout was reported in the 14 Lok Sabha seats in Karnataka, which is witnessing a direct contest between the ruling Congress-Janata Dal (Secular) alliance and the Bharatiya Janata Party.
Dakshina Kannada recorded the highest turnout of about 72.97 per cent, while the lowest was reported in Bangalore Central constituency with 45.34 per cent, poll officials said.
The officials who gave the polling percentage as of 5 pm said it was likely to go up.
In other constituencies of city that has the history of low voter turnout, Bangalore North recorded 48.19 per cent, Bangalore South 49.36 per cent and Bangalore Rural 58.39 per cent.
Polling of 70.23 per cent was recorded in Mandya, where Chief Minister H D Kumaraswamy's son Nikhil is pitted against multi-lingual actress SumalathaAmbareesh in what is perceived to be a cliff-hanger contest.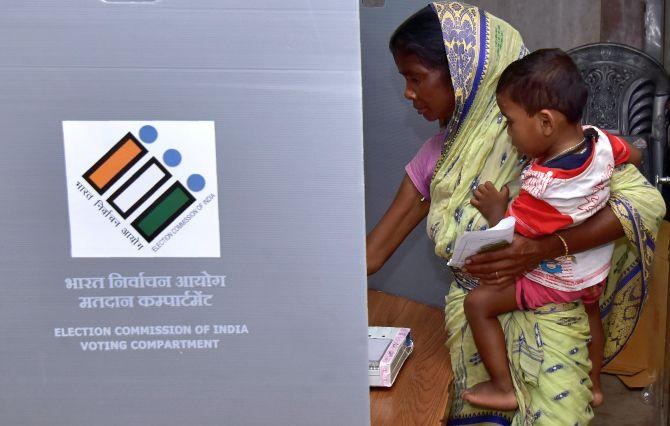 In Tumkur, where former Prime Minister H D Deve Gowda is locked in a tough contest with G S Basavaraj of BJP, 70.28 per cent turn out was reported.
Hassan where Gowda's other grandson Prajwal Revanna is contesting against A Manju of BJP, reported 71.20 per cent voting till 5 pm, a hour before the poll ended.
Former Chief Minister Siddaramaiah's home turf of Mysore where sitting MP Prathap Simha of BJP is fighting against Vijayshankar of Congress saw 61.32 per cent polling.
Mandya, Mysore, Tumkur and Hassan are the constituencies where the ruling Congress-JD(S) faced dissidence among the grass root workers of their party who are not happy with the seat sharing arrangement.
Both parties that have been fighting against each other for decades, joined hands to form the government after assembly polls last year, as the election threw up a hung verdict.
As per the alliance arrangement, both parties decided to fight the Lok Sabha polls together, which is some thing that the leadership of Congress and JD-S has not been able to convince their party men on.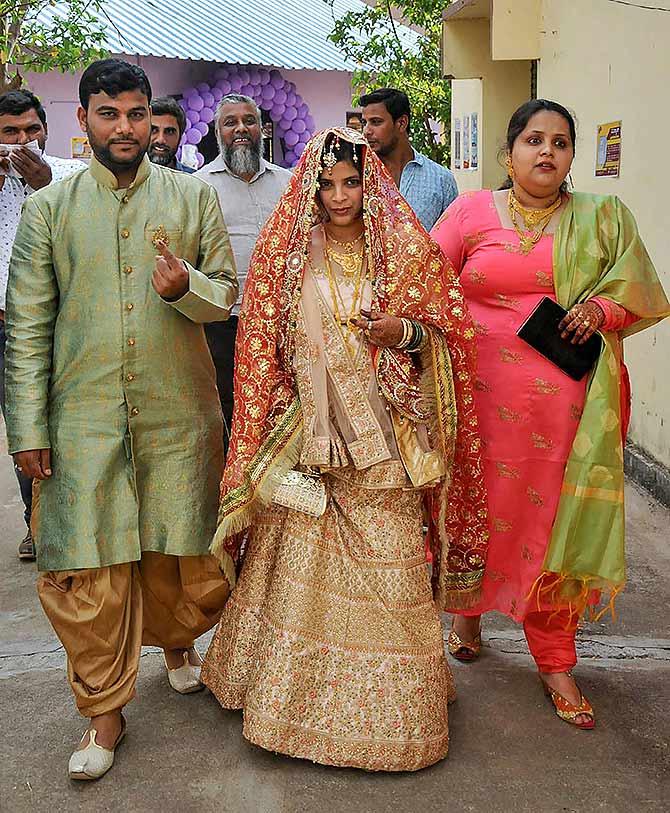 In Mandya, the rebellion within Congress is open to an extent that many of them locally supported Sumalatha.
The BJP, which has set a target of bagging at least 22 out of total 28 seats, is hoping to win the maximum number of seats in the first phase riding on the 'Modi wave'.
Of the 14 constituencies that went to the polls, the BJP and Congress had won six each in 2014 Lok Sabha elections, and JD-S in two.
While the BJP is contesting in 13 constituencies and supporting Sumalatha, Congress and JD-S have fielded candidates in 10 and four constituencies respectively.
Udupi-Chikmagalur recorded 69.83 per cent polling, Chitradurga 61.75 per cent, Chamarajnagar 66.51 per cent, Chikkaballapur 69.33 per cent and Kolar 69.99 per cent till 5 pm.
Voting began at 7 am in 30,164 polling stations that are mostly in the southern parts of the state covering almost the entire old Mysuru region and a few coastal districts.
A total of 2,67,51,893 voters were eligible to exercise their franchise in the first phase with 241 candidates in the fray.
The remaining 14 constituencies, mostly in northern districts, will go to polls in the second phase on April 23.
Odisha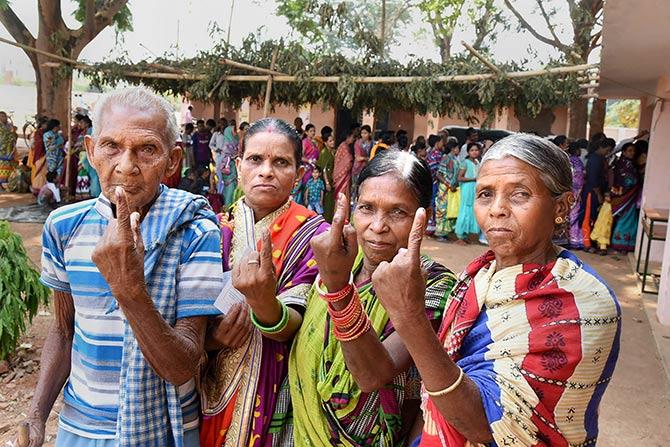 About 64 per cent voters exercised their franchise in five Odisha Lok Sabha and 35 assembly seats, some of them in Naxal-affected areas.
The electoral fortunes of 279 candidates, including Odisha Chief Minister Naveen Patnaik and Union minister Jual Oram, will be decided in the second phase of voting.
WATCH: Filled with enthusiasm, senior citizens cast their votes
While Patnaik is in the fray from Hinjili and Bijepur assembly seats, Oram is contesting from the Sundargarh Lok Sabha constituency.
Over 76.93 lakh voters will decide the fate of 279 candidates in Thursday's polling. Out of the total electorate of 76,93,123, there are 37,47,493 women voters. At least 605 electors belong to the third gender.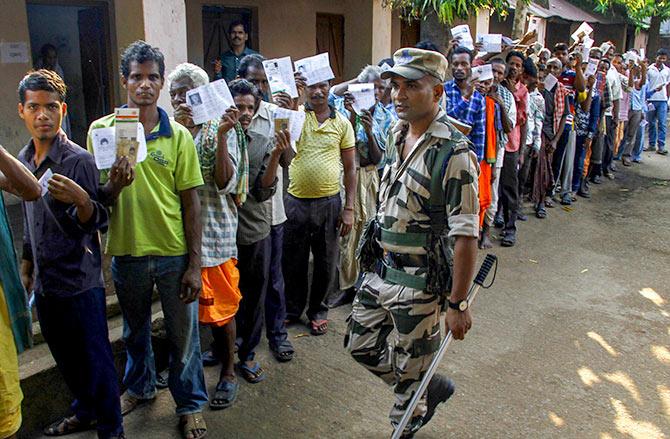 Long queues of voters were seen at polling stations in Aska, Kandhamal, Sundergarh, Bargarh and Bolangir Lok Sabha constituencies, and the 35 assembly segments coming under these areas, as polling commenced at 7 am.
Glitches in EVMs caused delay in start of polling in around 50 booths in different places under Aska, Sundargarh, Kandhamal, Sundergarh and Bolangir constituencies, the officials said.
Manipur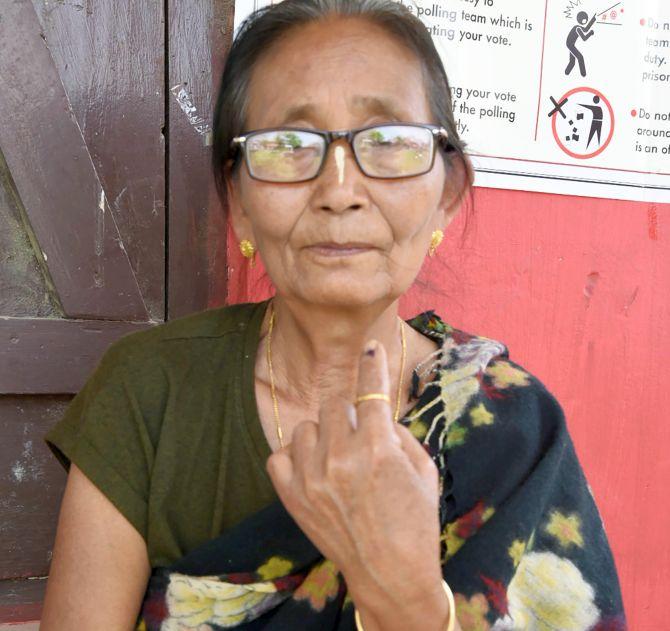 Over 80 per cent turnout was reported from one Lok Sabha constituency where polling was held Thursday in the second phase amid violence in two booths were voting was stalled for sometime, officials said in Imphal.
State Chief Electoral Officer PK Singh said 80.47 per cent of the over 9 lakh voters exercised their franchise in the Inner Manipur Lok Sabha constituency.
"This is not the final figure as report from all the centres are yet to reach here," Singh said.
The turnout for the 19 polling stations where re-poll was held on Thursday is 84.80 per cent, he said.
However, this figure does not include record of one polling station at Churanchandpur district.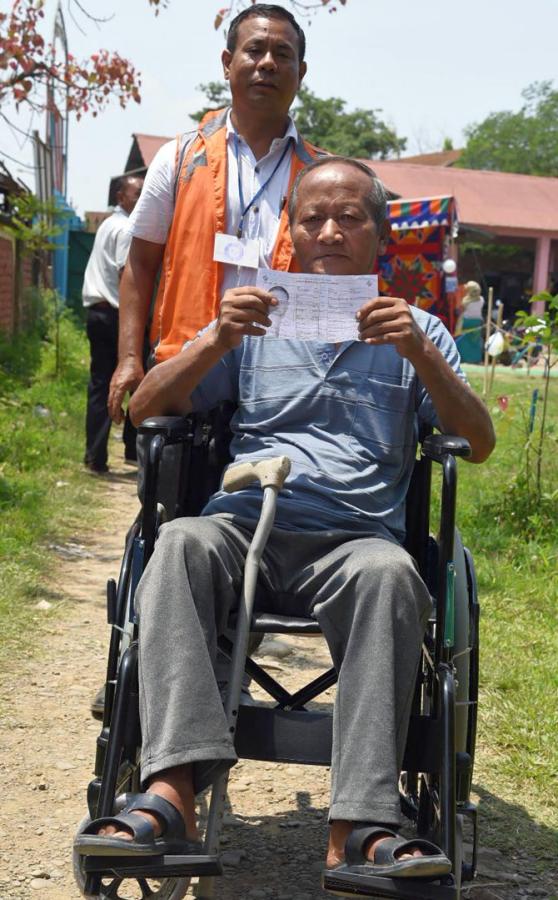 The Election Commission on Tuesday ordered re-poll in 19 polling stations of Outer Manipur, the second parliamentary seat of the state, following complaints of voter intimidation by militants and destruction of EVMs and VVPATs during the first phase voting on April 11.
Violence was reported in this phase too.
Voting was stalled in two polling booths of Inner Manipur constituency on Thursday after violence broke out over alleged proxy voting and dispute among the election agents, the CEO said.
A group of men stormed into a polling station at Kiyamgei Muslim Makha locality in Imphal East district around 11.30 am and broke EVMs and VVPATs, claiming that 'proxy voting' was being carried out in the station, Singh told PTI.
It was only after the security personnel opened fire in the air, the mob dispersed, Singh said.
In another booth in the same area, a scuffle broke out between the polling agents of opposing political parties around 3 pm, derailing the voting process.
The reason behind the skirmish between the agents was not clear as yet, the CEO said.
Sources in the election office said that re-polling was likely in the two booths of East Imphal district. Manipur Governor Najma Heptulla cast her vote in the day at T G Higher Secondary School in Imphal West district.
Tamil Nadu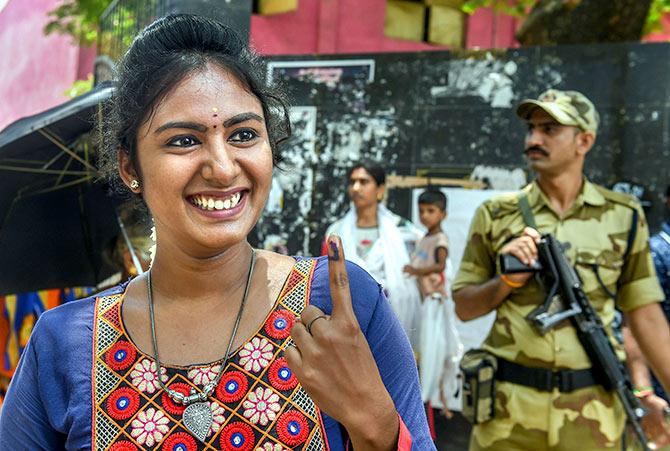 Elections to 38 Lok Sabha seats and bypolls for 18 assembly segments in Tamil Nadu Thursday was by and large peaceful and the tentative turnout for Parliamentary polls stood at 69.55 per cent, Chief Electoral Officer Satyabrata Sahoo said.
The turnout figure is likely to go up as data was still being collated, he said.
When the figure goes up, it is expected to be more or less correspond to the final tally of 73.68 per cent recorded in the 2014 Lok Sabha polls.
The turnout in the 18 assembly segments recorded 71.62 per cent (both LS and Assembly polls turnout were based on available data at 7 pm) and with Lok Sabha elections in Madurai segment ending at 8 pm, the data collation was still on, Sahoo told reporters in Chennai.
There was no major law and order issues and a Central Armed Police Force jawan fired one round in the air to disperse crowds (near Arakkonam), he added.
Director General of Police (Elections) Ashutosh Shukla said when the crowds tried to enter a polling station at Kilvisharam under Arakkonam Lok Sabha segment, a Central Armed Police Force jawan opened one round of fire in the air.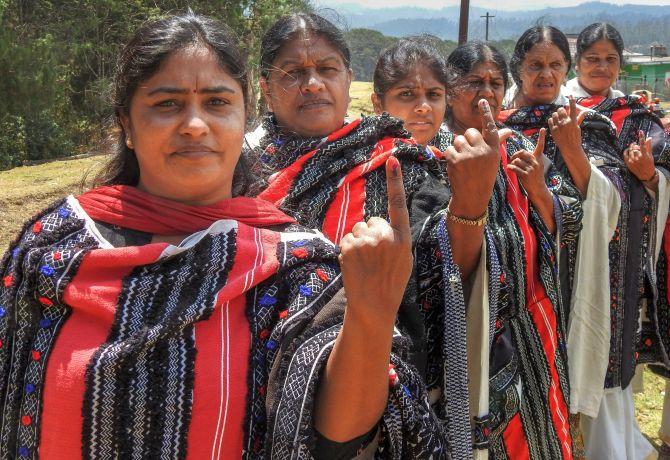 "Superintendent of Police, Vellore rushed to the spot and brought the situation under control," he added.
Minor incidents of violence were reported from five towns, including Gudiyatham and Ariyalur, and the situation was brought under control immediately, he added.
Police said four BJP men were allegedly injured in a clash with workers of the Dravida Munnetra Kazhagam and Congress in Kanyakumari.
On complaints of technical glitches, Sahoo said 375 ballot units, 228 control units and 766 VVPAT were replaced.
"Based on the low replacement rates, we can say the EVM performance has been very good."
The EVMs and VVPATs will be moved to counting centres by poll authorities and police in the presence of political parties, the CEO noted.
On allegation of deletion of about a lakh of voters' names in Kanyakumari by the Congress, he said they could give a complaint and it will be acted upon.
Tamil Nadu brought out the many colours of elections when several centenarians like 102-year-old Jegadambal of Nagapattinam and lakhs of first time voters braved the scorching sun to cast their vote.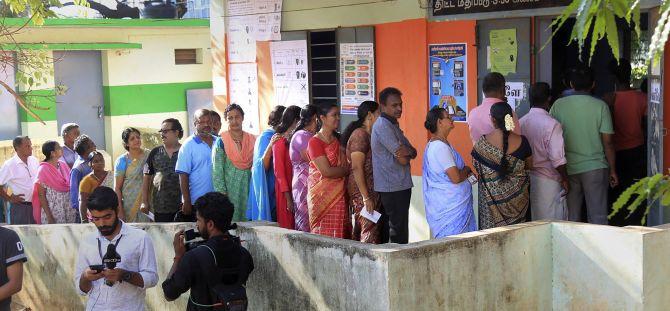 From Chief Minister K Palaniswami, Deputy Chief Minister O Panneerselvam, DMK chief M K Stalin, Makkal Needhi Maiam chief Kamal Haasan were among those who exercised their franchise standing in queues.
Party leaders and top film stars including Rajinikanth, Ajit and Vijay were among the prominent personalities who turned up to vote.
Indisposed 96-year-old DMK veteran, K Anbazhagan, a colleague of late M Karunanidhi was wheeled in at a booth in Chennai to cast his vote.
Just after tying the knot, several couples arrived in their traditional bridal attire at the polling stations in areas including Nallampalli (Dharmapuri) and Srivilliputhur (Virudhunagar) to cast their votes.
Rain and shine played spoilsport to an extent in some parts of the State in keeping voters away from the polling stations for sometime.
While Chennai and other northern parts of Tamil Nadu was blazing hot, some southern parts of the State including Kanyakumari received showers.
People switched to protest mode as well in a couple of regions like the villagers of Top Station in Kurangani hill ranges of Theni District to protest lack of basic amenities.
"Of the 185 voters of this village, none came forward to cast their vote," Theni District Collector M Pallavi Baldev told PTI.
Two elderly men died after casting their votes in Sivagiri (Erode) and Vedappatti (Salem) respectively.
A 65-year-old man, who collapsed after emerging from a polling station, was rushed to a hospital where he was declared brought dead in Coimbatore while an 85-year woman died while she was standing in a queue at a booth there.
Deletion of names from voters list, non-issuance of voters' slips, malfunctioning of EVMs and technical glitches delaying polling process were among the key complaints of the people.
After casting his vote, Stalin alleged that there has been distribution of cash and accused the Election Commission of being an 'ally' of central and state governments.
Union minister Pon Radhakrishnan, DMK's Dayanidhi Maran and Kanimozhi, and Karti Chidambaram of Congress are among key contenders.
Radhakrishnan told reporters in Kanyakumari: "This is a massive democratic festival which will decide the fate of India. I have exercised my franchise... A silent revolution is happening."
All India Anna Dravida Munnetra Kazhagam leader and state minister D Jayakumar said 13 per cent voting in the morning 'is a joyous thing'.
"This shows there is a wave for Amma and MGR," he said, exuding confidence that the AIADMK-BJP combine will emerge victorious.
Amma Makkal Munnetra Kazhagam leader T T V Dinakaran alleged 'malfunctioning of EVMs is an achievement of the Modi government'.
About 1.40 lakh police personnel and 160 companies of CAPF were deployed in 17,720 polling stations to manage law and order.
Jammu-Kashmir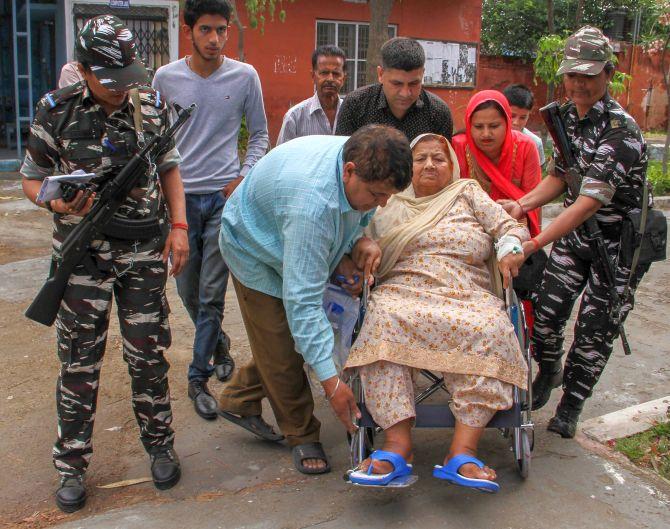 Srinagar, which in 2014 witnessed the lowest voter turnout in the country at 25.86 per cent, saw 12.43 per cent polling, with highest 17.1 per cent recorded in Shia-dominated Budgam district till 3 pm.
No untoward incident was reported during polling which was being held amid tight security due to militant threats and a boycott call by separatists in Kashmir.
Udhampur Lok Sabha constituency recorded 70 per cent polling.
WATCH: Newly-married couple turn up for voting in Udhampur
Voting began on a peaceful note Thursday in two Lok Sabha constituencies in Jammu and Kashmir, with voters in border district of Kathua and Udhampur turning up early morning to exercise their franchise, officials said.
Amid tight security, polling began across the constituency at 7 am and has been peaceful so far, the officials said.
Over 29.81 lakh voters are eligible to decide the fate of 24 candidates, including former Chief Minister and National Conference chief Dr Farooq Abdullah and Union Minister Dr Jitendra Singh contesting for Srinagar and Udhampur Parliamentary seats.
A newly married couple was seen in their wedding finery at a polling station in Udhampur town. The enthusiastic couple said youth should come out to vote.
There was a problem with EVM at a polling station in Ramban district but it was later rectified.
A 95-year old Raj Devi voted at a polling station in Chenani in Udhampur district.
Two-time Minister Lal Singh, who is contesting election from Udhampur LS seat, cast his vote in Kathua town.
Twelve candidates each are in the fray for both Srinagar and Udhampur parliamentary constituencies, they said.
Bihar
A total of 62.52 per cent of 86.01 lakh voters exercised their franchise in five Lok Sabha seats in Bihar in the second phase on Thursday, amid incidents of police firing and poll boycotts.
Katihar Lok Sabha constituency witnessed the highest voter turnout of 68.20 per cent, followed by Purnea (64.50 per cent), Kishanganj (64.10 per cent), Bhagalpur (58.2 per cent) and Banka (58.0 per cent), Chief Electoral Officer Bihar H R Srinivasa said.
The poll percentage of the five constituencies may increase once the final figures reach the state election office in Patna.
Polling passed off 'peacefully' with one exception of a police firing at a village in Shambhuganj area under Banka Lok Sabha constituency in order to control a mob that wanted to carry out bogus voting, he said.
When the attempt was foiled by the paramilitary forces, the mob started brick batting them using women as shield, forcing the security personnel to fire four rounds in the air, the CEO said.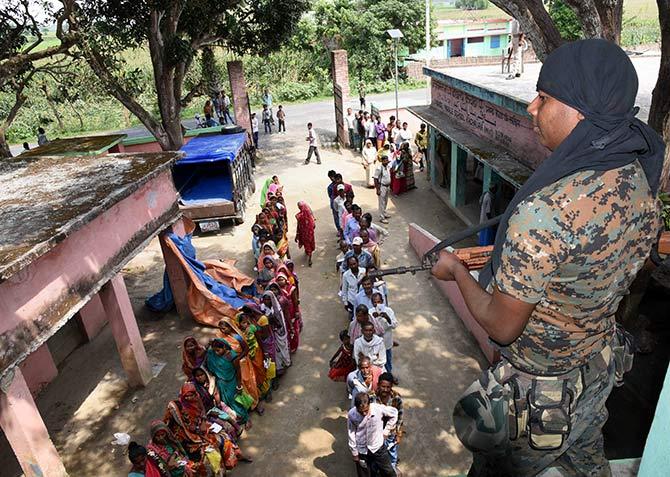 Six persons were arrested during the polling but Srinivasa did not explain whether all of them were involved in the incident at Banka.
Re-poll has been ordered in a single polling station in Jamui assembly segment of Banka Lok Sabha constituency after some anti-social elements damaged the ballot unit of the EVM, the CEO said.
Re-poll will be conducted on April 20. People of Naugachhia in Bhagalpur Lok Sabha seat and Banka in Banka Lok Sabha constituency boycotted the election for lack of road and water facilities in their areas, he said.
There were some minor incidents of EVM malfunctioning, the CEO said.
Fates of 68 candidates will be decided in the second phase of polling.
Uttar Pradesh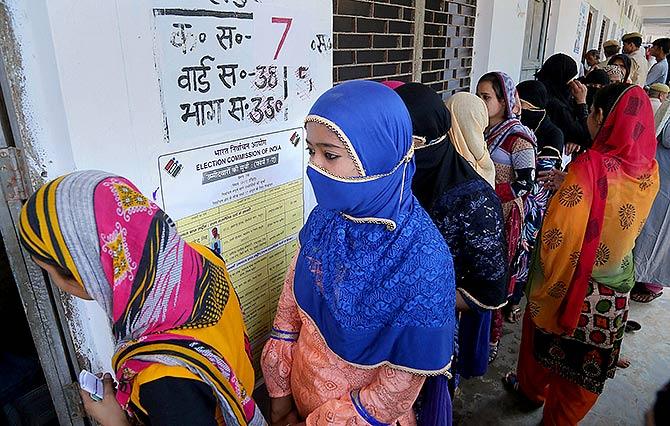 Over 62 per cent of the votes were cast in the eight constituencies which went to the polls in Uttar Pradesh in the second phase of Lok Sabha elections on Thursday.
The Election Commission figures put the overall voter turnout at 62.30 percent till 6 pm, when polling closed. However, voters in the queue at the closing time will be allowed to vote, EC officials said.
Polling was held in four reserved constituencies of Nagina, Bulandshahr, Hathras and Agra, besides four general constituencies of Amroha, Aligarh, Fatehpur Sikri and Mathura.
According to the EC, the polling percentage till 6 pm was 62.10 in Nagina, 68.77 in Amroha, 62.14 in Bulandshahr, 61.25 in Hathras, 59.60 in Agra, 62.80 in Aligarh, 60.56 in Mathura, and 61.16 in Fatehpur Sikri.
There are 1.4 crore registered voters in the eight constituencies.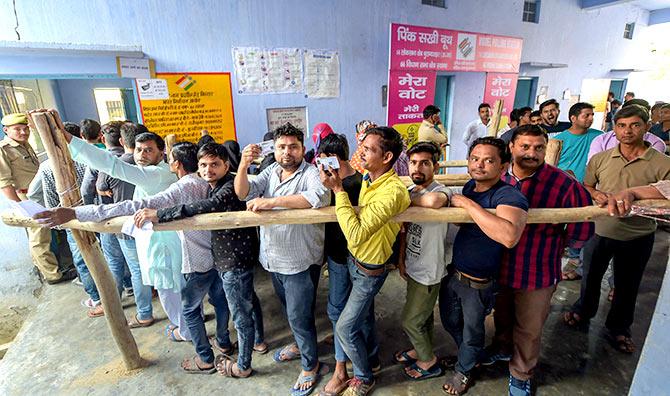 In Gujjupura village, under Nagina parliamentary constituency, residents were upset over absence of a polling booth in their village, and boycotted voting in the initial hours of polling.
However, following an intervention by the Bijnor district administration authorities, the voters exercised their franchise.
BJP MLA from Hasanpur in Amroha district, Mahendra Singh Khadagvanshi alleged that burqa-clad women were indulging in fake voting. The district administration, however, denied the charge.
In Bulandshahr, a video of the sitting BJP MP Bhola Singh 'seeking blessings' inside a polling booth went viral on social media, following which the district administration restricted his movements.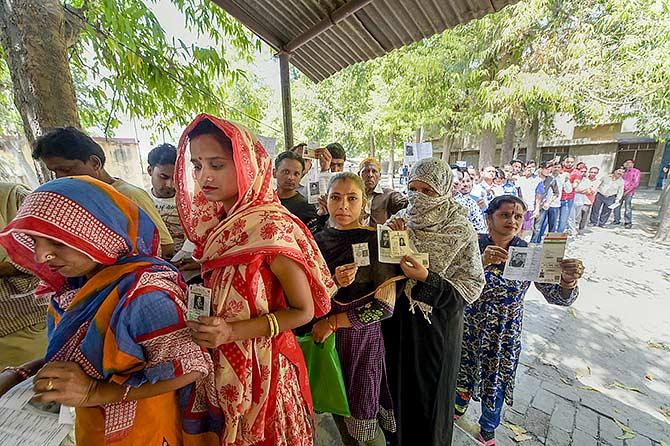 "His movement was restricted till 4 pm and he was not allowed to move out from his house. He was seen seeking blessings from the people at a polling centre, which is a violation of the Model Code of Conduct," Bulandshahr District Magistrate Abhay Singh told PTI.
"A candidate cannot speak to people inside a booth. They (candidates) can visit and see things but cannot talk," he added.
When contacted UP Chief Electoral Offficer L Venkateshwar Lu said, "We have sought a report from the district magistrate in this regard."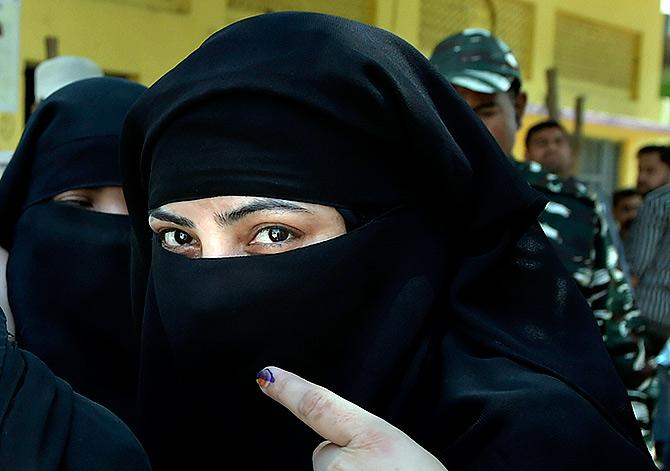 The eight Lok Sabha seats where polling was conducted on Thursday were bagged by the BJP in the 2014 general elections.
This time it faces a tough fight from the Samajwadi Party-Bahujan Samaj Party-Rashtriya Lok Dal alliance.
In this phase, the BSP has fielded candidates on six of the eight constituencies.
The SP and RLD are contesting Hathras and Mathura, respectively, as per the terms of the alliance.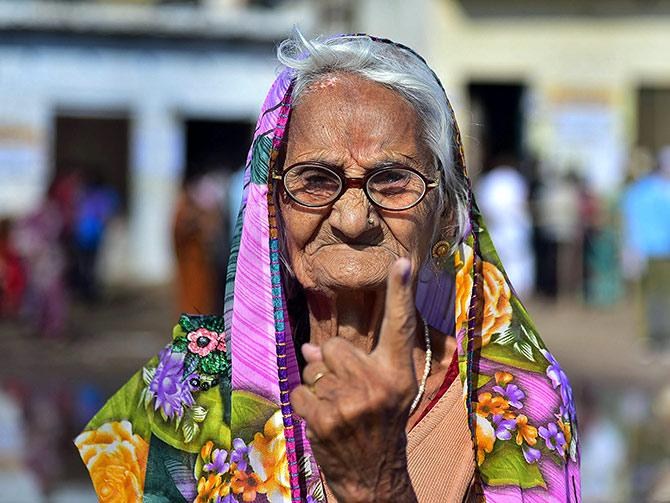 Under their seat-sharing pact, the BSP is contesting 38 of the 80 Lok Sabha seats in the state, the SP 37 and Ajit Singh's RLD three.
The alliance has left two seats, Amethi and Rae Bareli, for the Congress. The EC has set up 16,162 polling booths in 8,751 polling centres for this phase in the state.
There are 85 candidates in the fray for the eight seats, with 15 of them, the highest, in Fatehpuri Sikri
Chhattisgarh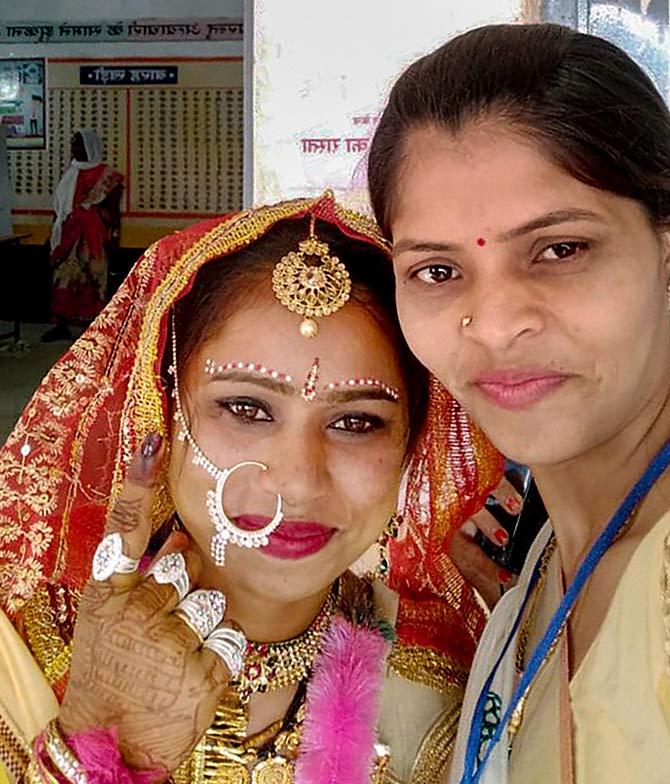 An impressive 71.09 per cent voters exercised their franchise in three Lok Sabha constituencies having Naxal presence, during second phase of Lok Sabha election in Chhattisgarh Thursday, election officials said.
Voting began in Kanker, Rajnandgaon and Mahasamund constituencies at 7 am.
"Altogether 71.09 per cent voting has been recorded in three constituencies," state's Chief Electoral Officer Subrat Sahoo told reporters in the evening.
The number may go up as final data was yet to be received from over 100 polling booths, he said.
In naxal-hit Kanker constituency 72.37 percent voter turnout was recorded while 68.23 per cent was recorded in Mahasamund and 71.76 per cent in Rajnandgaon.
In 2014 Lok Sabha elections, 73.02 per cent voter turnout had been recorded in these three seats, he added.
As many as 59 polling teams were ferried to polling centres by helicopters in sensitive areas, he said. Drones were used to monitor security.
Residents of four villages -- Supebeda, Sendhmuda, Parevapali and Kokhsara -- in Bindranawagarh assembly segment in Mahasamund seat boycotted voting, demanding construction of a bridge on Tel river, he said.
Sukalu Ram Nareti, a polling officer at Kamta polling station in Antagarh segment in Kanker Lok Sabha seat, died of heart attack before polling began, Sahoo said.
In Rajnandgaon constituency, a newly-married woman exercised her franchise before heading for her husband's house, while in Mahasamund, a groom voted in Dhamtari assembly segment before the marriage procession began.
The fate of 36 candidates was locked in EVMs across three seats where the main fight is between the Congress and BJP.
The BJP has fielded Santosh Pandey, general secretary of the party's state unit, in the high-profile Rajnandgaon seat, denying ticket to sitting MP Abhishek Singh, son of former Chief Minister Raman Singh.
Pandey is pitted against Congress' Bholaram Sahu, a former MLA.
In Kanker, the BJP denied ticket to sitting MP Vikram Usendi, president of its state unit, and fielded a fresh face, Mohan Mandavi. The Congress has pinned its hopes on Biresh Thakur, also a greenhorn.
In Mahasamund, the BJP chose former MLA Chunnilal Sahu over two-time MP Chandulal Sahu against Congress MLA Dhanendra Sahu.
Assam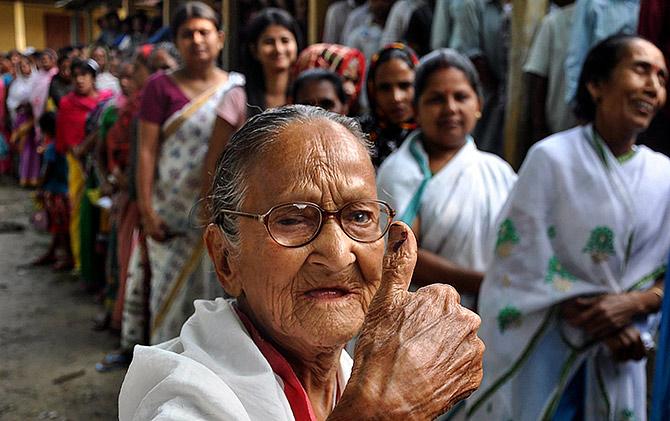 Over 73 per cent of the 69,10,592 voters were cast in five Assam Lok Sabha constituencies Thursday during the second phase of polling, an election department communique said.
The communique said that 73.32 per cent votes were polled across 8,992 booths in Karimganj (SC), Silchar, Autonomous Districts(ST), Nowgong and Mangaldoi constituencies to decide the fate of 50 candidates.
"This is the initial voting percentage at 5 pm. It will increase further as people are still in the queue at the polling booths," state chief electoral officer Mukesh Chandra Sahu told PTI.
All those who had queued at the booths before 5 pm will be allowed to cast their votes, he said.
Nowgong recorded the highest polling of 75.71 per cent at 5 pm, followed by Mangaldoi and Silchar with 75.07 per cent and 71.79 per cent respectively. In Karimganj the figure was 71.41 per cent and Autonomous District witnessed the lowest voting at 69.51 per cent, the election office said.
Repolling was conducted during the day at polling station number 165 at Dhemaji Town High School (EW), where voting took place in the first phase on August 11, due to non-erasing of the mock poll data and 69.
Sahu said there were reports of malfunctioning of EVMs during the poll from some booths and those machines were been replaced.
"As per the initial reports, around 120 VVPATS were replaced, while 20 units of control and ballot units were changed during the main polling. Some more machines were changed at the time of mock polling. These figures may go up slightly as we have not received the final numbers from the centres yet," the CEO said.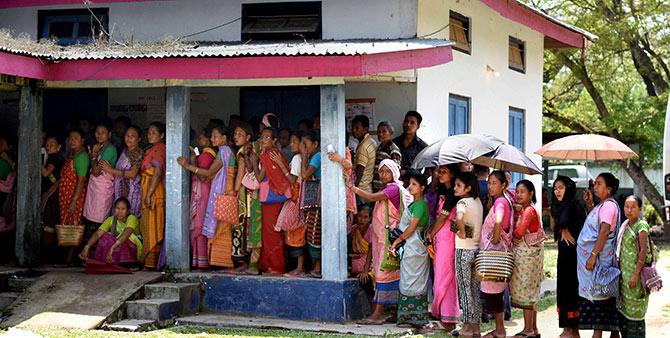 Sahu termed reports of votes going to only one particular party despite the voters pressing different buttons as 'fake'.
Brisk polling was reported since the beginning at 7 am with women and first time voters queueing up at the the booths even before the exercise began.
The 84 model polling stations wore a festive look with balloons and flowers used to decorate them and the voters were welcomed by volunteers wearing traditional dresses.
Arrangements for drinking water, baby feeding rooms and resting place for the elderly were made in them.
Many volunteers were seen escorting the elderly and people with disabilities in their wheel chairs.
The 137 polling stations in the five constituencies which were under women personnel saw voters queuing up since early morning.
Among the prominent voters were All India United Democratic Front chief Badruddin Ajmal, AIUDF sitting MP Radheyshyam Biswas and Congress sitting MP Sushmita Dev.
Former Chief Minister Prafulla Kumar Mahanta did not cast his votes in protest against the contentious Citizenship (Amendment) Bill and the alliance of his party Asom Gana Parishad with the BJP.
Congress Rajya Sabha MP Bhubaneswar Kalita could not vote as his name was figured in the electoral rolls of Mangaldoi and Gauhati.
The prominent candidates in the fray on Thursday included sitting Congress MPs Sushmita Dev from Silchar and Biren Singh Engti from Autonomous District, sitting AIUDF MP Radheshyam Biswas from Karimganj, Congress Rajya Sabha MP Bhubaneswar Kalita, two BJP MLAs - Rupak Sharma from Nowgong and Rajdeep Roy from Silchar, assembly deputy speaker Kripanath Mallah from Karimganj and former Congress minister Prodyut Bordoloi from Nowgong.
Besides Dev, the two other women candidates in the fray are Nazia Yasmin Mazumdar of National Peoples' Party in Silchar and Swarnalata Chaliha of the SUCI(C) in Mangaldoi.
A total of 78.27 per cent of the 76,03,458-strong electorate had voted during the first phase in which election Dibrugarh, Jorhat, Kaliabor, Lakhimpur and Tezpur seats on April 11.
The third and last phase of voting in Assam will take place on April 23 for the Gauhati, Barpeta, Kokrajhar (ST) and Dhubri seats.
West Bengal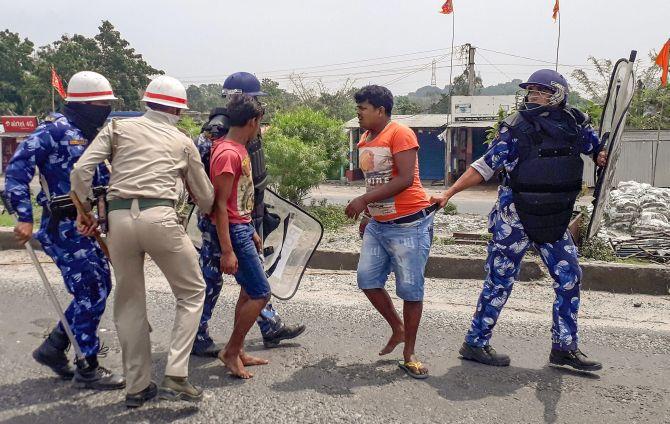 Stray incidents of violence marred the second phase of polling in West Bengal on Thursday which saw 76.07 per cent of the 4938346 electorate exercising their franchise in three seats where voting took place.
The highest polling of 82.76 per cent was recorded in Jalpaiguri (SC) seat, 73.31 per cent in Raigunj seat and 72.14 per cent in Darjeeling seat, state chief electoral officer Ariz Aftab said.
Aftab described the elections as 'peaceful' with only a few isolated incidents of violence.
"It was a peaceful elections today. There are a few isolated incidents of violence at a few places -- Chopra in Raigunaj, Kalimpong in Darjeeling and Jalpaiguri but nothing major," Aftab said.
The EC till 5 pm received 56 complaints from the three constituencies and 'all were responded to properly', he said.
At least 30 people were arrested as a preventive measure while another three were nabbed for specific reasons.
Eight first information reports were lodged in different cases, he added. Special Police Observer Vivek Dubey described the voting as 'more or less peaceful' barring 'a few isolated incidents'.
Reports from Uttar Dinajpur district, where Raiganj is located, said majority of the incidents were reported from Chopra and nearby Islampur.
Voters of Chopra put up a road blockade in protest against absence of central forces at the polling stations, an official said.
State police rushed to the spot and when the protesters threw stones at them, fired in the air and burst tear gas shells to control them. Bombs were also hurled by miscreants, a senior EC official in the district said.
Several police personnel were injured in the incident, he said adding .
Polling in the area resumed when voters were escorted to their respective polling booths by security personnel, ADG (Law and Order) S N Gupta said.
A reporter and a camera person of a local news channel were manhandled when they went to cover polling at Kataphulbari in the Raiganj constituency, he said adding an FIR was lodged in connection with it.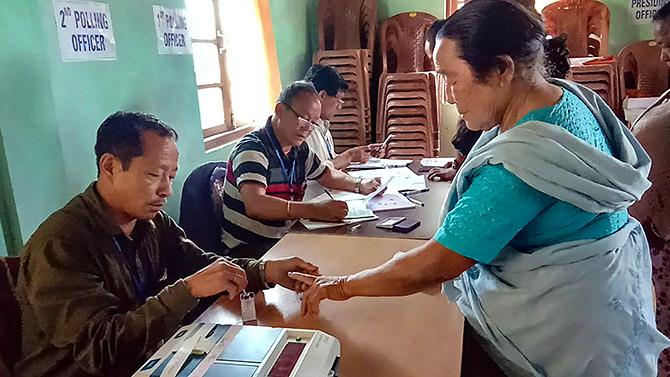 In another area of the constituency EVMs were damaged by miscreants and were immediately replaced.
"The voting was not stopped and we have lodged an FIR in this regard," said an EC official.
Dubey said, "Small incidents will always occur but there was no big incident."
Special Observer for West Bengal Ajay V Nayak also echoed Dubey's views.
Communist Party of India-Marxist candidate from Raiganj, Md Salim claimed that his car was attacked by unknown persons when he went to a polling booth at Islampur.
"I got to know of rigging in that booth. After I reached the polling station, some people attacked my car. Though I am unhurt, the vehicle has been damaged. I believe the Trinamool Congress is behind the incident," Salim alleged.
The EC lodged an FIR against Jan Andolan Party president Harka Bahadur Chettri for entering a booth at Kalimpong government junior school and casting his vote while talking on his mobile phone. It also removed the presiding officer of the booth.
According to rules, mobile phones are not allowed within 100-metre of a polling booth.
"I had no knowledge that mobile phones are not allowed inside polling booths. Nobody told me about it. Had I known I would have deposited the phone to the security officers before entering," Chettri, a prominent leader in the Darjeeling Hills, said.
The EC had deployed 194 companies of central forces to cover 80 per cent of the over 5,000 booths in the three Lok Sabha constituencies.
Trinamool Congress has fielded Bijoy Chandra Barman against BJP's Jayanta Kumar Roy in Jalpaiguri constituency, where Moni Kumar Darnal of Congress and Bhagirath Chandra Roy of CPI-M are also in the fray.
In Darjeeling the TMC nominated Amar Singh Rai to take on Raju Bisht of BJP, Sankar Malakar of Congress and Saman Pathak of CPI-M.
Kanhaiyalal Agarwal was nominated by the ruling party in the state in Raiganj seat against Md Salim of CPI-M, Deepa Dasmunshi of Congress and Debashree Chowdhury of BJP.