At 24, she had lost her purpose in life. "What was missing in my life was purpose, so, I bought a wall map and 8 entrepreneurial books to start the flow of curiosity and perception." One of the books, she bought was the 'The Happiness of Pursuit' by Chris Guillebeau.
Fast forward three years later, this girl has entered the history books by becoming the fastest person to visit every country in the world. She is also the first woman to visit every sovereign nation.
Meet Cassie de Pecol, a 27-year-old traveller from Connecticut, United States, who visited 196 countries in 18-and-a-half months.
Here is her journey in images.
All photographs courtesy: @expedition_196/Cassie de Pecol/Instagram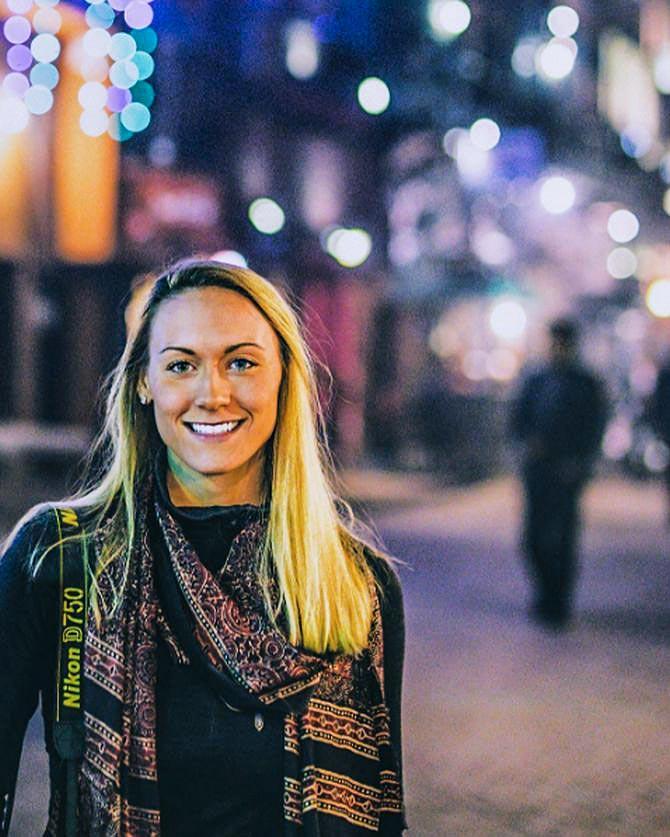 IMAGE: To say that Cassie de Pecol is an avid traveller, would be an understatement. She started 'Expedition 196' on her 25th birthday. Photograph: @unmaderhyme/Instagram
Cassie left for her world tour in July 2015, and on February 2, 2016 she visited Yemen, the 196th and final country on her list. Her entire journey around the world took 18 months and 26 days, smashing the previous record of three years and three months.
She began her epic journey -- dubbed Expedition 196 -- on her 25th birthday and charted her entire journey on social media.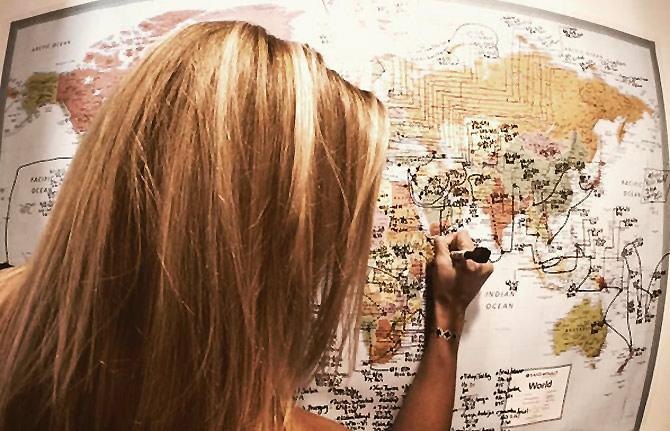 IMAGE: Planning to visit 196 countries in record time would need a lot of planning.
Cassie, who has visited places such as Taiwan, Kosovo and Palestine, describes herself as 'a world traveller, explorer, environmental activist, women's rights and peace activist, educator, triathlete, and entrepreneur'.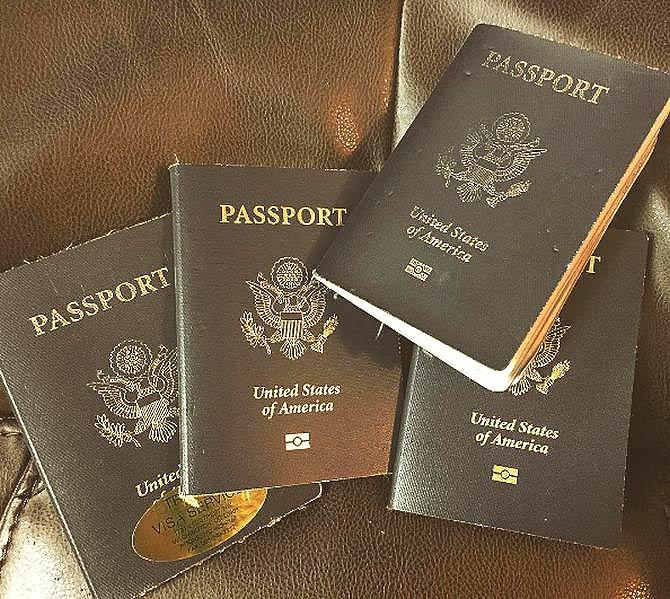 IMAGE: Cassie went through 5 passports while undertaking this one-of-a-kind journey. Talk about #braggingrights!
Previously working in the corporate world, Cassie said she couldn't travel the world without a purpose. So, she acted as peace ambassador for the International Institute of Peace Through Tourism and Skal International during her journey.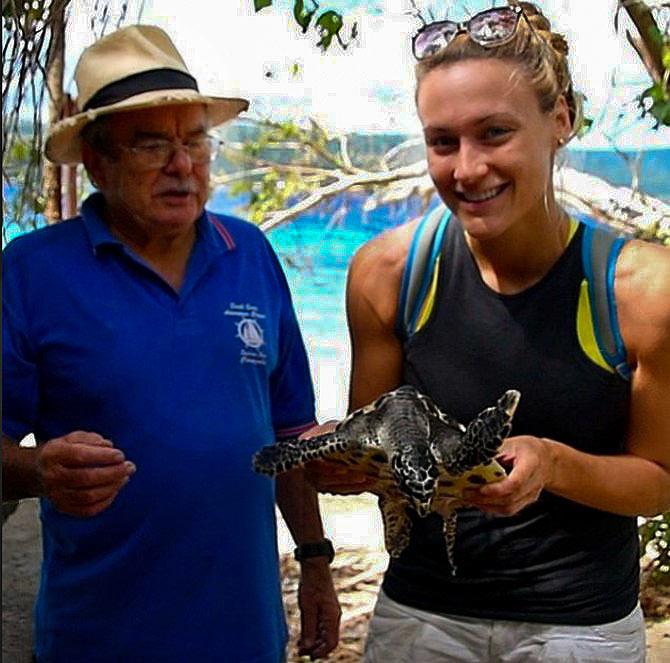 IMAGE: If you think that Cassie's trip around the world was about picturesque landscapes and living the high life, think again. In Vanuatu, one of the countries, on her list, in an attempt to raise awareness about the environment, she helped in rescuing turtles.
"I hope that this trip will have made a significant difference in our world, enough to provide me with the opportunity to speak at universities and for the documentary to be used as an educational tool in high school and university classes. I also hope that I can help young girls to see their full potential and not limit themselves to what society says they should do."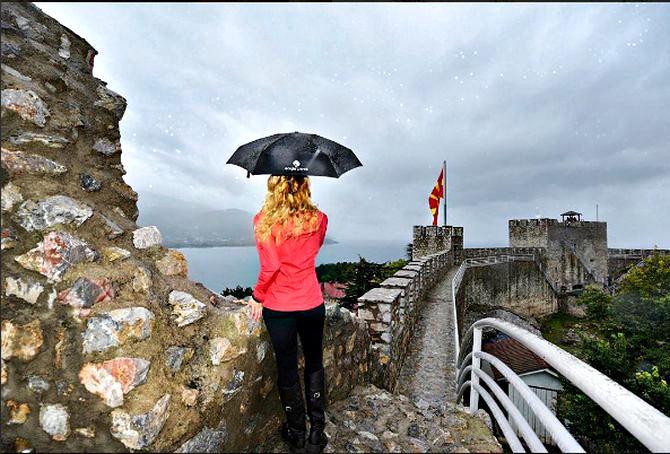 IMAGE: Can you guess the location? That's Samuel's Fortress, Ohrid in Macedonia.
Her work involved meeting with university tourism students to discuss responsible tourism and economics.
In addition, she worked with Adventurers and Scientists for Conservation to collect water samples to test for the presence of micro plastics.
She also met with students, local government representatives, and tourism ministers. She gave presentations on sustainable tourism, urging hospitality that's energy-efficient, relies on local food production, and respects local culture and heritage.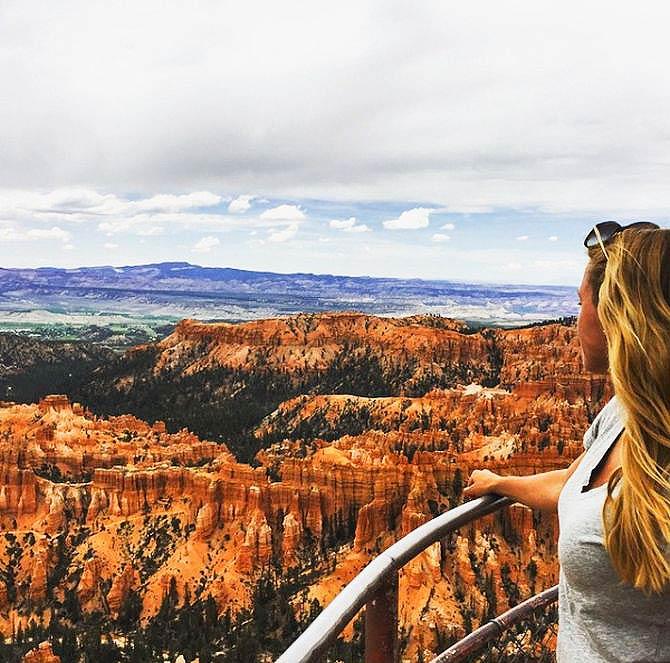 IMAGE: Take in this splendid view of Bryce Canyon, in Utah, America. She travelled the breadth of America mostly by road.
Asked about how she was received by other countries, Cassie said it wasn't a walk in the park. In fact, while speaking to CNN about her trip, she said that she was in tears when a North Korean soldier gripped her hand in the hardest handshake she'd ever felt. "We're going to destroy you, America," he said.
She recalled telling the North Korean guard about her mission: She was there to show that, even if their governments couldn't be friends, the two of them didn't have to be enemies. "I just like to show that we can be friends and we can kind of coexist," De Pecol said.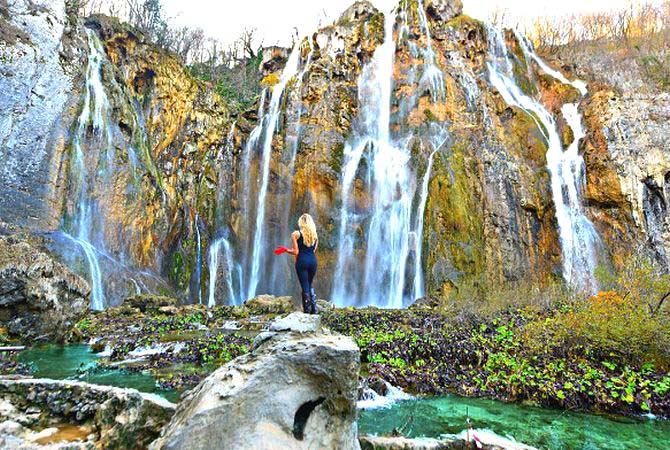 IMAGE: "This waterfall was just too breathtaking to resist," wrote Cassie on her Instagram page while travelling through Croatia.
FUN FACT
Before Cassie, the record holder for the fastest man to travel the world was held by Michigan native Yili Liu for travelling the world in three years and three months.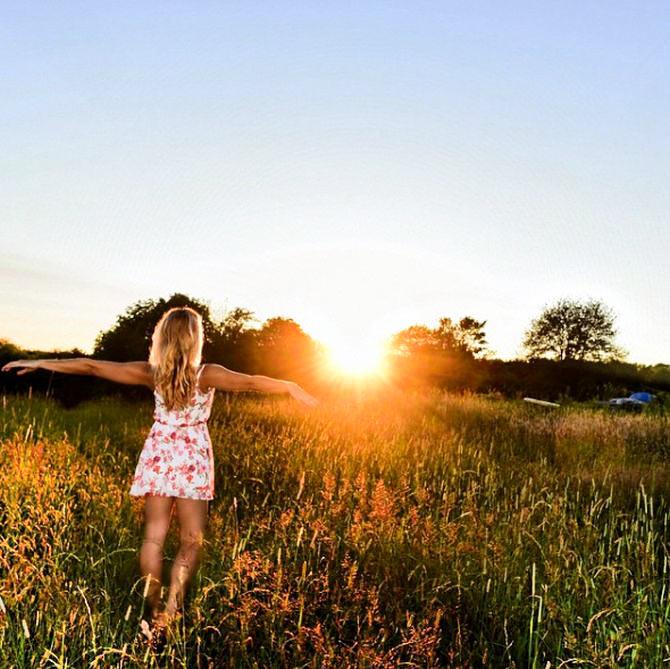 IMAGE: Genuine freedom! Her journey will make everyone's bucket list.
Another difficult aspect of the expedition was trying to secure visas.
"There have been cases when I post on my Facebook, 'Hi I need help getting into Libya' or 'I need help getting into Syria,' and at that point it's kind of trusting in the unknown, trusting in people," she said.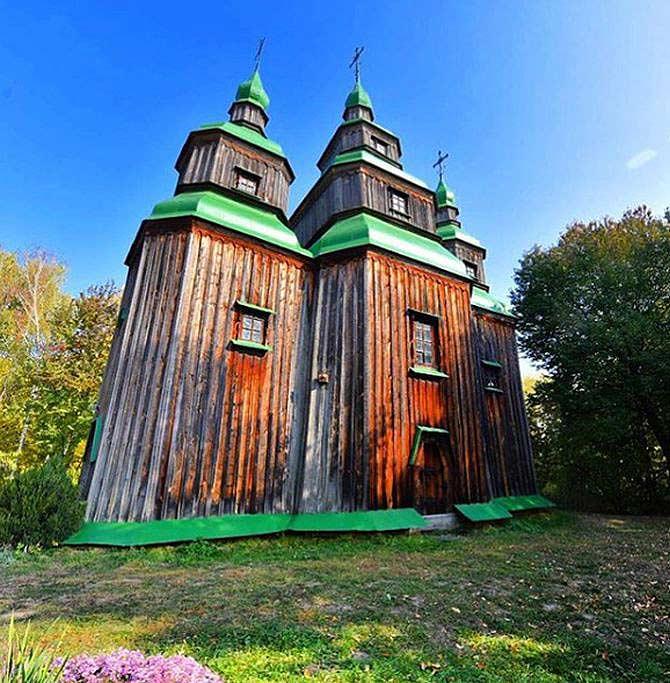 IMAGE: Along her journey, Cassie also witnessed strange and unusual architecture, which she spoke of on her Instagram page. Here is an example of the unusual sights she saw: An outdoor museum of folk architecture in a village on the outskirts of Kiev called Pyrohiv, that showcased real houses and thatched huts dating back to the early to mid 19th century. Wouldn't we like such a history lesson.
But, she's a tough cookie. Since turning 16, the blue-eyed blonde has been participating in triathlons and also knows the Israeli form of self defence known as Krav Maga.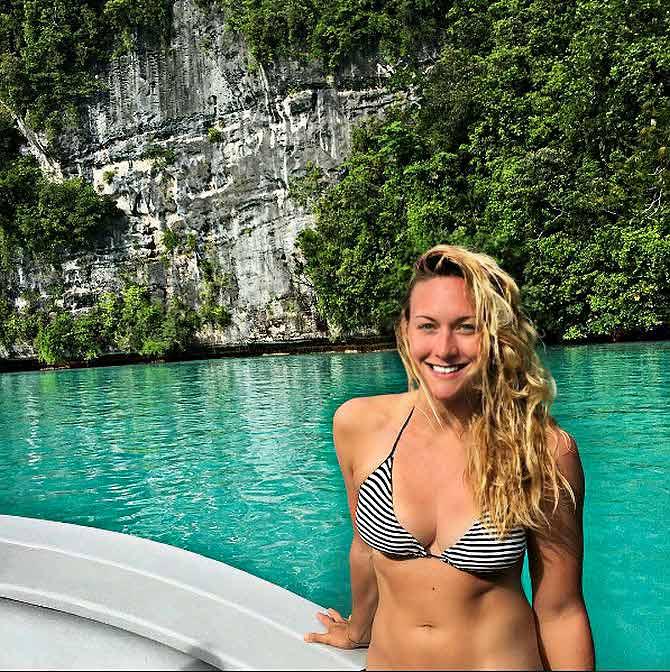 IMAGE: 50 shades of blue! Cassie in Palau. For those who don't know where that is, Palau is a part of the Micronesia region in the western Pacific Ocean. If you love clear waters, this should be your next travel destination. Palau is also the place where Cassie took to the road.
And this wasn't Cassie's first tour either. She visited 25 counties by herself, stretching $2,000 as far as it could go, and even slept in train stations.
Multiple times during the expedition, De Pecol was detained by authorities who suspected she was a journalist, spy or drug smuggler. In Peru, her taxi was robbed at knife-point.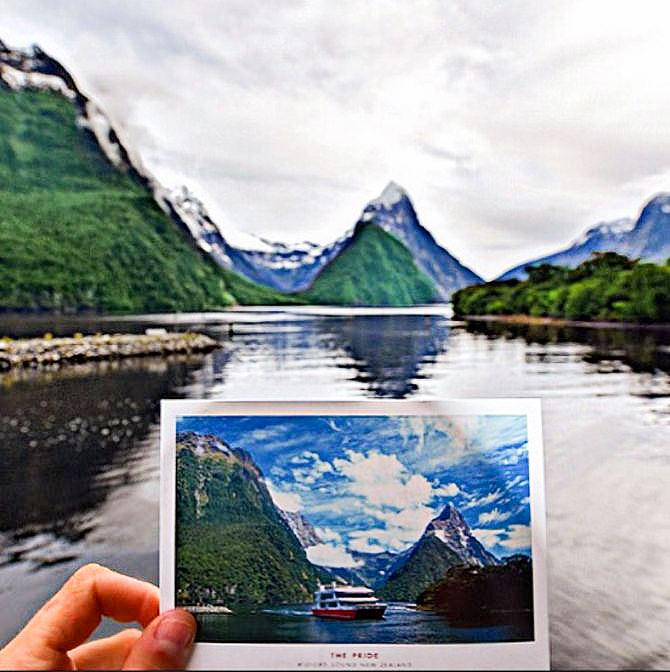 IMAGE: With views like these, we are surprised that Cassie only spent two to five days in each country. For those who want to know, this is New Zealand.
When asked why she set out on this one-of-a-excursion, she said, "Since school, I've had this desire to visit every country in the world, intrigued to learn more about every culture, natural habitat, and religion.
"In America, we are lucky to have such a vast melting pot of cultures and people from all over the world who make the country what it is today.
"I wanted to learn about where these people came from, more specifically, where I came from, with my ancestors originating from Europe.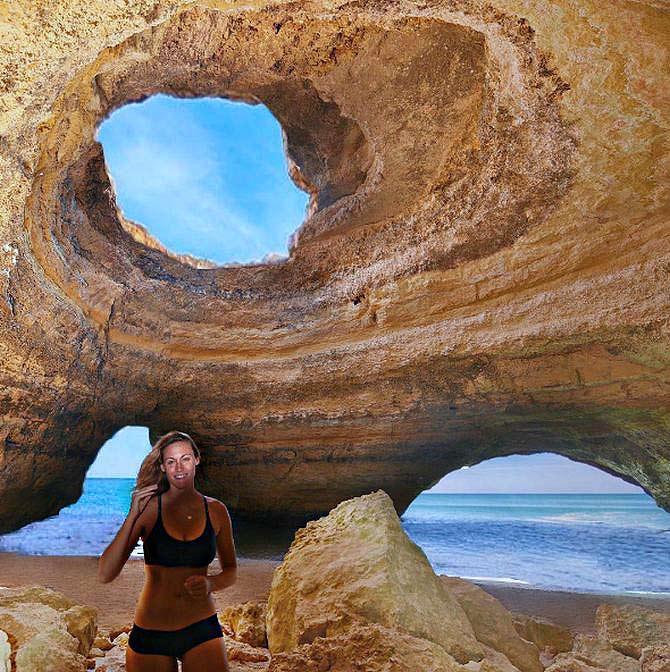 IMAGE: Cassie at the Benagil Sea Cave in Portugal. Through her trip, Cassie also got to tick off several destinations from her bucket list.
"I wondered what existed outside of North America and what it was like."
"Going to every country was for me a personal quest to learn as much as I could about our world, stepping outside my comfort zone and becoming comfortable in the unknown, while also aiming to leave a legacy behind."
In order to fund her journey, Cassie saved $10,000 (Rs 6 lakh) in babysitting money. She acquired the rest of her $198,000 (Rs 1.3 crore) budget through sponsors. De Pecol also exchanged promotional coverage for stays at eco-hotels around the world.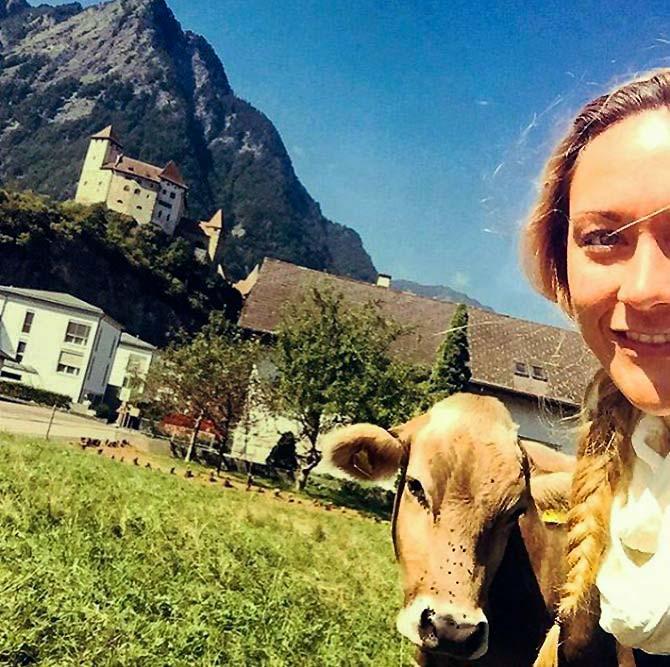 IMAGE: Making friends, meeting new people is one of the reasons she travelled extensively. Here's Cassie with a cow (oh so cute) in Liechtenstein
Once she set out on her journey, Cassie spent two to five days in each country.
According to her, she experienced the lows when she was at airports, or in countries she felt unsafe to run (you can guess she's a runner from this statement alone).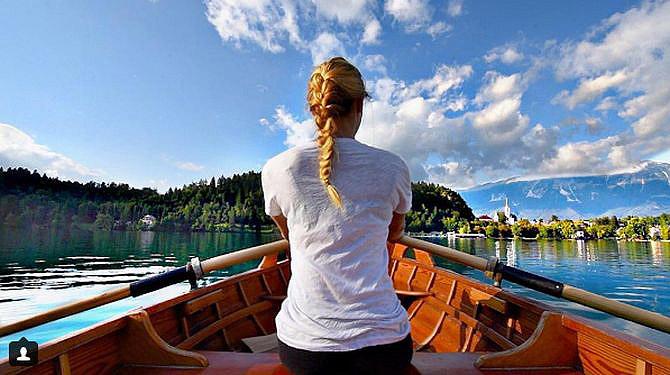 IMAGE: Lake Bled is picture perfection. With its emerald-green lake, Lake Bled is a marvel in Slovenia.
Throughout her journey, De Pecol boarded over 255 flights, planted trees in over 50 countries and went through five passports.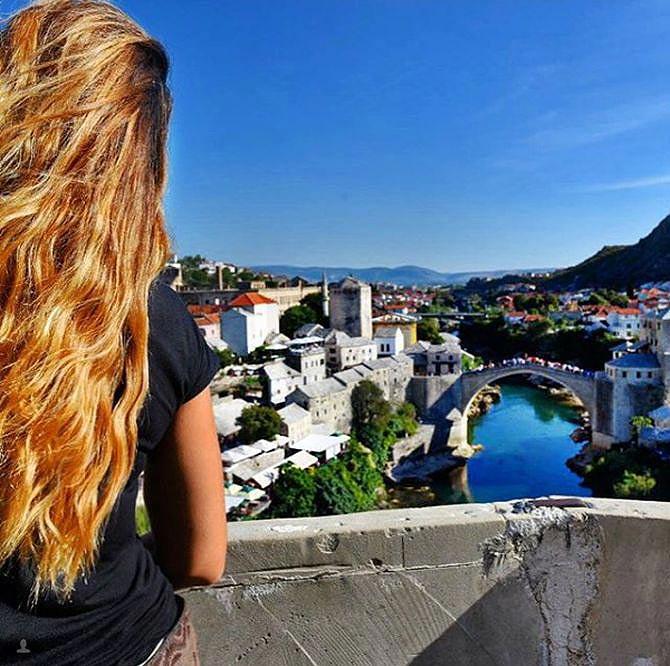 IMAGE: Cassie doesn't go anywhere without her camera. High up on the roofs of buildings in Bosnia to waters in Indonesia, her camera is her one permanent companion.
And what about the criticism she faced about her travel. Some critics say she spent too short a time in each place to have meaningful experiences.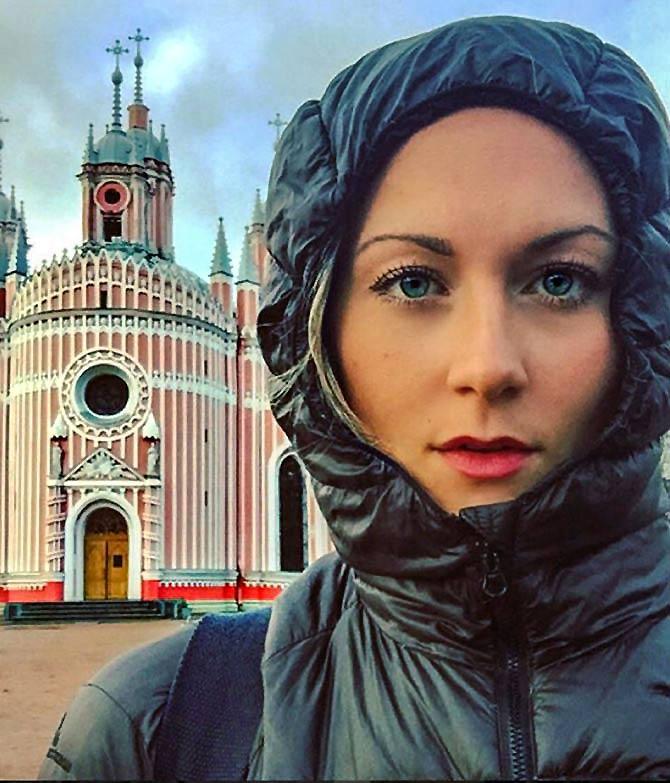 IMAGE: Cassie documented her journey on Instagram, which quickly notched up followers in the thousands. In St Petersburg, Russia, she came across the candy cane church and she couldn't help but take a snap for history's sake.
Others accuse her of only being in it to chase the record -- and money.
This is what she wrote on Instagram, responding to her critics.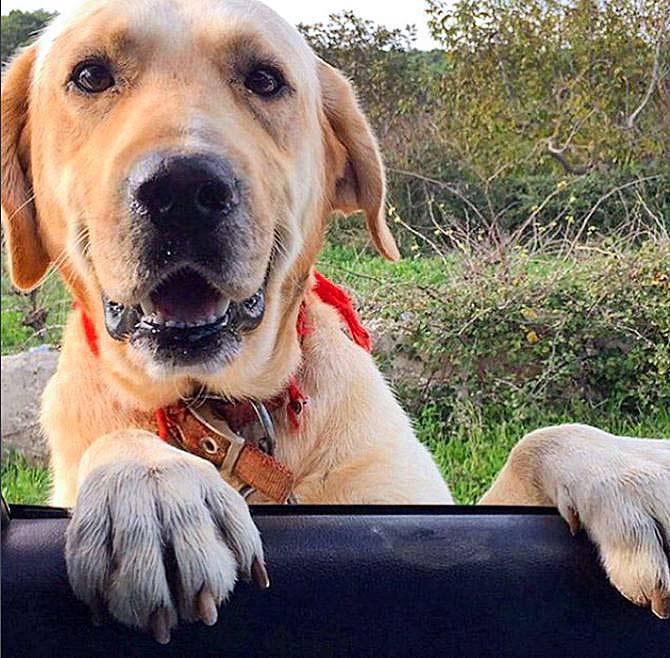 IMAGE: She travelled alone for 567 days, but Cassie wasn't lonely. She made friends, such as this cutie patootie in Greece, who she named Mykonos.
"It's not okay to let others opinions (good + bad) shape who you are and who you aim to become, but I encourage you to let their words fuel you to pursue a life for yourself that you could have never in your wildest dreams have imagined.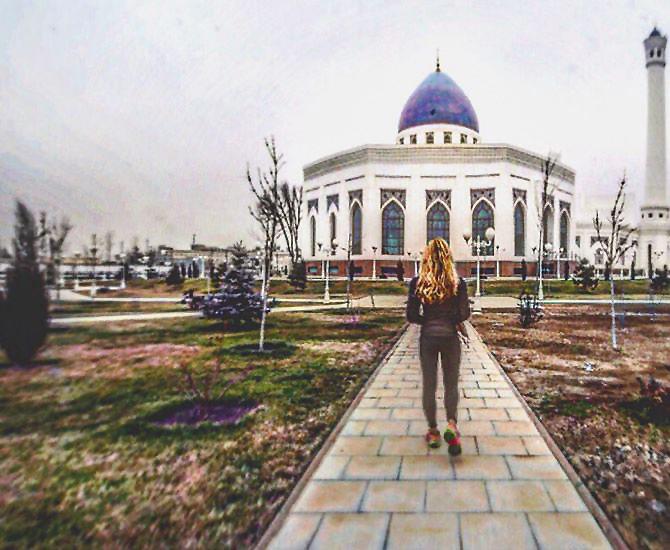 IMAGE: Cassie in Uzbekistan!
"It's always been a desire of mine to inspire others that would in turn, inspire myself to create and grow positively in the right direction. My motto has always been, "I want to live an iconic lifestyle where I do what I want, when I want, and inspire those along the way".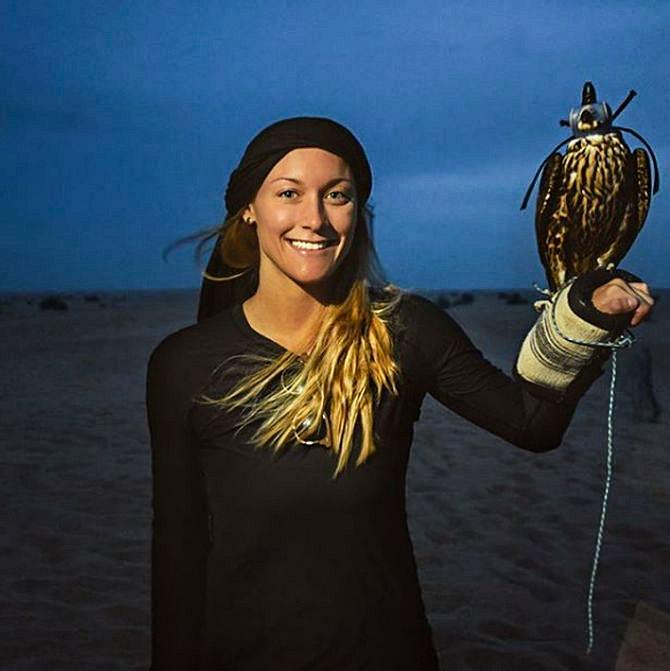 IMAGE: Cassie in UAE having some fun with falcons in the desert.
"The negativity I get from this expedition is vast, and while I'll never know why I've been criticised for my hard work and dedication to make even just a small, positive change in our world or how I travel for that matter, this negativity contradictory, only fuels me to do bigger things and reach higher in order to craft something more vast and impactful to positively enhance our world, while leaving a great legacy behind.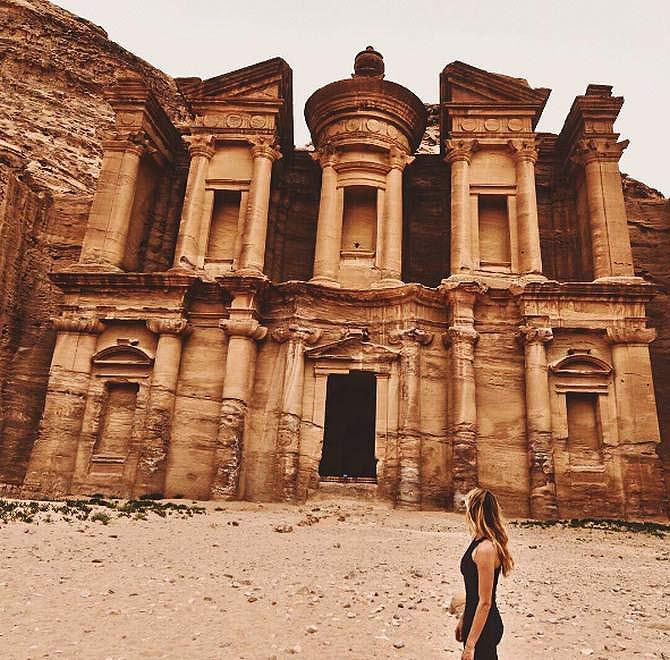 IMAGE: Cassie at Petra in Jordan. Petra is a famous archaeological site in Jordan's southwestern desert. Accessed via a narrow canyon called Al Siq, it contains tombs and temples carved into pink sandstone cliffs, earning its nickname, the "Rose City."
"Thankfully, the judgements that I've read have really fueled me to start several major projects that I've recently started working on. I often wonder that if I never received this criticism from others, I'd never be driven enough to change our world for the better... and hopefully one day I won't rely on these judgements to make these great forward movements in life, but for now, it's worked well enough. Never define your value as a person based off what people tell you about who you are or what you do. Own your life, own your values, own your morals and never let anyone dictate your decisions or frame who you are or who they think you should be. It is your life and no one has a surefire solution to a successful and winning outcome, but you.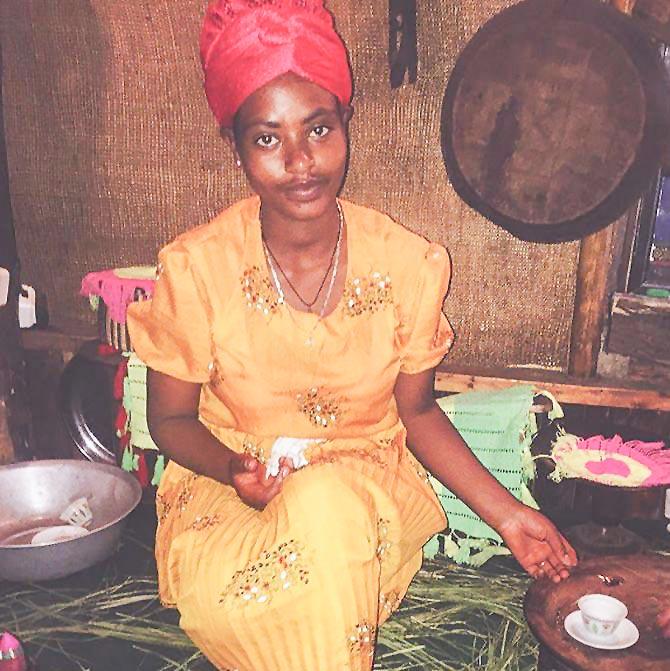 IMAGE: When Cassie travelled to Ethiopia, she met this beautiful, young woman who was making true and authentic Ethiopian coffee. She says on Instagram, "I sat with her for awhile and despite our language barrier, we managed to connect on many things. The world is magical if you practice patience and understanding."
"So, I encourage you to use not only fear but negativity and criticism from others as embers to your flame. It is only then, once you let all those opinions go, and watch those embers burn to flame, your truth and your story will flourish and you'll be boasting with confidence as to where you're headed. Choose your hard."
Next up, De Pecol plans to visit Antarctica. But before that, she will race in an Olympic Triathlon in San Diego next month, and in June she will teach a course in how to secure funding to travel the world.
IMAGE: "After a 1 hour and 15 minute fast paced uphill trek, I arrived at Paro Taktsang, Bhutan. The pilgrimage was like something out of Avatar, a dream to trek, through low hanging clouds with a harrowing drop at any given moment on either side. Prayer flags swayed through the pines, prayer wheels spinning in the breeze, and tsa-tsas (ashes of the dead) wedged between crevices of stone. Passing over a bridge and waterfall and up the last flight of stairs, I entered one of the chambers where I was completely alone. Tip-toeing past the glowing butter candles and sacred relics, I kneeled on a rug, cracked open an aged window and rested my head on the windowsill to reflect and admire the massive 2,000ft plunge into the vast Himalayan valley below, as clouds swiftly passed. Without my phone or camera equipment, I was able to consciously enjoy this moment in peace."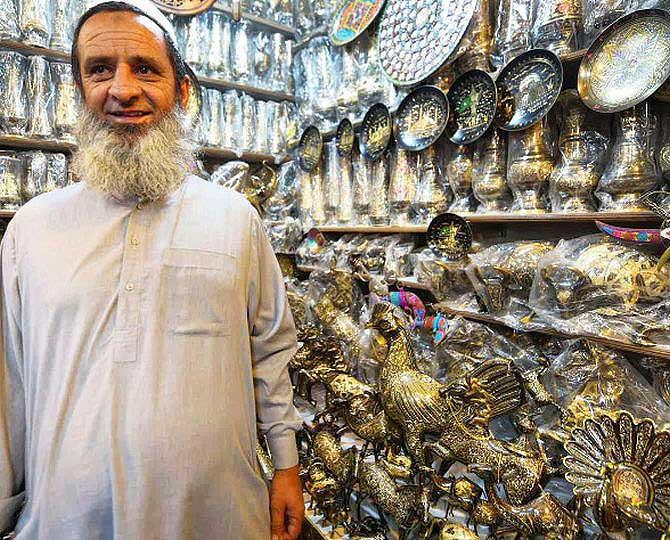 IMAGE: Cassie also travelled to Pakistan. It's interesting that she wrote about her journey to this country extensively. This is what she said, "The way I prefer to travel is to leave all preconceptions at the door and walk in with a completely open mind.
A great example of this practice surfaced during my stay in Pakistan. People were scared for me when I told them I was going, although I personally looked at the opportunity as both a privilege and unique adventure. Having been to places such as Afghanistan, Somalia and North Korea, alone for example, I had zero worries about entering Pakistan and just knew it would exceed my expectations in the best way possible.
What we hear in the media can be so degrading and devastating, but this shouldn't deter us from experiencing that country first hand.
By using tourism as a means for peace, we have the ability to open our eyes to the truth when we experience these places through our own perceptions while learning directly from the local people.
Once we realize the common denominator of humanity, we'll judge less, and accept more. We will be more open to the kindness of people around the world and that most people just want peace, too."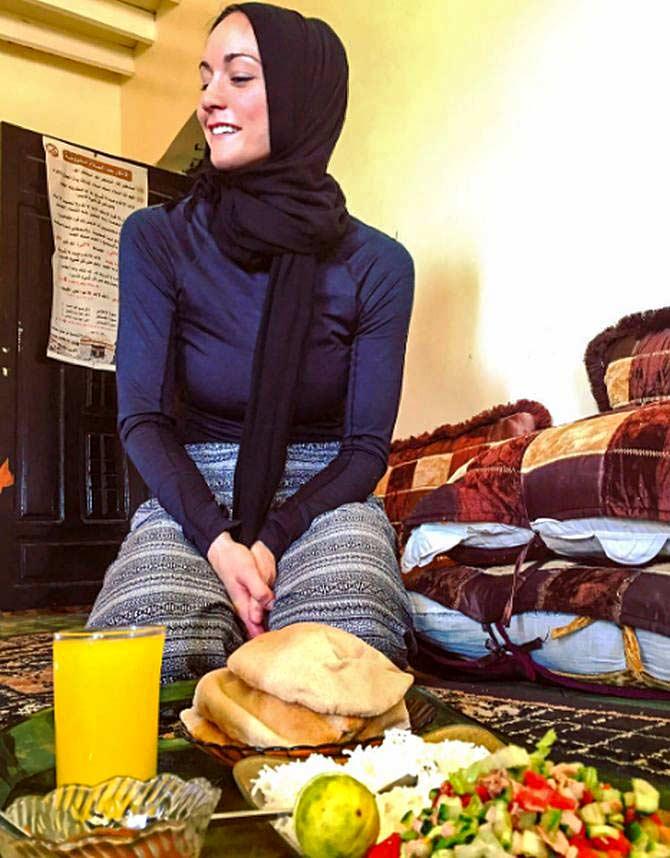 IMAGE: Cassie's final country on her list was Yemen and it didn't disappoint! She took in the local culture and the yummy food.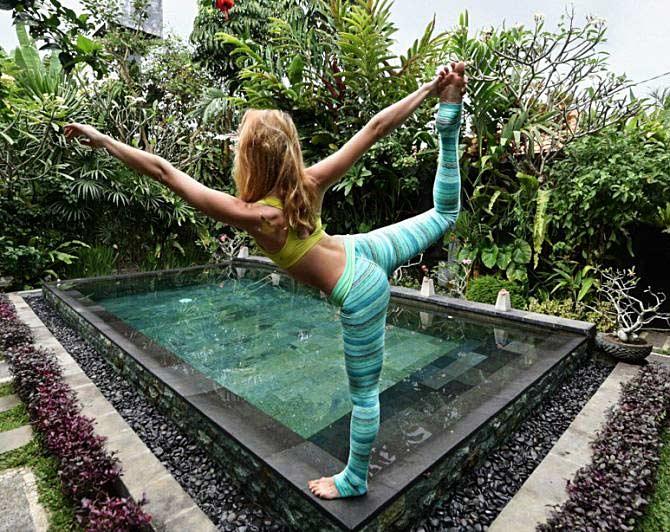 IMAGE: With images like these (this one in Bali) on her Instagram feed, it's no wonder that they soon became viral.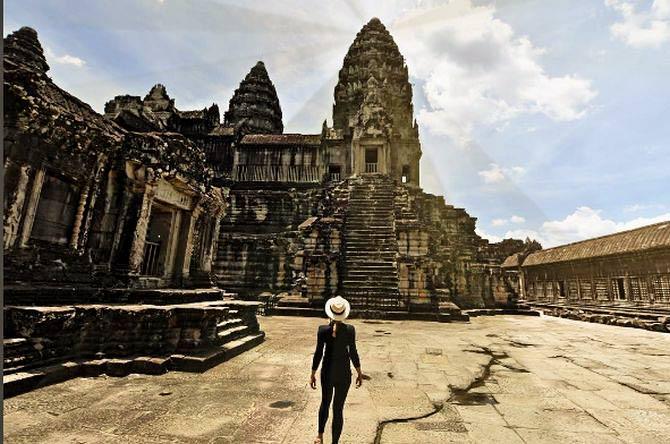 Tips on how to travel like Cassie
It is natural to be nervous, but try to be confident
Take a basic self-defence class

Try not to look lost on streets when travelling. It makes you vulnerable to attacks

Find your purpose behind the travel and be committed to it