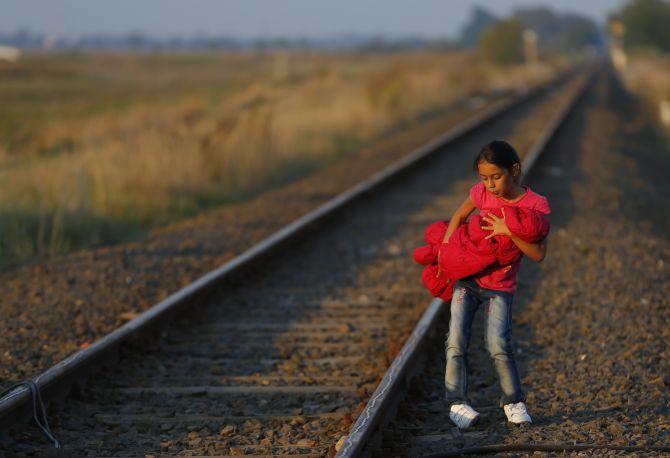 A migrant child holds a baby as she arrives at a collection point near the Serbian-Hungarian border in Roszke, Hungary. Photograph: Laszlo Balogh/Reuters
Berlin's stunning decision to reintroduce passport controls, as a new record migrant surge into Hungary raised the stakes ahead of crunch EU talks on Monday. Tensions rose in Austria as thousands of migrants entered from Hungary, unable to travel onwards to Germany after Berlin re-imposed border controls.
A record 5,809 entered Hungary on Sunday, police said, smashing the previous day's record of 4,330. The sharp increase came ahead of harsh new Hungarian laws coming into force on Tuesday under which people entering the EU country illegally can be jailed for up to three years.
The European Commission -- the EU's executive -- last week unveiled a plan to redistribute 160,000 migrants across the continent to relieve pressure on "frontline" states such as Italy, Greece and Hungary.
EU member states have approved plans for military action against smugglers in the Mediterranean, seizing and if necessary destroying boats to break up the networks operating out of Libya.
The Czech Republic said today it will boost controls on the border with Austria over the refugee crisis, following a similar move by its western neighbour Germany.
Rediff.com brings you images of struggle and hope as migrants attempt to reach European countries.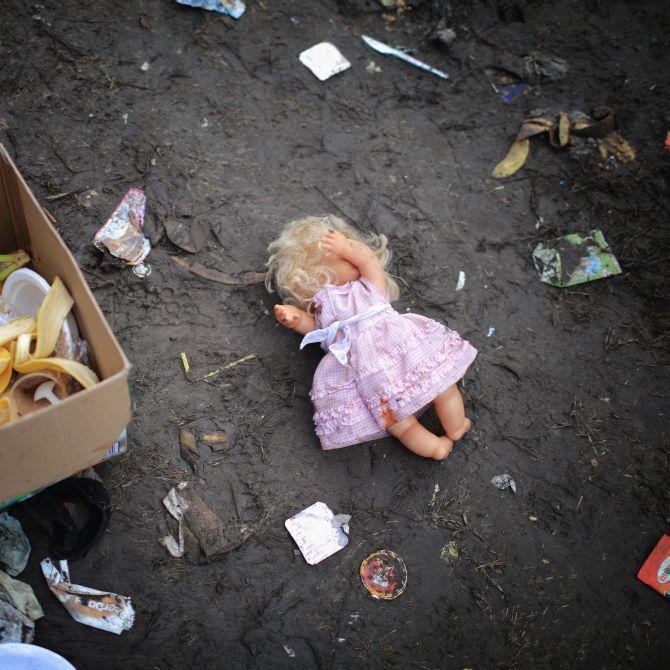 A toy doll lays on the ground as migrants discard items no longer wanted or needed when they cross the Hungarian border. Since the beginning of 2015 the number of migrants using the so-called 'Balkans route' has exploded with migrants arriving in Greece from Turkey and then travelling on through Macedonia and Serbia before entering the EU via Hungary. As the migrants converge on the small gap in the border fence of the Hungarian-Serbian border they discard items that they are too tired to carry or no longer need. Photograph: Christopher Furlong/Getty Images
---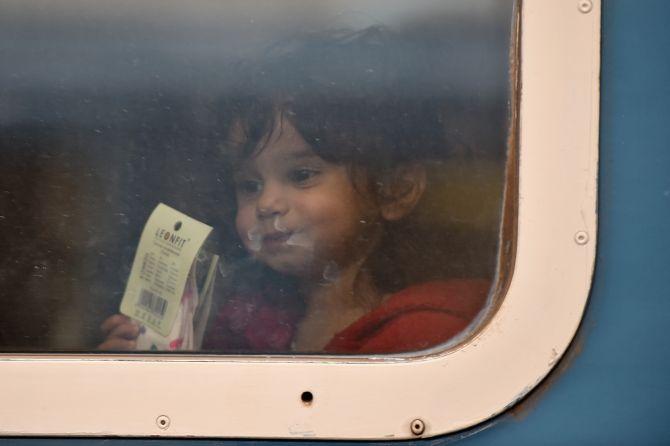 A young girl holds up her train ticket as migrants board trains leaving for the Austrian border at Keleti railway station in Budapest, Hungary. Migrants who arrive in Budapest overnight gather in the morning at the railway station as they try to be on the early trains leaving Budapest due to fears that the borders will possibly close in the coming days. Photograph: Jeff J Mitchell/Getty Images
---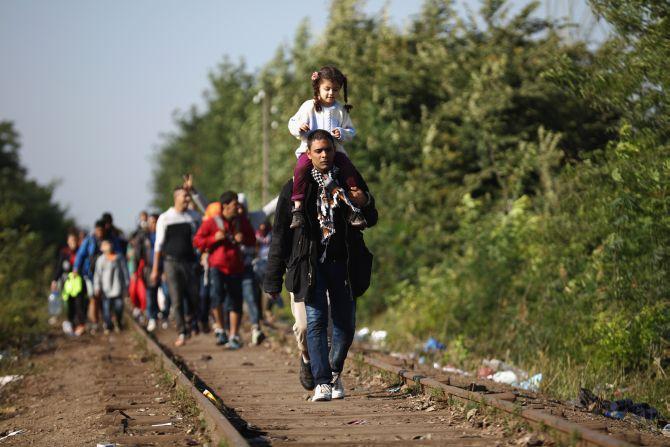 Migrants cross the Hungarian the border with Serbia ahead of new laws for migrant entry to Hungary. Photograph: Christopher Furlong/Getty Images
---
Hungarian soldiers begin to muster at the border with Serbia ahead of new laws for migrant entry to Hungary on September 14, 2015 in Roszke, Hungary. Photograph: Christopher Furlong/Getty Images
---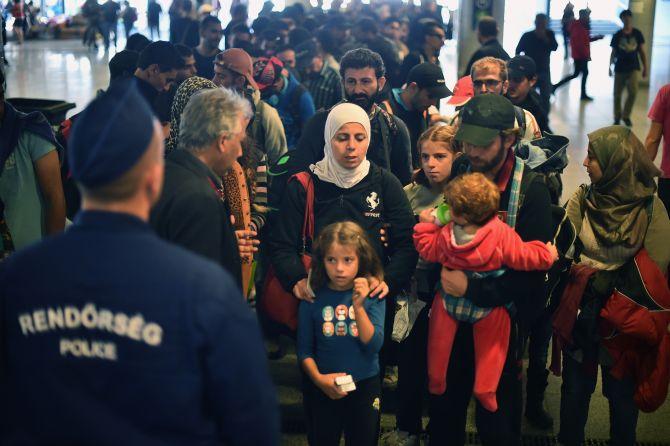 Migrants make their way to board a train leaving for the Austrian border at the Keleti railway station on September 14, 2015 in Budapest, Hungary. Photograph: Jeff J Mitchell/Getty Images
---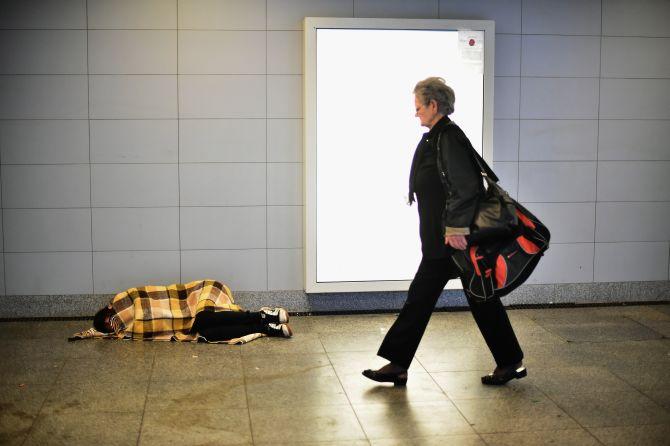 A woman walks past a migrant sleeping ,covered only in a blanket near Keleti railway station as they wait to board trains leaving for the Austrian border. Photograph: Jeff J Mitchell/Getty Images
---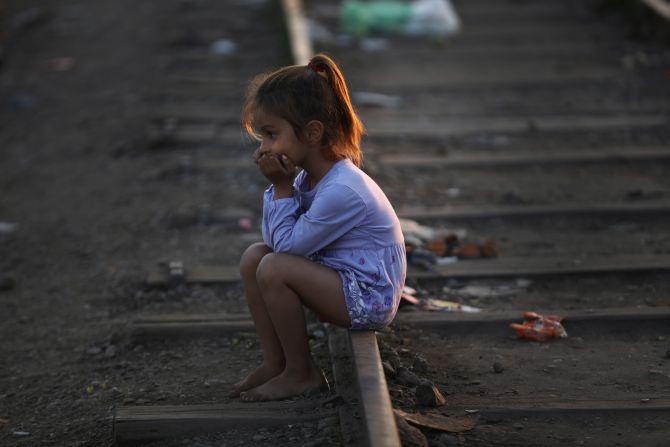 A young syrian girl sits on the tracks at the Serbian border with Hungary as she and her family wait for darkness before heading across country in Hungary. Although shoeless the little girl was in good spirits. Photograph: Christopher Furlong/Getty Images
---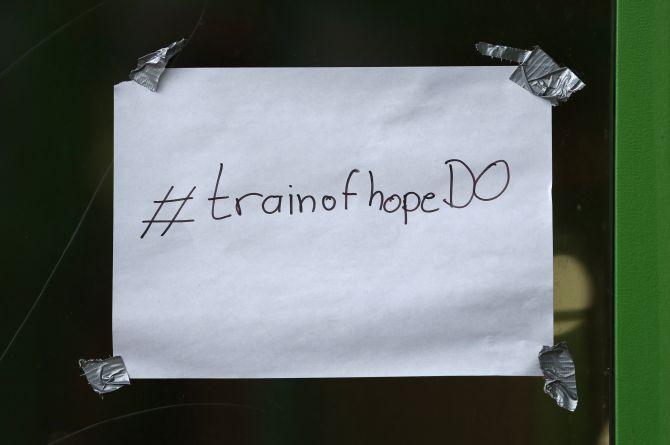 A sign reading "#trainofhopeDO" is seen at the main railway station in Dortmund, Germany. Photograph: Ina Fassbender/Reuters
---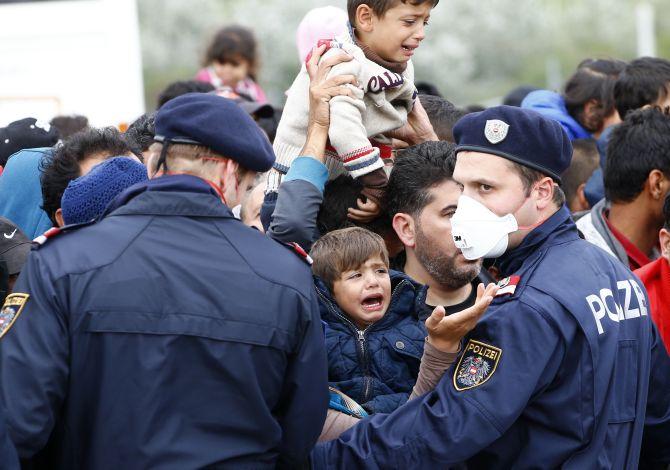 Police maintain order as migrants attempt to leave the border crossing in Nickelsdorf, Austria. Photograph: Leonhard Foeger/Reuters
---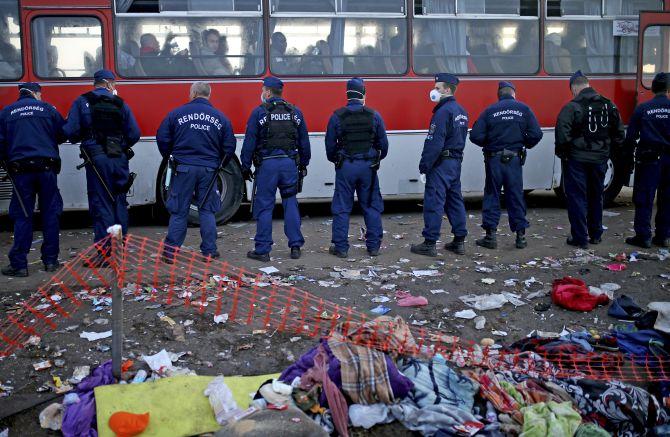 Hungarian policemen stand outside a bus with migrants at a collection point in Roszke, Hungary. Photograph: Dado Ruvic/Reuters
---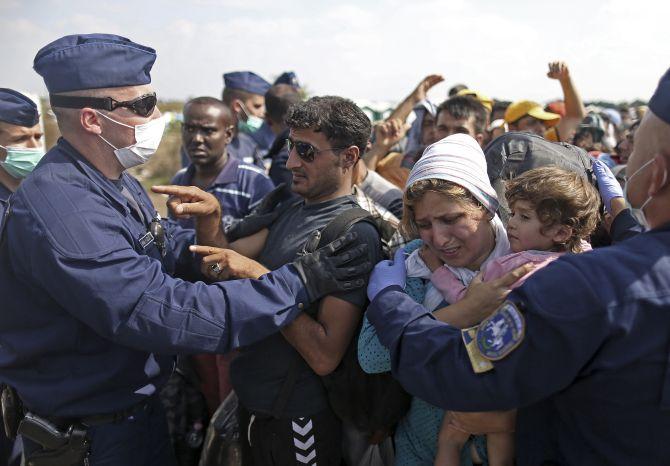 Migrants are escorted by Hungarian police officers as they wait to board a bus at a migrant collection point near the Serbian Hungarian border in Roszke, Hungary. Photograph: Dado Ruvic/Reuters