What's worse than watching someone take a million selfies?
The trend of taking selfies in the most bizarre situations and then showing it all to the world by posting it on the social media has resulted in horrific deaths worldwide.
Recently a 19-year-old Houston man died after accidentally shooting himself while taking selfies and holding a gun. He had found a gun and was taking pictures of himself and another person while holding the gun, and posting them online, when the gun accidentally discharged, killing Smith.
Just like this incident, people taking this excessive risk to pull off 'cool' pictures of themselves in such situations are paying with their lives. Some of them are hilarious, but others tend to be quite sickening.
Let's take a look at some of the most outrageous selfies:
We start with this girl who took a selfie with her grandmother's ashes.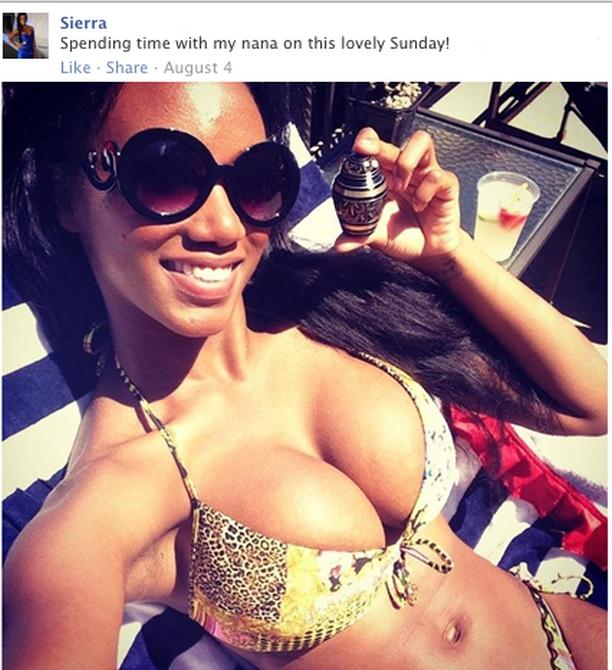 Maybe grandma enjoyed being outdoors. Photograph: Twitter
---
These tourists were photographed while taking a selfie at a blast site that killed two people and injured several, and were righteously slammed by the media for this lamentable act. And on the front page too.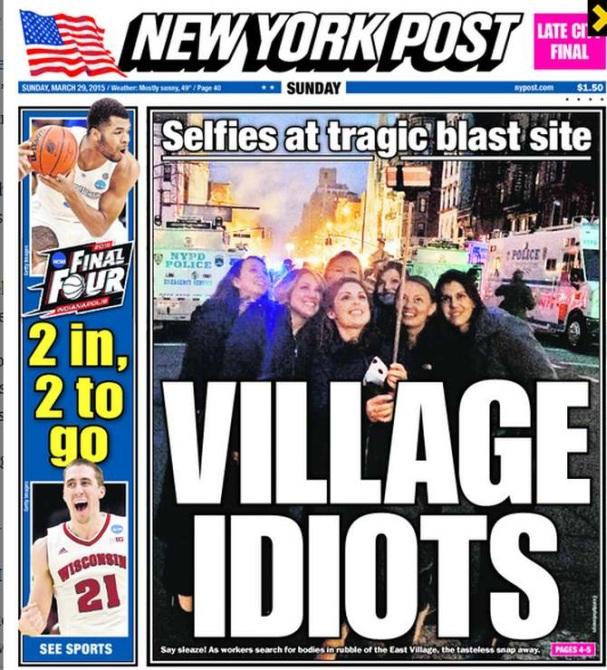 After this photograph was published, one of the posers apologised, and said that she was 'deeply sorry for my careless and distasteful post.'
A little too late for that. Photograph: New Yok Post
---
Amid the drama of the Sydney hostage crisis in December 2014, many Australians took to Twitter on Monday to express their outrage after tourists and few locals took selfies of themselves in the area of the Lindt café hostage crisis in Martin Place.
People were uploading selfies of themselves all day on Twitter and Instagram from as close as possible to where the hostage siege was taking place.
The images uploaded were severely criticised with some calling them insensitive and callous. Photograph: Twitter
---
Shashi Bellamkonda, a professor at the Georgetown University, took a quick snap of himself and a fellow passenger when smoke began to fill the cabin on Flight 3759 from Washington, DC.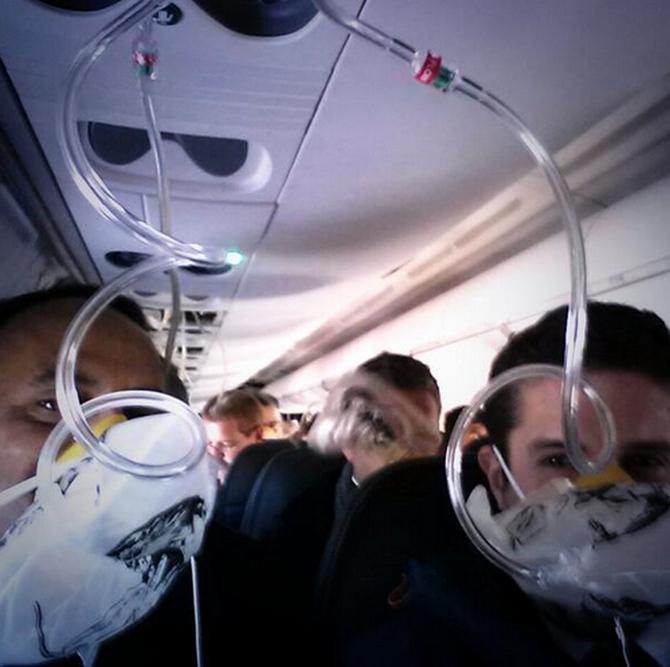 Yeah, that was his top priority. Needless to say, this 'fearless' image went viral. Photograph: Twitter
---
This passenger took a selfie after a US Airways flight out of Philadelphia nearly nose-dived in a field a few minutes after take off. No casualties were reported and everyone was evacuated safely.
So this one is justified. Kind of. Photograph: Twitter
---
These rioters took it up a notch, after they posted this photo online after being tear-gased after the police during a spring break party in California.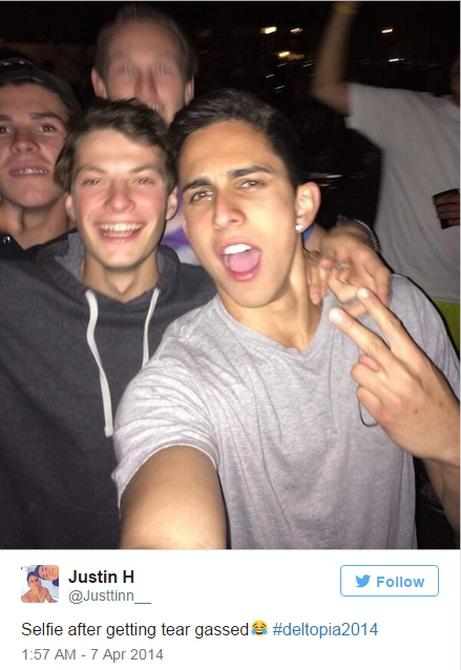 Others posted selfies of them after being shot by rubber bullets during the riot.
Ok then. Photograph: Twitter
---
This participant is attempting to take a selfie with a bull during "The Great Bull Run" at the Alameda County Fairgrounds in Pleasanton, California.
Scores of tourists are either mauled to death or maimed during similar such events around the world. Photograph: Beck Diefenbach/Reuters
---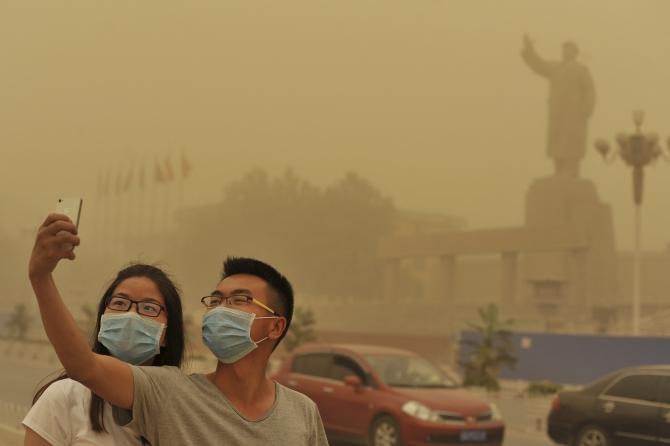 Residents wearing masks pose for a photograph near a statue of late Chinese Chairman Mao Zedong, as a sandstorm hits Kashgar, Xinjiang Uighur Autonomous Region, China. Photograph: Stringer/Reuters
And a photograph of this man taking a selfie in front of the wreckage of vehicles burnt by street vendors and shopkeepers of San Juan market following a police operation to seize counterfeit products in Guadalajara.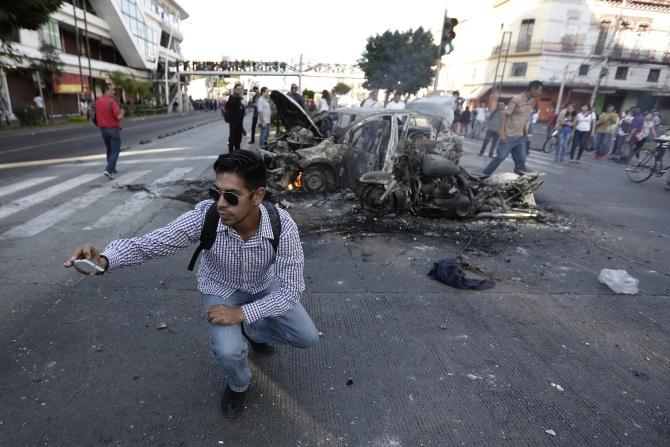 The clashes left three vehicles burnt while four people were detained, local media reported. Photograph: Alejandro Acosta/Reuters
---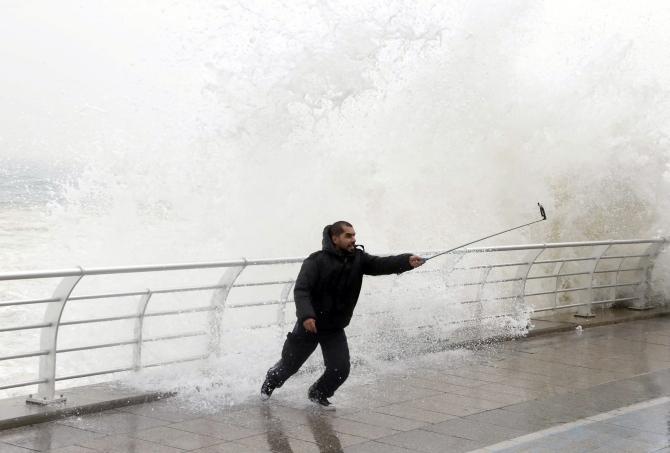 This man takes a selfie by a crashing wave on Beirut's Corniche, a seaside promenade, as high winds swept through Lebanon during a storm. Photograph: Mohamed Azakir/Reuters
---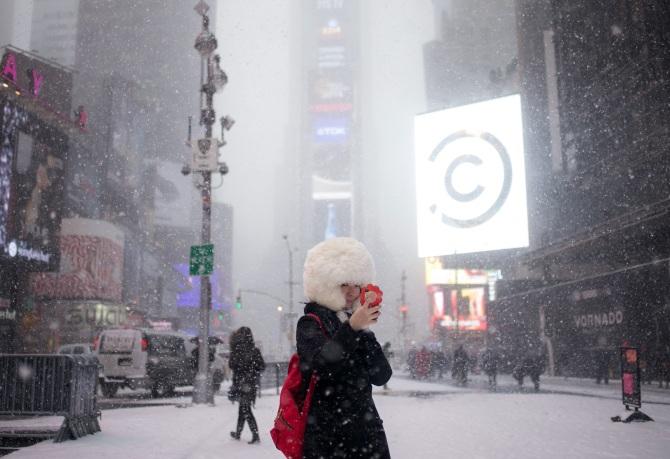 A female tourist from Japan takes a selfie during a snow storm in Times Square, New York.
A fast-moving winter storm dumped many feet of snow in northeastern United States last year, and caused billions of dollars of losses to insurance companies in payouts. Photograph: Adrees Latif/Reuters
---
Syrian refugees from Kobani pose for a selfie, moments after arriving on a dinghy on the island of Lesbos, Greece.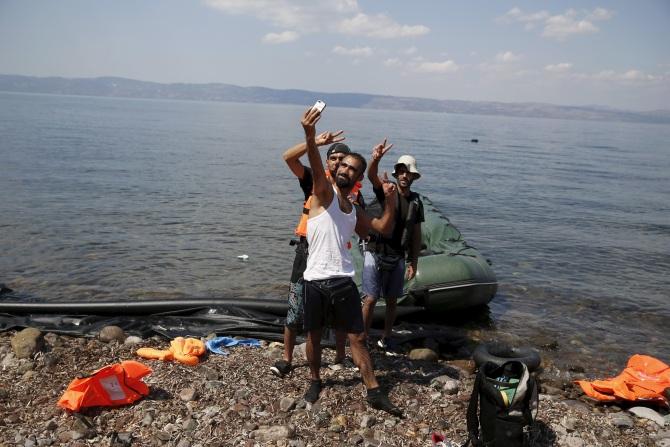 Greece, mired in its worst economic crisis in generations, has been found largely unprepared for a mass influx of refugees, mainly Syrians. Arrivals have exceeded 160,000 this year, three times as high as in 2014.
The crisis has exposed massive shortages in Greece's available facilities, but also striking discord within the European Union on how to handle the humanitarian crisis. Photograph: Alkis Konstantinidis/Reuters