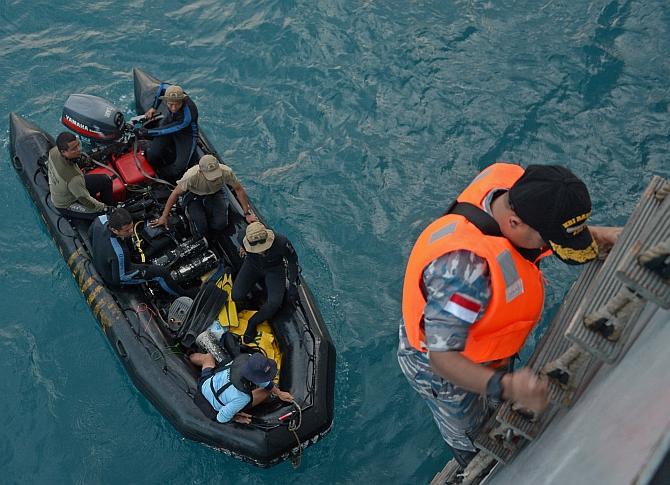 Image: Indonesian navy divers (in boat) prepare operations to lift the tail of AirAsia flight QZ8501 from the Java sea on Friday. Photograph: Adek Berry/Reuters

Rescuers hunting for the crashed AirAsia plane on Friday detected 'pings' believed to be from its crucial black box, a top Indonesian official said, raising hopes of unravelling the mystery of the deadly crash.
"A ship detected the pings. The divers are trying to reach it," search and rescue agency coordinator Supriyadi said in Pangkalan Bun, the town closest to the site. "The location of the ping is reported to be near where the tail was found."
Searchers spotted the tail section -- where the black box is located -- 30 kms from the plane's last known location on Wednesday, a day after divers joined the multi-national hunt.
Persistent bad weather with strong currents, huge waves and high winds delayed efforts to reach the fuselage believed to contain remaining victims besides the black box.
The black box contains the flight data recorder and the cockpit voice recorder, crucial to determine the cause of the crash that claimed all 162 lives on board the ill-fated AirAsia Flight QZ8501, en route from Indonesia's Surabaya city to Singapore.
Divers braved high waves on Thursday to reach the Airbus A320-200's tail, expected to contain the crucial data recorders that could unravel the mystery of the December 28 crash, but failed to penetrate the wreckage due to strong currents and poor visibility.
Meanwhile, three more bodies were recovered on Friday by multi-national vessels in the choppy waters, taking the total number of bodies retrieved so far to 47. The search and rescue team also retrieved a composite piece from near the aircraft's wing on Friday, said AirAsia QZ8501 investigator Nurcahyo of Indonesia's National Transportation Safety Committee.
"The divers are tying the tail with straps and then we will try (to lift it) two ways -- floating balloons combined with cranes, so that the tail sector wouldn't be damaged,"
National Search and Rescue chief Fransiskus Bambang Soelistyo told media persons.
"Because we assume the black box is in the tail sector."
But some media reports said it appeared that the flight recorders were no longer in the tail.