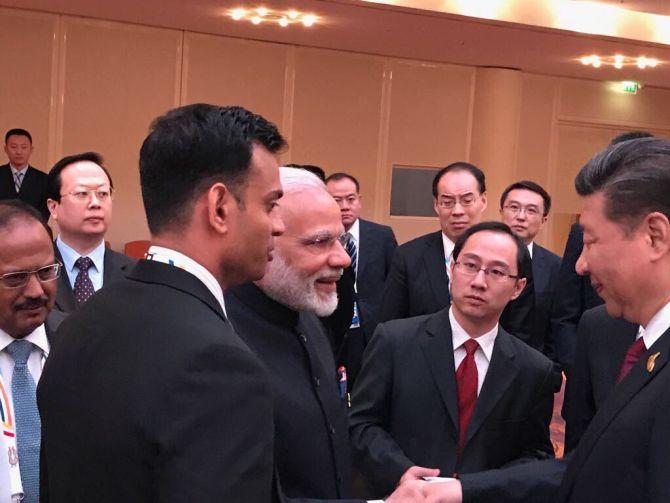 India refused to elaborate on the "range of issues" discussed by Prime Minister Narendra Modi and Chinese President Xi Jinping during their informal conversation on Friday in Hamburg, in the backdrop of a standoff between their armies in the Sikkim sector.
"We have tweeted that the two leaders discussed a range of issues. A range of issues means a range of issues. I don't want to add anything further… I leave it to you to draw your conclusion," external affairs ministry spokesperson Gopal Baglay said.
His response came when during a briefing he was asked if a "range of issues" discussed during the conversation between Modi and Xi ahead of the informal meeting of the BRICS leaders on the sidelines of the G20 Summit included the
standoff in the Sikkim sector.
"I'm not commenting on it because we have said what we have (to say) and as to the picture, well, the old saying is that a picture speaks more than a thousand words," was Baglay's response when asked about whether the picture along
with the tweet showing the two leaders smiling was indicative of any de-escalation of tension between the two countries.
The informal interaction between Modi and Xi came a day after a top Chinese foreign ministry official had said that the "atmosphere" is "not right" for a formal bilateral meeting between them in Hamburg.
The standoff between China and India in the Doklam area near the Bhutan tri-junction has dragged on for the past three weeks. It started after a Chinese army's construction party attempted to build a road.
Doka La is the Indian name for the region which Bhutan recognises as Dokalam while China claims it as part of its Donglang region.
Baglay also asserted that the prime minister was here to attend the G20 summit meetings. "He participated in the proceedings and India's contribution to these discussions is the main focus for us here. At the same time, the prime
minister had several bilaterals on the margins," he added.
© Copyright 2021 PTI. All rights reserved. Republication or redistribution of PTI content, including by framing or similar means, is expressly prohibited without the prior written consent.