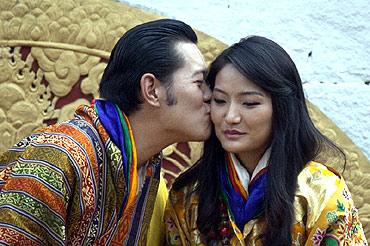 Bhutan's dashing King walked hand-in-hand with his beautiful bride and turned his romantic self inside out, publicly kissing the Queen not once but thrice, throwing the people at his wedding reception here into a rapturous frenzy.
Looking fresh and relaxed, the 31-year-old King Jigme Khesar Nagyel Wangchuck and his Queen Jetsun Pema, who tied the knot two days back in the historic Punakha city  walked  hand-in-hand today to the Chang Lime Thang Stadium where over 30,000 people had gathered to celebrate their wedding.
After they attained the throne at the centre of the over-flowing stadium, the handsome King surprised his subjects by asking whether they want to see him kiss his sweetheart of several years, whom he had met when he was just 17 during a family picnic.
The crowd erupted into raptures and shouted that they wanted to see him kiss his 21-year-old Queen, currently a student of the Regents College in London.
Having received the expected response from the thousands of attendees, that included women and children, the king kissed Pema on her right cheek as she leaned towards her 'Prince Charming'.
But the soft-spoken and simplistic-natured King did not stop at that. He again asked the crowd whether they wanted to see him kiss her again.
The people again shouted a loud 'yes' and Wangchuck this time planted a kiss on Pema's left cheek, yet again sending the crowd into raptures as the ceremony was beamed live by  the state-run Bhutan Broadcasting Service TV.
Image: Bhutan's King Jigme Khesar Namgyel Wangchuck (L) kisses Queen Jetsun Pema in front of thousands of residents gathered for the third day of their wedding ceremony at the Changlimithang stadium in Bhutan's capital Thimphu.
Photograph: Adrees Latif