Showing banners, shouting slogans, entering the Well of the House, even tearing papers are the some of the ways MPs have protested in Parliament.
The current budget session of Parliament is witnessing continuous protests, which has disrupted the proceedings for 17 consecutive days.
However, one MP has taken protesting to an entirely different level.
Telugu Desam Party MP Naramalli Sivaprasad has been donning various outfits to protest against the Narendra Modi government over special status for Andhra Pradesh.
Here are some of his avatars.
Days after his party exited the National Democratic Alliance, the TDP MP from Chittoor dressed as a schoolchild to protest with party MPs demanding special status for Andhra Pradesh.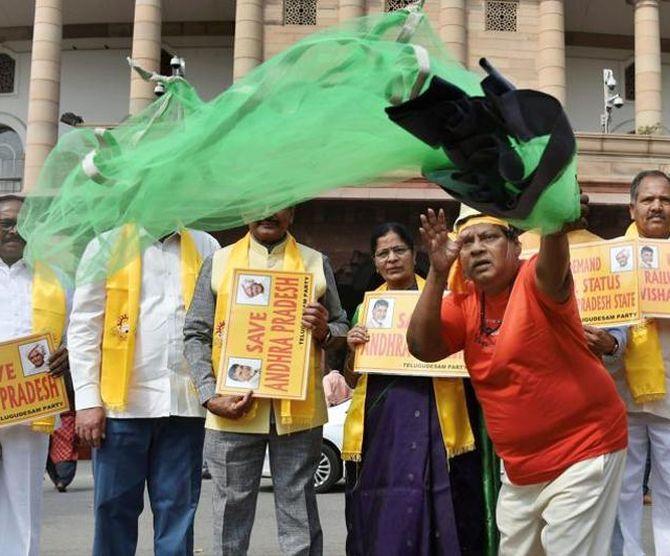 The actor-turned-politician, who is known for his unique protests, turned into a fisherman.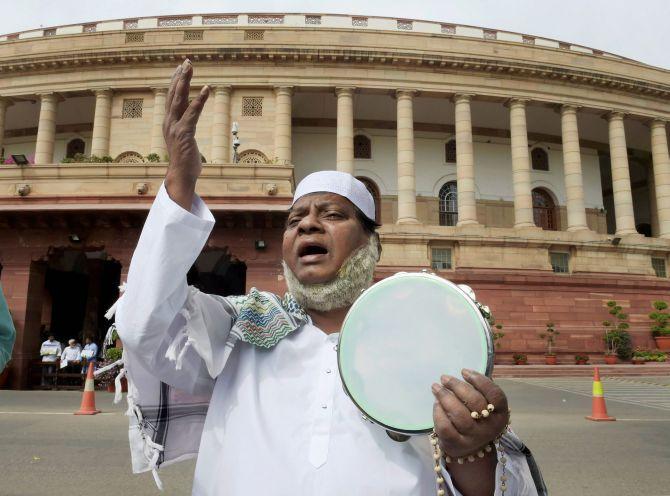 Sivaprasad has worked in couple of Telugu films as a character actor and villain. Here he donned sufi singer's attire.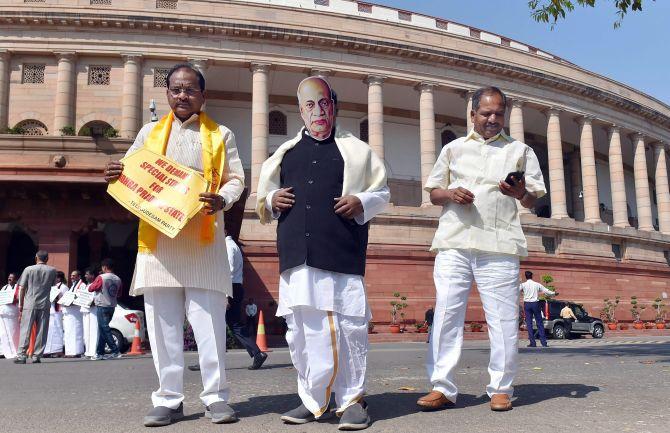 He also dressed as country's first Home Minister Sardar Vallabhbhai Patel to demand special status for Andhra.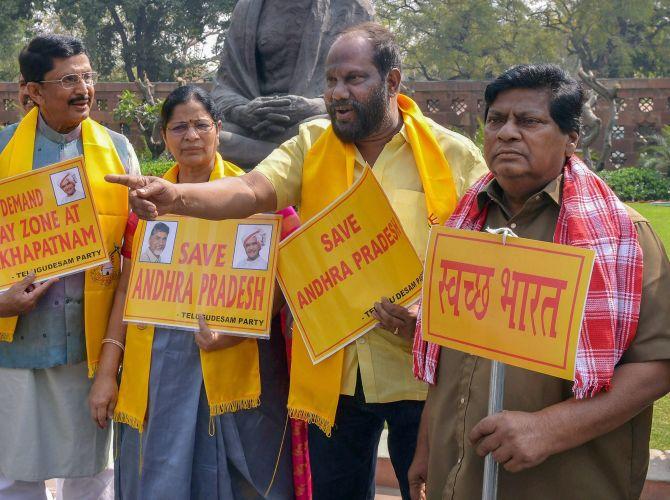 With his creative costumes, Sivaprasad has been successful in grabbing attention at least to himself, if not the issue. Here he turned himself into a safai kamgar (sweeper) of Swacch Bharat.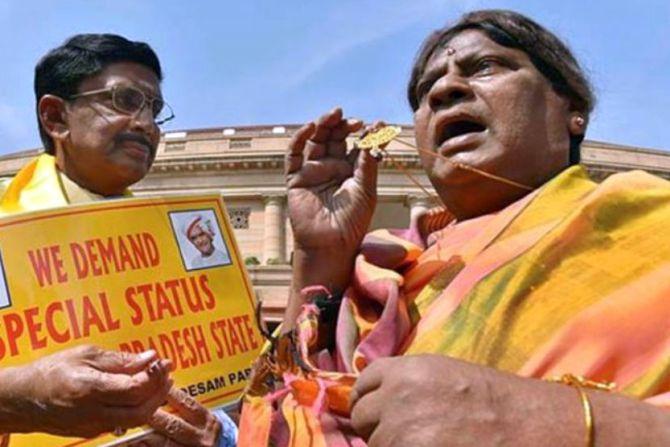 For special status for the state, he went on to wear a saree outside Parliament to grab eyeballs.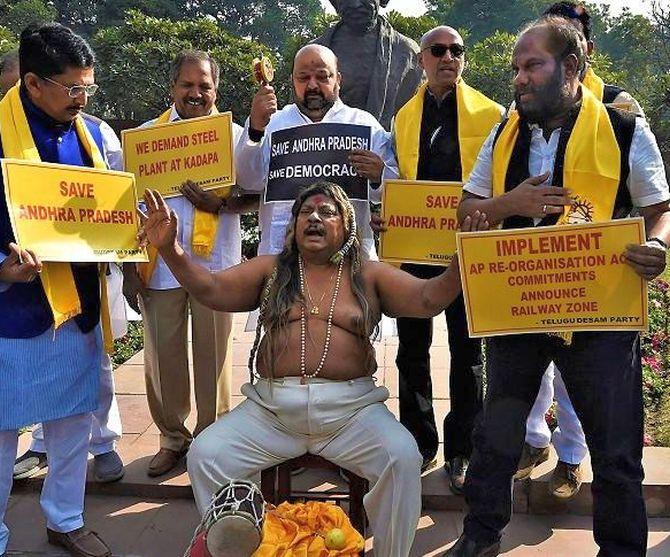 Here he dressed as a tantric, who had been 'possessed'. His 'possessed' self warned Prime Minister Narendra Modi to fulfill the promises made by him "in the presence of Lord Venkateswara and Goddess Kanaka Durga".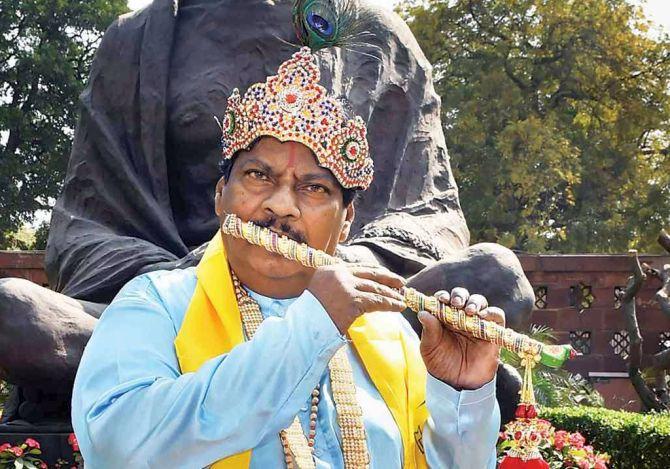 Sivaprasad or here Krishna shot to prominence in 2013-14 for the varied ways he protested against the bifurcation of Andhra Pradesh. In one particularly memorable protest, he flogged himself outside Parliament to show his unhappiness over the bifurcation.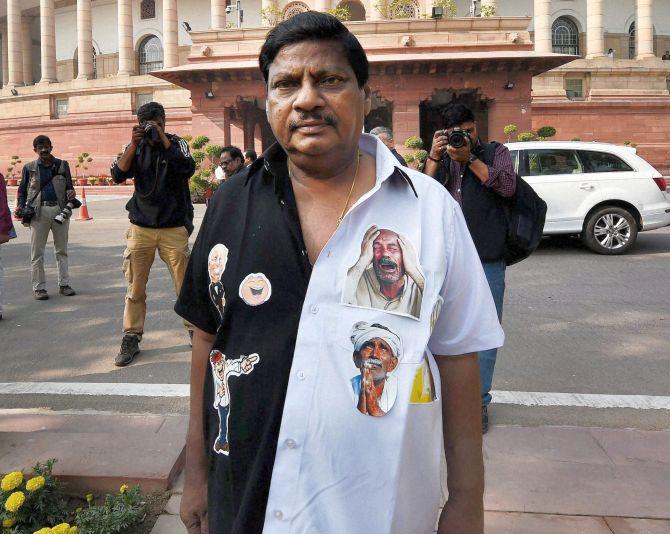 To highlight the problems of the common man due to demonetisation the member of parliament donned a shirt with pictures of wailing farmers on one side and rich people on the other.
Photographs: PTI Photos