With all the attention on Britain's Queen Elizabeth turning 90 on Thursday, you'd think the United Kingdom had a monopoly on monarchs. However, in reality, there are 26 monarchies in the world, a fascinating network of kings, queens, sultans, emperors and emirs who rule or reign over 43 countries in all.
Here's a list of the most famous royals families from around the world.
>> Bhutan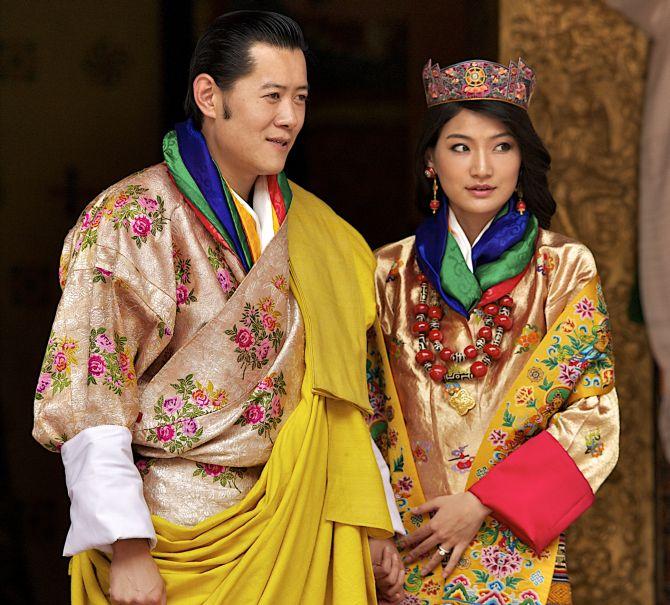 IMAGE: Bhutan's King Jigme Khesar Namgyel Wangchuk married the non-royal Jestun Pema in October 2011. Photograph: Triston Yeo/Getty Images
Close to home, Jigme Khesar Namgyel Wangchuk formally took the throne in 2008. The Wangchuck monarchy is just over 100 years old, having unified the small Himalayan country under its rule with help from the British Empire.
---
>> Saudi Arabia
IMAGE: Photograph: Brendan Smialowski/Reuters
Saudi Arabia is an absolute monarchy, which makes Abdullah bin Abdul Aziz the king and prime minister. The monarchy was founded by Abdul Aziz ibn Saud in 1932.
---
>> Thailand
IMAGE: Thailand's King Bhumibol Adulyadej is surrounded by his daugthers Princess Ubol Ratana (left), Chulabhorn (second left), His son Crown Prince Vajiralongkorn (second right) and Princess Maha Chakri Sirindhorn. Photograph: Athit Perawongmetha/Getty Images
King Bhumibol Adulyadej has reigned for a remarkable 67 years, beating England's Queen Elizabeth, who has served since 1952.
---
>> Japan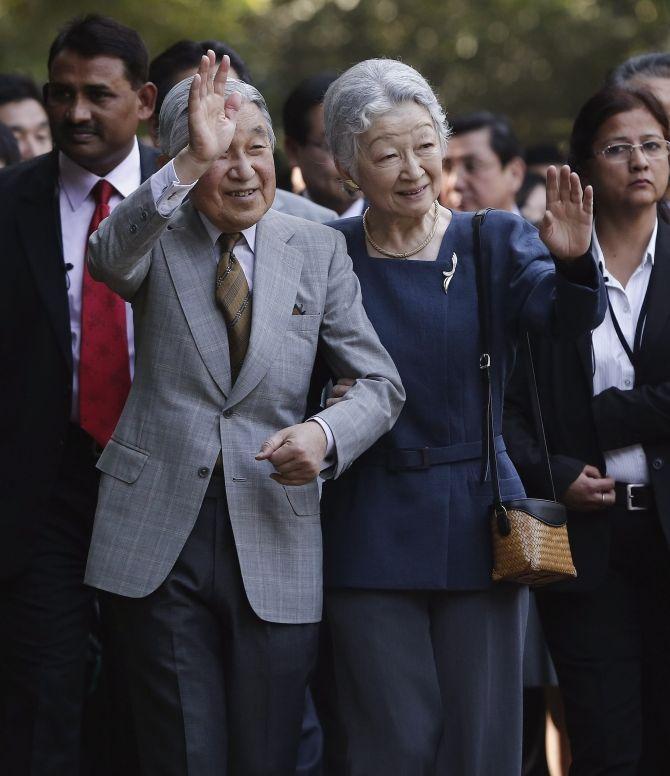 IMAGE: Emperor Akihito and Empress Michiko. Photograph: MEAIndia/Flickr
The Japanese monarchy also referred to as the Yamato dynasty is the oldest continuous hereditary monarchy in the world. Emperor Akihito has reigned since 1989 and is, according to legend, the 125th emperor in his line.
---
>> Swaziland
IMAGE: King of Swaziland Mswati III and his wife. Photograph: Reuters
King Mswati III has been the absolute monarch of this small southern African country since inheriting the crown from his father in 1986, when he was barely 18 years old. His formal title is Ngwenyama, an honorific that also means lion.
---
>> Brunei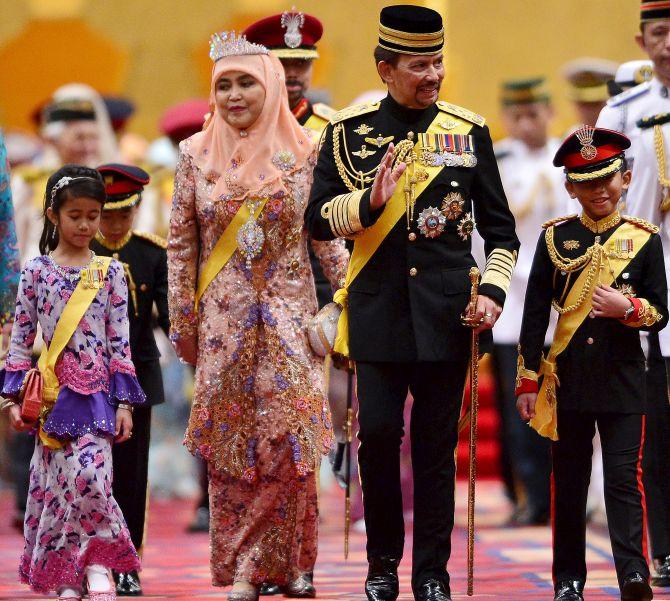 IMAGE: Brunei's Sultan Hassanal Bolkiah, with Queen Saleha, Prince Abdul Wakeel and Princess Ameerah. Photograph: Ahim Rani/Reuters
Hassanal Bolkiah, the 29th sultan of Brunei is the head of this family and also the Prime Minister of Brunei Darussalam since 1967. His 1,800-room palace, the Istana Nurul Iman, is considered the world's largest private residence.
---
>> Belgium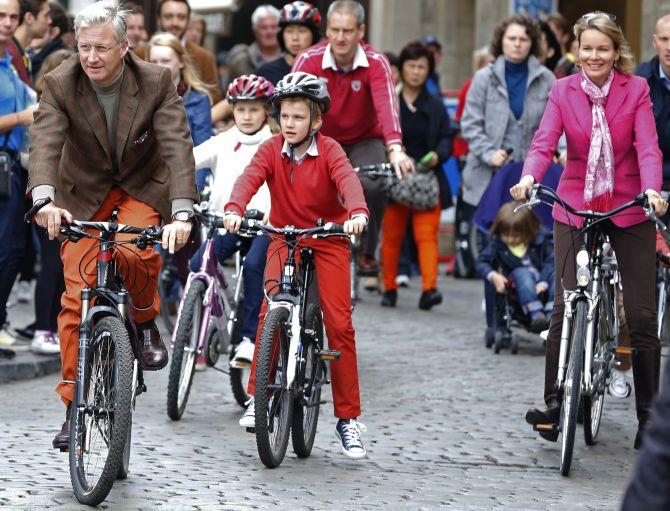 IMAGE: Belgium's King Philippe (L) and Queen Mathilde (R) with their children, Crown Princess Elisabeth (2nd L) and Prince Gabriel (2nd R) cycle on Brussels Grand Place. Photograph: Yves Herman/Reuters
King Philippe, ascended the throne on 21 July 2013, following the abdication of his father, King Albert II. His position is symbolic but important.
---
>> Jordan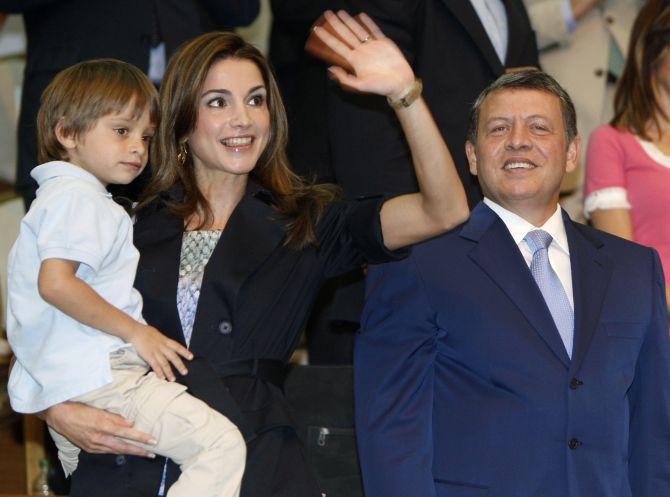 IMAGE: Jordan's King Abdullah, his wife Queen Rania and their son Prince Hashem. Photograph: Ali Jarekji/Reuters
King Abdullah II has ruled since 1999, and though he isn't technically the head of government -- Jordan has an appointed prime minister -- he has very real political powers, including the ability to veto any law and dissolve parliament at will.
---
>> Netherlands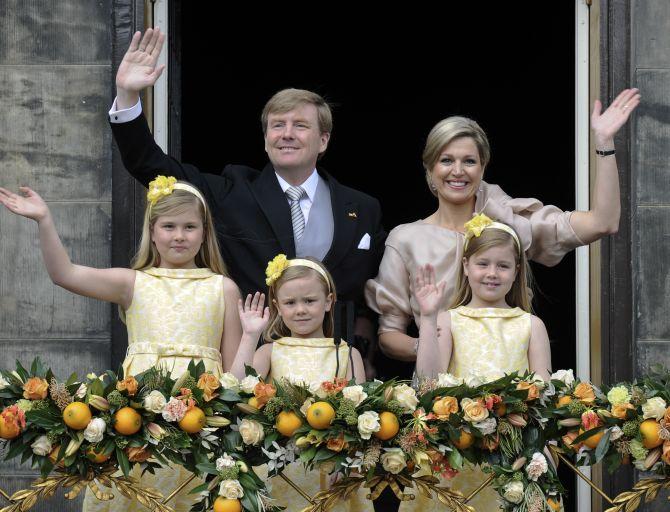 IMAGE: Dutch King Willem-Alexander and his wife Queen Maxima wave to the crowd with their daughters Crown Princess Catharina-Amalia (left), Princess Alexia (right) and Princess Ariane (centre) on the balcony of the Royal Palace in Amsterdam. Photograph: Paul Vreeker/Reuters
The Netherlands' King Willem-Alexander took the throne only three months ago, after his mother Beatrix gave up her reign of 33 years. The primary role of the monarch is within the executive branch of the Dutch government: the monarch is part of the government of the Netherlands.
---
>> Spain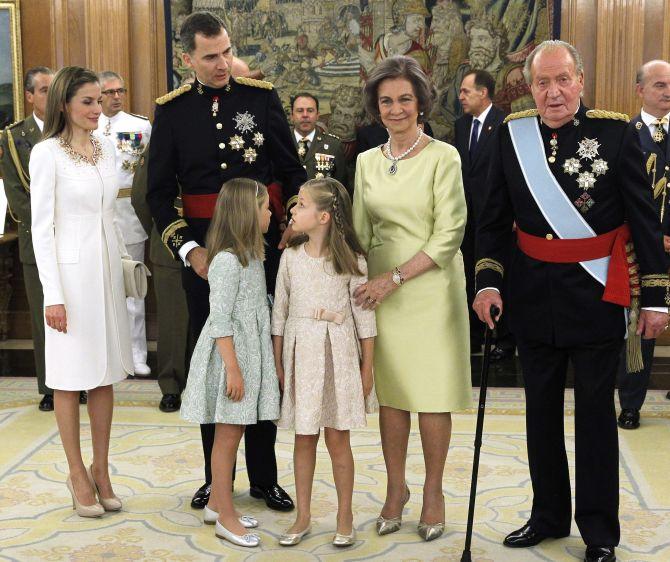 IMAGE: Spain's former King Juan Carlos, right, with his wife Sofia and the new King Felipe VI, left, with his wife Queen Letizia and their daughters Princess Leonor and Princess Sofia. Photograph: Zipi/Pool/Reuters
Spain's 75-year-old King Juan Carlos I has little power now, but he was instrumental in bringing democracy to Spain. King Carlos I abdicated the throne for his son Felipe VI in June 2014. King Felipe is the world's third-youngest reigning monarch, after King Jigme Khesar Namgyel Wangchuck of Bhutan and Sheikh Tamim bin Hamad Al Thani of Qatar.