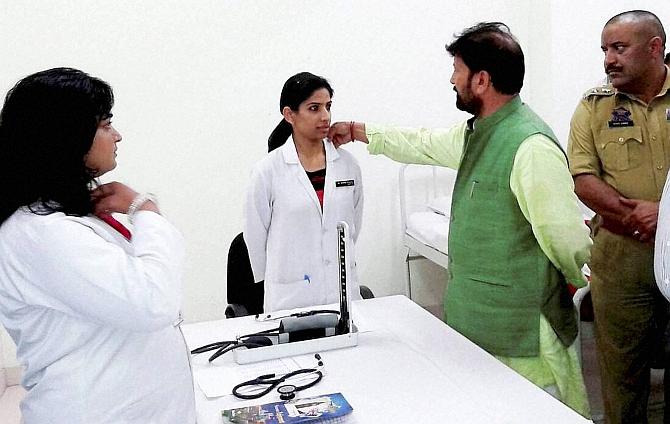 This photograph of Jammu and Kashmir Minister Chaudhary Lal Singh purportedly touching the collar of a lady doctor has gone viral on social media.
The Bharatiya Janata Party leader, who is the state health minister, had gone to the government hospital in Lakhanpur to check preparedness ahead of the start of Amarnath yatra.
In the hospital, he found that the collar of the doctor was not in proper place and corrected its posture.
In February this year, Singh was accused by a lady doctor of mental harassment after he rebuked her for not wearing the apron.
"Minister moved to a female doctor and told her... Bitiya, your collar is not proper and corrected it with his hand. There was no protest by the doctor," a senior officer who was witness to the whole episode said.
If fact, other woman doctor watching the minister correcting the collar of the doctor, herself took lesson for it and placed her collar in proper place, the officer said.
"There was a lot of public. I do not think he inappropriately touched the woman doctor at a government hospital," he said.