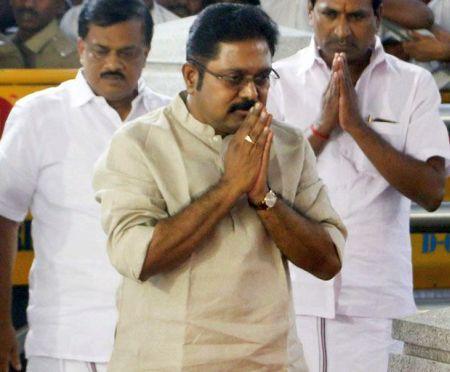 A petition has been filed in the Madras high court against the candidature of All India Anna Dravida Munnetra Kazhagam Deputy General Secretary TTV Dinakaran for the April 12 RK Nagar assembly by-election on the ground he had been penalised in Foreign Exchange Regulation Act cases.
Petitioner P A Joseph, a city resident, referred to cases against Dinakaran under FERA, including one in which a Rs 28 crore penalty has been slapped on him. It was recently also confirmed by the high court.
The petitioner has questioned the provision in the Representation of People Act which disqualified only convicted people from contesting elections.
Parliament has no power to restrict the disqualification only to criminal conviction and cannot defer disqualification of a person found guilty of the charge of contravention of provisions of FERA, he has submitted.
Hence, he prayed the court to declare Sections 8(1)(c)and 8(1)(e) of the Representation of People Act, 1951 as "illegal and unconstitutional" in so far as restricting disqualification only in cases of criminal conviction.
He sought an interim injunction restraining the Election Commission from accepting the candidature in respect of the persons against whom statutory adjudication proceedings under the FERA and Customs Act were concluded and punishment/penalty imposed.
The petitioner, who had previously filed a PIL seeking a judicial inquiry into the death of late Chief Minister J Jayalalithaa, said the present question of law was never raised and decided.
He said that it should be decided at this juncture since Dinakaran had been declared the AIADMK candidate for the by-election.
The order of a division bench of the court holding Dinakaran guilty of the charge of contravention of provisions of the FERA cannot be simply brushed aside, he added.
© Copyright 2021 PTI. All rights reserved. Republication or redistribution of PTI content, including by framing or similar means, is expressly prohibited without the prior written consent.