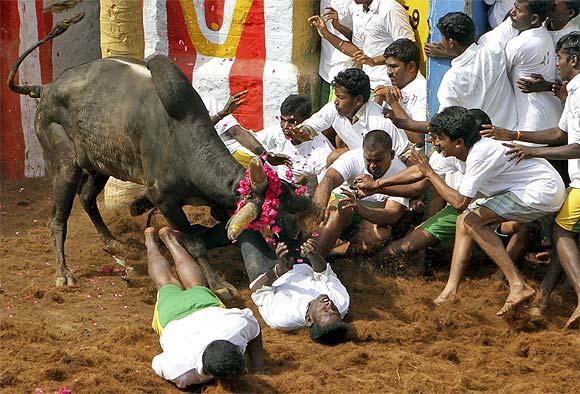 Slamming the Centre's decision to allow popular bull taming sport Jallikattu and other bull races, the Peoples for Ethical Treatment of Animals India on Friday said that lifting protection against cruelty is a "black mark" on the nation even as it vowed to take the fight of protecting the bulls to the Supreme Court.
PETA India said that even the Bharatiya Janata Party supporters are "horrified" that the same authorities who claimed to care about cattle are no allowing the cruelty on it even after it has been banned by the highest court of India.
"Our phones have been ringing off the hook this morning with calls from BJP supporters and others who are horrified that the same authorities who claim to care about cattle are now allowing the cruelty to cattle that was already banned by the highest court of India.
"The use of bulls in performances was banned by the Environment Ministry itself in 2011 and the causing of suffering that is inherent in jallikattu, bull races and bull fights has been illegal since 1960 under the Prevention of Cruelty to Animals Act.
"This U-turn is being seen by many of the BJP's own supporters as reckless, heartless, and weak. We vow to take our fight to protect bulls from cruelty back to the Supreme Court," said Poorva Joshipura, PETA India CEO.
The reaction comes after the Centre today came out with a notification allowing controversial bull taming sport Jallikattu in poll-bound Tamil Nadu following extensive demand for its restoration by political parties in the state.
PETA India has documented that during jallikattu, terrified bulls are often deliberately disoriented through substances like alcohol, have their tails twisted and bitten, stabbed and jabbed by sickles, spears, knives or sticks and also punched, jumped on and dragged to the ground.
And as calculated from various media reports, from 2010 to 2014, there were approximately 1,100 human injuries and 17 deaths as a result of jallikattu-type events including that of a child, the animal rights body said.
"Lifting the protection against cruelty that was afforded to bulls is a black mark on our nation, which has always been looked up to by people around the world for our cultural reverence for animals," Joshipura said.
© Copyright 2021 PTI. All rights reserved. Republication or redistribution of PTI content, including by framing or similar means, is expressly prohibited without the prior written consent.