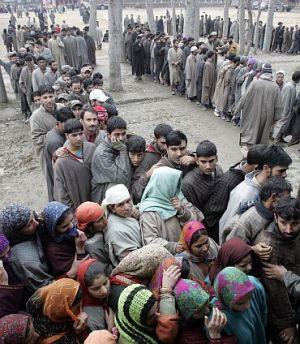 The chief opposition in the state, the Jammu and Kashmir People's Democratic Party has breached the stronghold of National Conference in prestigious Srinagar Parliamentary constituency by gaining a lead in five seats with Chief Minister Omar Abdullah trailing in Sonawar seat.
The National Conference, which had won all the 10 seats in this Lok Sabha seat in 2008 elections, was trailing in Batmaloo, Sonawar, Hazratbal, Amira Kadal and Zadibal.
In Sonawar, Omar was trailing from his PDP rival Mohammed Ashraf Mir by 3538 votes. The Bharatiya Janata Party's Daksha Andrabi was at fourth place with 738 votes.
In Zadibal, PDP's Abid Hussain Ansari, kin of late Shia leader Maulvi Ifthikar Ansari, was leading over his National Conference rival by a margin of 1439 votes. BJP's Neelam Gash was way back at fifth with 190 votes.
Asiea of PDP was leading over National Conference leader Syed Akhoon by a small margin of 401 votes in Hazaratbal.
In Amira Kadal, National Conference provincial President Nasir Aslam Wani was trailing from PDP's Altaf Bukhari by a margin of 1173 votes. BJP's Heena Bhat was third with 342 votes.
In neighbouring Batmaloo, sitting National Conference MLA Irfan Shah was trailing from PDP's Noor Mohammed Sheikh by a margin of 3202 votes.
In prestigious Ganderbal assembly seat, Ishfaq Ahmed of National Conference had gained a lead of 42 votes over PDP Qazi Afzal and in Kagan, sitting MLA and minister Altaf Ahmed was leading over PDP's Bashir Ahmed by 438 votes.
National Conference's Shamima Firdous was leading way ahead of her rivals in Habbakadal by polling 3891 vote followed by PDP's Zafar Mehraj with 799 votes at the second place.
The BJP's Moti Kaul was way behind at eight positions with 178 votes. Sitting MLA and Minister Ali Mohammed Sagar was leading over his PDP rival by 1105 votes in Khanyar while speaker of assembly Mubark Gul was leading over his PDP rival Abdul Mohamamed Wani by 602 votes.