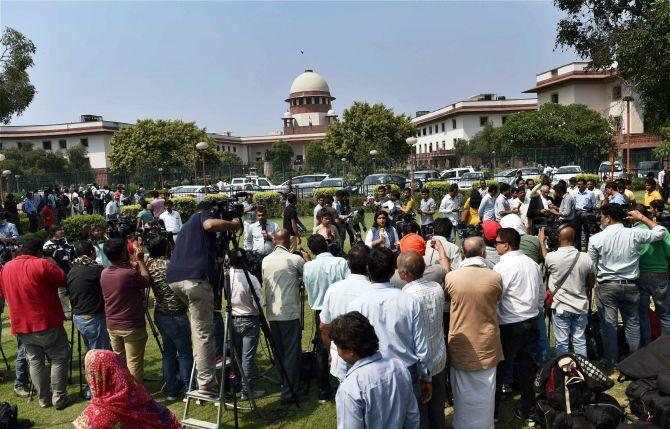 In a rare occurrence, loud applause and someone shouting 'they should be castrated first' were heard in the courtroom on Friday when the Supreme Court concluded the pronouncement of verdict in the December 16, 2016 gang rape and murder case, sending the four convicts to the gallows.
It took 27 minutes for Justice Dipak Misra to deliver the main judgment, sealing the fate of the four convicts by upholding the death sentence awarded to them by the trial court and the Delhi high court.
In the 17th minute, Justice Misra read out the concluding part stating that Delhi high court has correctly confirmed the death penalty.
"Therefore, we conclude and hold that the high court has correctly confirmed the death penalty and we see no reason to differ with the same," were the words of Justice Misra which evoked loud applause from a section of public gathered at the visitors gallery.
The judge simply raised his hands to signal them to maintain silence and continued for two more minutes to conclude reading the operative portion of 315-page judgment penned by him, for himself and Justice Ashok Bhushan.
However, the scribes did not wait for Justice Misra to complete the reading of judgment and rushed out of the court number 2 to break the news.
At 2.18 pm, Justices Misra and Bhushan signed the verdict after which Justice R Banumathi started to read out her separate and concurring judgment.
She completed reading her judgment in nine minutes and as the three judges rose to leave the dais, a woman from the gallery shouted 'they (convicts) should be castrated first'.
The jam-packed courtroom saw the three judges assembling at 2.01 pm and Justice Misra, who headed the bench, saying they were going to read out two separate judgments.
Justice Misra said he will be reading the judgement for himself and Justice Bhushan and Justice Banumathi has come out with her separate judgement, which for a moment left the audience guessing whether the woman judge has dissented.
However, before any speculation could gather momentum, Justice Banumathi cleared all the air by herself asking Justice Misra to clarify that she is concurring with the verdict penned by him.
Justice Misra took a pause and said Justice Banumathi has written a separate but concurring judgment.
Lawyers and scribes started to come inside the courtroom from 1 pm onwards while the victim's parents entered the court at around 1.30 pm. The verdict was scheduled to be pronounced at 2 pm.
Soon after the court proceeding was over, the photo and video journalists, who had gathered at the apex court's lawn to click and videograph the event, rushed to take pictures and reactions of the victim's parents and the lawyers associated with the case.
IMAGE: Mediapersons and common people gather outside the Supreme Court as it delivered the judgment in the December 16 gang rape and murder case on Friday. Photograph: Manvender Vashist/ PTI Photo