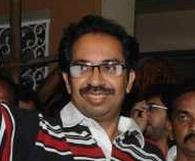 Ridiculing the 'overtures' by Bharatiya Janata Party and Republican Party of India leaders to bring Maharashtra Navnirman Sena chief Raj Thackeray into the Sena-BJP-RPI alliance, Shiv Sena chief Uddhav Thackeray on Tuesday said that is not what the people of Maharashtra want.
"People want to defeat Congress. However, they don't want a 'tasteless' khichdi. They want a stable government and the Sena-led alliance has that capability," Uddhav said in an editorial in the party mouthpiece Saamana.
"Nitin Gadkari, Gopinath Munde, Devendra Fadnavis and now Ramdas Athawale have all invited MNS to be a part of our grand alliance," he said.
Evoking the example of tainted cricketer Sreesanth, Uddhav said, "In politics, nobody is a sant (saint). Everyone is taking care of his selfish interests through betting and fixing. But Sreesanth's case has shown what undue haste and greed do to you."
The grand alliance of Shiv Sena-BJP-RPI was working well and there was no need to include a fourth constituent, he said.
Uddhav advised Gadkari and Athawale to first set their own houses in order, indirectly asking Gadkari to "bridge" differences with Munde and also telling Athawale to patch up with RPI factions. It would also be better if Narendra Modi patched up with Advani and Nitish Kumar, he said.
Gadkari recently declared that he would not rest till he brought the Thackeray cousins together and convinced the MNS to join the Sena-BJP-RPI grand alliance. Athawale also invited Raj to join the alliance.
© Copyright 2022 PTI. All rights reserved. Republication or redistribution of PTI content, including by framing or similar means, is expressly prohibited without the prior written consent.