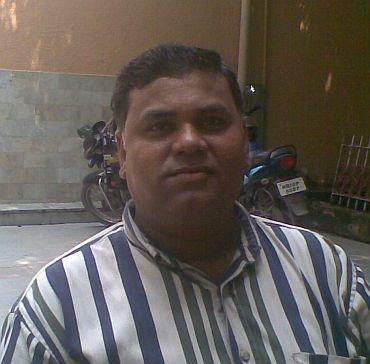 Rediff.com's Priyanka profiles Jeetin Chauhan, a stretcher-bearer at the Ram Manohar Lohia hospital's mortuary, where most of the bodies of the recent Delhi high court blast victims were kept initially.
A day after the 13th body of the Delhi high court blast victim was taken for a post mortem, a familiar lull engulfs the Ram Manohar Lohia hospital's mortuary.
This place has seen 13 bodies of the recent high court blast victims being carried from hospital's emergency wards to the mortuary, mostly on stretchers. The staff stretcher-bearer Jeetin Chauhan says he witnesses the agony of the relatives of the deceased each time they come to collect what remains of their loved one. "It completely breaks them," he says.
"Bodies are brought here, fully bandaged and covered. We have to open them when friends, relatives come to see them. The bodies are then sent for post mortem."
The process of handing over bodies to relatives gets complicated in cases where the deceased died an unnatural death.
"When we remove bandages from the bodies from victims of blast cases, it is a scary sight, especially for the family members. Body parts are dislocated; many times we have carried dis-shelved limbs, legs and arms in separate bags."
But for him and his colleagues here, working at the mortuary has become a way of life. They work in shifts, but during emergencies like these, all staff members are asked to report. He says, "In these last three days we have worked round the clock."
Jeetin explains people are wary and scared of handling bodies.
"The mortuary here is located at a relatively open area and there are shadowy trees around. But nobody dares to eat food here. At times, people find themselves here while searching for drinking water. But as soon as they see the board saying it is a mortuary, they run away, never turning their backs."
Ask him why he chose this job, he says with a smile, "I think the job chose me." His father retired as a head constable with the Delhi Police and settled in Gorakhpur in Uttar Pradesh.
Jeetin confesses he didn't have any future there and so one day he ran from home and landed straight in Delhi. "It was during the early 1990s," he now remembers only vaguely. "There was political rally being organised in Delhi, and many people from Gorakhpur were being transported to be a part of it. I was one of them; I traveled on the top of a train because it was free of cost, and never went back."
Jeetin was enrolled briefly to the Rajhans College, but left it after one year and after he found a job at the RML hospital.
"Initially, I didn't understand what my job was. And when I realized what my work was, I ran away on the first day of my job," he said, laughingly.
But family and friends persuaded him to give it a try and he returned the next day. "It was very tough for me initially. I couldn't eat with my bare hands; I have eaten roti with a spoon for one month after I joined. But now I have become accustomed to it, and it doesn't bother me anymore. This was my first job and I have stayed on for almost seventeen years now. When my father died a few years ago, I couldn't even cry. My heart was pained, but I couldn't cry for a long time. Death has become a part of life."
One would imagine the stretcher-bearer at the mortuary to possess a grave demeanor. But 36-year-old Jeetin Chauhan strikes as an instant contrast. He breaks into a smile easily and reveals that many of his relatives do not know the exact nature of his job.
"People avoid us because of the job we do. They are superstitious, and many wouldn't even allow me inside their homes if they come to know that I am a stretcher-bearer at the mortuary," he says. 
"Luckily, my wife doesn't mind the job. She is happy as long as I am employed as a government servant," he adds. Jeetin does take out his four children to see places in Delhi, and watches television serial CID fondly. He admittedly is a big fan of Sunny Deol and has watched all his films, many times over.
He is interrupted by protesting relatives of Pramod Chaurasiya who had died of injuries in the blast. The body needs to be brought from the emergency ward to the mortuary on a stretcher. Jeetin quickly organises the transfer and the body is later put into an ambulance and sent for post mortem.
"There is little anybody can do after a body has reached here at the mortuary. We just try being helpful to the relatives in the last journey of their loved ones," he concludes, almost philosophically.
Image: Jeetin Chauhan