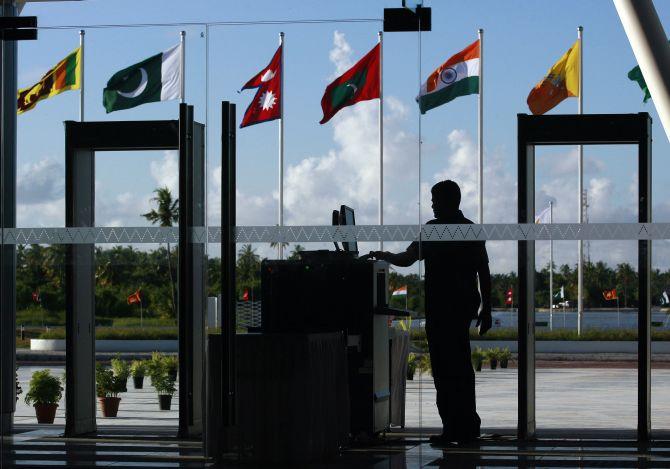 India on Wednesday said it firmly believes that a peaceful and secure neighbourhood will yield "rich dividends" for South Asian Association for Regional Cooperation countries even as it asserted that time has come to take stock of past decisions of the grouping on which there has been no movement.
In his statement during the 42nd SAARC Standing Committee Meeting in Pokhara, Foreign Secretary S Jaishankar said India is pursuing with renewed vigour its "neighbourhood first" policy which also translates into priority for SAARC initiatives.
"We believe that there is scope for further rationalisation of SAARC processes. Perhaps the time has come for us to also take stock of past decisions and initiatives, given that there are so many instances of such decisions not seeing any movement for many years," Jaishankar, who arrived here on Monday, said.
"We are firmly of the belief that a peaceful, secure and prosperous neighbourhood will yield rich dividends for all of us," he said.
Noting that the grouping has some useful agreements in the area of security, including the Convention on Terrorism, Narcotic Drugs and on Human Trafficking, Jaishankar said a major challenge that the region faces is that of circulation of fake currency notes.
"This is closely interlinked with the problems of money-laundering, drug trafficking and human trafficking as well as financing of terrorism. It would, therefore, be in the interest of the people of our region for us to collaborate at the SAARC level to tackle this matter," he said.
The Foreign Secretary asserted that connectivity holds the key for prosperity and development and will shape the destinies of all countries of South Asia.
"With this understanding, we have embarked on significant projects in the region in areas such as rail and road building, power generation and transmission, waterway usage and shipping through regional, sub-regional, trilateral and bilateral arrangements. This represents a change of mindset and makes us believe that the logic of regional cooperation has finally arrived in the region," Jaishankar asserted.
"Yet, the pace of regional cooperation as a collective endeavour needs to be hastened, especially in areas that are central to the development agenda of SAARC. In this context, I urge that we sign, at an early date, the SAARC Motor Vehicles Agreement and SAARC Railways Agreement," he said.
Finalisation and implementation of these agreements will realise a long standing dream of seamless movement of passengers and cargo through the entire region, he added.
Jaishankar's statement came a day before the SAARC ministerial meeting.
During his Nepal visit, the foreign secretary on Tuesday also called on Nepalese Prime Minister K P Oli and met Madhesi leaders.
Jaishankar said India was committed to the deeper financial integration of SAARC.
"We are also committed to deeper financial integration of the region and for achieving the South Asian Economic Union. Free flow of capital is an essential element to increase trade in the region and for significant remittances within and from outside the region," Jaishankar said.
"Initiatives that we have offered from our side to enable such integration include offering a currency swap arrangement for SAARC countries to overcome shortage in foreign currency and capacity building programmes in the areas of taxation and customs. We have also made unilateral concessions to LDC states by offering duty free access to all but 25 products," Jaishankar said.
In his statement, Jaishankar said India was systematically pursuing "important ideas" flagged by Prime Minister Narendra Modi at the last Summit.
"These are important not because they were made by India but because they have the potential to help us achieve our goal of greater connectivity and integration," he said.
Jaishankar also listed some of the initiatives like the SAARC Annual Disaster Management Exercise, the SAARC Regional Supra-Reference Laboratory for TB and HIV, the Satellite for SAARC, and the SAARC Knowledge Network.
"We organised the first SADMEX in November 2015 and work on execution is underway on the Laboratory. We have received enthusiastic support from many of you on the Satellite for SAARC project and hope to launch it by end of the year. This satellite will be of value to all our peoples as it will support applications in the area of health, education, disaster response, weather forecasting, communications etc," Jaishankar said.
"The SAARC Knowledge Network would provide a unified high speed network backbone for knowledge related institutions in the region. This will bring together all stakeholders - scientists, researchers and students, to work closely for faster development," he said.
The Foreign Secretary stressed that the SAARC Network will take the connectivity being provided by the respective national networks to research and education communities beyond national borders.
"The SAARC Business Travelers' Card, an initiative designed to enable easier movement of South Asian businessmen to India, will be launched within the next two months," he said.