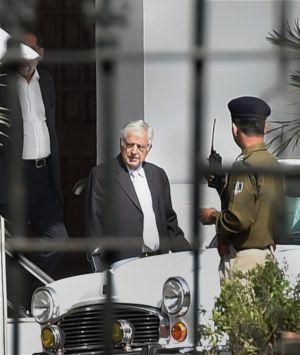 Congress on Sunday took a dig at the People's Democratic Party-Bharatiya Janata Party alliance, saying that Jammu and Kashmir Chief Minister Mufti Mohammed Sayeed should be "careful" about the conversion agenda being pursued by the saffron party.
"It was less a swearing-in ceremony, more a national executive committee meeting of the BJP held in Jammu," Leader of Opposition in Rajya Sabha Ghulam Nabi Azad said.
He had said earlier that all the decision of the PDP-BJP alliance would now on be "taken at Nagpur", where the RSS headquarters is located.
Barring state Congress chief Saif-ud-din Soz, who is likely to be replaced, none of the Congress leaders attended the swearing-in ceremony.
"Since for BJP, it is an era of conversions, the PDP leadership has to be careful lest there is a political conversion from PDP to the BJP," Azad told PTI after the oath ceremony in which Sayeed and 24 others from PDP and BJP were sworn-in.
Terming the PDP-BJP alliance as "an alliance of contradiction", state CPI(M) leader Mohd Yusuf Tarigami said the two parties had "something to hide" as they did not come out with their Common Minimum Programme before the swearing-in ceremony, as was promised.
"PDP had said they will seek the opinion of the people on the CMP. But they did not make it public before the ceremony. So people don't know what they have settled for or their positions on various issues. Therefore, they have something to hide," Tarigami told PTI on phone.
"Hence, it is also clear that the prime purpose of the two parties to join hands is just to share power," Tarigami, the lone CPM legislator in J and K, said.
He said how the two parties "manage these contradictions, only time will tell" and added that the PDP and the BJP had taken more than two months to forge the alliance shows that problems exist.
Image: PDP patron Mufti Mohammad Sayeed leaves after a meeting with Prime Minister Narendra Modi in New Delhi. Photograph: Kamal Singh/PTI Photo
© Copyright 2021 PTI. All rights reserved. Republication or redistribution of PTI content, including by framing or similar means, is expressly prohibited without the prior written consent.