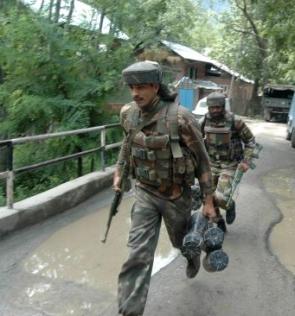 Bodies of three men, including that of an alleged militant, were found on Monday about 30 kms from here in Baramulla district, triggering protests by locals even though police said the deaths appeared to be a result of fight between two militant groups.
The bodies were spotted in an orchard by residents of Dangerpora in Pattan area early on Monday morning and they informed the police.
"One of the deceased has been identified as Aamir Qadir Reshi, 18, who had been reported missing on July 15, 2015 from his Hardshiva village of Sopore," a police officer said.
Reshi had reportedly joined Lashkar-e-Islam, a breakaway outfit of Hizbul Mujahideen, earlier this year, the officer added.
Preliminary probe by police showed that the deceased could have been killed by Hizbul Mujahideen cadres, he said.
The officer said efforts were on to ascertain the identity of the other two deceased persons. The bodies have been taken to a hospital for medico-legal formalities.
"Police reached the spot after being informed. Identities of the deceased are being ascertained. Medico legal formalities are being conducted and investigation has been taken up," a police spokesman said in a brief statement.
Lashkar-e-Islam is led by Abdul Qayyum Najjar, the longest surviving militant in north Kashmir who broke ranks with the Hizbul Mujahideen a few years back to form his own outfit.
Lashkar-e-Islam is believed to be responsible for several attacks on mobile towers and other telecommunication installations in May and June this year. The group is also believed to be behind the killing of some separatist activists this year in Sopore area.
There have been reports that Pakistan's ISI, using Lashkar-e-Taiba or Jaish-e-Mohammad, is all set to target Najjar and his men in Lashker-e-Islam.
Meanwhile, protests broke out in Pattan and Palhalan town on Srinagar-Baramulla road and the markets in the area were closed down.
"The protestors resorted to stone-pelting on law enforcing personnel. Additional forces have been rushed to the area to bring the situation under control," police said.
Working President of opposition National Conference and former Chief Minister Omar Abdullah expressed sorrow over the mysterious killing of the three youth and demanded a high-level probe into the incident.
"The killing of the youth is inhuman and heart-rending act....A high-level probe should be immediately ordered into the incident," Omar said in a statement here.
He said the incident needs to be thoroughly probed to identify the culprits and expose their motive behind the killings.