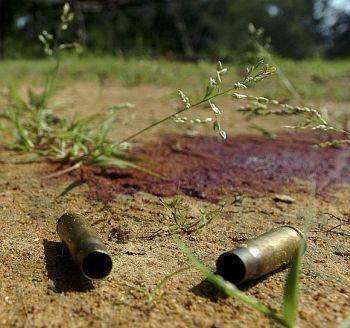 Citing lack of evidence, the Patna high court on Friday acquitted 14 people for the massacre of 16 people over land dispute in a village in Bihar's Khagaria district in 2009, a police official said.

A bench of Justices V N Sinha and R K Mishra of the Patna high court acquitted the 14 accused on the basis of lack of evidence against them in the chargesheet filed by the Bihar police.
"The appellants are directed to be released forthwith if they are not wanted in any other case," the court ruled.
"All the accused were acquitted on the benefit of doubt due to lack of evidence against them," police officials said.
Khagaria's Additional District and Session Judge Chandra Bhushan Dwivedi, had in an order on February 15, 2012, awarded death sentence to ten accused persons and lifer to four others.
Altogether 16 people, including five children, all residents of Itcharia village, were gunned down allegedly by armed Dalit men linked to Communist Party of India-Maoist on the intervening night of October 1-2, 2009.
According to police, 37 people were named as accused in the FIR lodged after the carnage. Earlier 21 were acquitted by the court for lack of evidence.

This is the fifth major acquittal by the Patna high court in a massacre case.

In 2012, the high court acquitted all the 23 accused in the 1996 Bathani Tola massacre case. Ranvir Sena men allegedly killed 21 people, mostly Dalits and Muslims, in Bathani Tola in Bhojpur district.

On July 3, 2013, the high court acquitted nine of the 10 accused in the Miyanpur massacre case of 2000. Ranvir Sena men allegedly killed 32 people in Miyanpur village in Aurangabad.

On March 1, 2013, the high court acquitted 11 convicted accused in the Nagari Bazaar massacre case in which 10 CPI-ML supporters, mostly Dalits, were killed in Bhojpur district in 1998.

In October 2013, all the 26 accused for the Lakshmanpur Bathe massacre of 58 Dalits in 1997 were acquitted.
With inputs from PTI