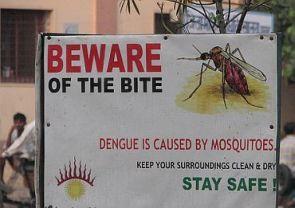 Bihar's health authorities are worried following the spread of mosquito-borne dengue in half a dozen districts. With seventeen new cases, the number of people affected by the disease has risen to 175 in the last month, officials said.
A health official said that after Rohtas district, the infectious disease has spread to neighbouring districts of Kaimur, Buxar, Saran, Nalanda and Patna.

"Five new dengue cases have been found in Rohtas, nine in Kaimur, one each in Nalanda, Saran and Patna in the last twenty-four hours," he said.

Rohtas' civil surgeon Dr Ramji Singh said that Kochas town in the district is worst affected. "More than half of the total dengue cases have been reported from Kochas alone," Singh said.

Bihar Chief Minister Nitish Kumar has asked the concerned officials to take preventive measures and provide proper treatment to the patients.

Nitish Kumar is in charge of the health ministry after he sacked the health minister in June.

Last month the government issued a dengue alert and a special dengue ward was opened at the Patna Medical College and Hospital. "Dozens of patients with dengue have been admitted at the PMCH and are undergoing treatment," said superintendent Amarkant Jha Amar.

Alarmed over the spread of dengue, the Patna Municipal Corporation has decided to purchase 75 fogging machines to curb the mosquito menace in its 72 wards.
PMC Chief Engineer Ravinder Kumar Verma said the order for the fogging machines has been issued to a Pune based company on the recommendation by the State Health Society.

The PMC has only four fogging machines; one is non-functional and one is reserved for VIP locality. "There are only two fogging machines with the PMC to fight the mosquito menace in Patna and provide relief to over 2 million of its residents," a PMC official said.

In March this year, legislators cutting across party lines, raised the issue mosquito menace in the state and requested the government to order regular fogging.

A legislator even suggested sterilisation of mosquitoes to get rid of them.