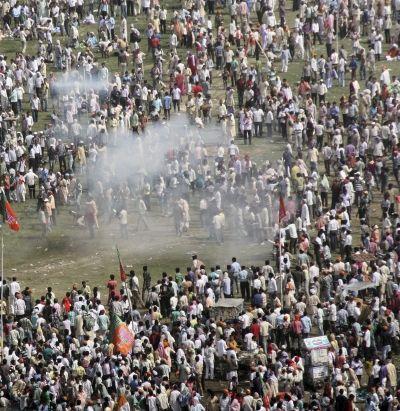 Days after the Bihar police detained Raju Sao from Dhanbad, Jharkhand, and Gopal Kumar Goyal, Vikas Kumar, Pawan Kumar and Ganesh Kumar from Lakhisarai district in connection with the Patna serial blasts case, the police is silent on their links with terror outfit Indian Mujahideen.
Seven people were killed and nearly 100 injured in six blasts ahead of Bharatiya Janata Party's prime ministerial candidate Narendra Modi's rally at Patna's Gandhi Maidan on October 27.
Pro-Muslim activists have pointed out that while Muslim youth arrested in connection with the blasts case were promptly termed 'IM terror suspects', Gopal, Vikas, Pawan and Ganesh have been arrested on charges of only financially helping terror suspects.

"It stunned me that there is a soft approach by the police as well as other government agencies," Aneesh Ankur, an activist, said in Patna.
"All the four are surely terror suspects as they were getting the money from Pakistan's Inter Services Intelligence and distributing the same for terror activities. If the NIA and police investigate without bias, it could provide more leads in the serial blasts and other terror activities," said Irshadul Haque, editor of Patna-based website naukarshahi.in.
Irshadul recalled that four days after the serial blasts in Patna, he wrote a story on Pankaj, who was arrested from Gandhi Maidan soon after the blasts. "I have failed to understand why there is no news about Pankaj who declared himself a BJP activist after being arrested by the police. Neither the Bihar police nor the NIA has come out with any explanation about Pankaj; whether he was released after interrogation or if it was a case of mistaken identity", Irashadul said.

Meanwhile, a senior police official told Rediff.com that the Indian Mujahideen may be using Hindu youth for terror activities. "It is a serious matter," the official said.

According to police officials, the NIA has detained six people and seized hundreds of bank passbooks, ATM cards and other documents in Lakhisarai during raids at several places on Friday night following intelligence inputs.

The NIA suspects that those detained have links with terrorists in and outside the country.
"The NIA is also scanning their mobile phone details to ascertain their connection with people based in Pakistan and other countries," the official said.

According to police sources, the NIA is likely to conduct raids in some other places in neighbouring Jharkhand and Karnataka in the coming days.

In the last few days, the NIA conducted raids at several places in Bihar in search of the suspects involved in the blasts.
Earlier this week, Bihar police formally handed over investigation of the serial blasts to the NIA.

The NIA have also carried out raids at Muzaffarpur and Motihari in search of suspects.
Image: Smoke rises after a bomb explodes at Gandhi Maidan in Patna

Photograph: Krishna Murari Kishan/Reuters